Wire to Wire:




2011 R & B Bass Circuit




Points Champions




Teddy Bradley & Mark Fennell



By: Andrew Buss

At Palmer Lake the champs did more than persevere, they flourished. They finished in the top 5, again; this was one of four top 5 finishes. They won money in 5 of the 6 tournaments, amassing a total of

$1371

. Their total accumulation of points, 270.19, was more than the 2010 Points Champions Aaron Hochstedler and Bobby Nelson in a much smaller field.

Fennell feels that luck and confidence were big factors in their success. This may be a comment of humility more than reality. There was a larger factor involved, but first, his two points.

Luck appeared to play a role in the team's success. Fennell readily admits, "We had a bunch of lucky bites. It was really the story of the season." He is referring to several key fish that came late in tournaments.

Wire to wire; that is impressive. Going into the 2011

R & B Bass Circuit

season participants knew

Teddy Bradley

and

Mark Fennell

were a legitimate team, but we had no idea. They wasted no time establishing themselves either. They flew out the gate by beating 40 teams at the opener on Lake Manitou on a cold, windy day.

They won that event by a miniscule .13 of a pound and stood on top of the Standings. However, with 5 tournaments left, and a large group of hungry, talented anglers chasing them, that only left one direction to go. Yet, they clung to the lead after each tournament. This makes their accomplishment extraordinary.

The quality of anglers in the R & B is exceptional and it showed. Their lead was single digits until after the fifth tournament at Webster Lake. But even then, they were heading to a finale on a body of water, Palmer Lake, Kevin Fletcher admitted, "Greg (Mangus) likes Palmer, but I love it." Living legends Fletcher and Mangus were 12 points behind the leaders heading into that tournament and their reputation of blowing out competition is renowned. But those legends finished 10 points behind.

Becoming the 2011 R & B Bass Circuit Points Champions was a big deal to both anglers. Fennell humbly recognizes, "This is a huge accomplishment for me. The competition [at an R & B tournament] blew me away. It was awesome!"

Bradley, who has won thousands of dollars on the national level and boasts more tournament wins than he could possibly count, also recognizes the accomplishment, "To win this against the quality of fisherman in the R & B is a big deal. It took 6 tournaments where we performed nearly flawlessly."

At Lake Manitou, Fennell caught their big fish (4.11 pound largemouth) in the last hour, and this fish struck with just 12 feet of line out. During the Klinger Lake tournament, they caught a big cull fish that added a pound to their

weight in the last hour. At Webster Lake they picked up their third keeper (the only tournament they would not catch a limit) with just 15 minutes to go. That fish helped keep the hard charging team of Mangus and Fletcher at bay. And at Palmer Lake, they caught a fish with an hour left that increased their weight by 1.5 pounds.

In 6 tournaments they never lost a fish that hurt them. Luck? Perhaps. But the team was ultra prepared, Bradley made sure of it. Fennell explains, "Teddy was on me from the beginning to have fresh line in my reels and sharp hooks on my baits. On several occasions I was respooling reels or changing hooks at 1 am because of him."

Bradley applies a Seneca quote to his life: "Luck is what happens when preparation meets opportunity." He is big on fundamentals, "I am very particular about little things. I want to control every factor possible, so when an opportunity comes, I can execute."

Admittedly, the team was confident at every venue despite having limited experience on several lakes. Fennell feels, "No matter where we are going, I know we are going to get a limit." Bradley elaborates, "We have confidence in making the right decision. We also have confidence in each other's ability." This confidence carried over into their fishing performance. Only one time, at Webster Lake (see below), was their confidence ever rattled.

So Fennell says; now, reality check. They made this happen with their skills and decision making on and off the water. According to Fennell, teamwork is a 3 piece recipe: doing your homework, bait selection, and execution.



1.

Doing your homework: tireless preparation is a habit for this team. They prefished for every tournament multiple times. They did this both together and independently. They routinely compared notes of their experiences and anything they could pick up from other anglers. The process never stops. At Lake Maxinkuckee they both prefished at the same time in separate boats and put a game plan together.



2.

Bait selection: Fennell admits, "We toss different baits to figure out what makes the fish click." But it does not stop here, they will continue to tweak accordingly to the action of the bite. Bradley admits, "I pay a lot of attention to how a fish bites a bait: how aggressively they bite, how many hooks are in the fish's mouth, and when in the retrieve they bite." At Palmer Lake, they narrowed it down to not only casting crankbaits, but they required rattles and had to bounce off the stumps.



3.

Execution: Every tournament has stories of fish getting away at the net, but the team prepared executes these moments. At Webster Lake with 15 minutes remaining, the champions had a double. They quickly realized Fennell's was bigger. They maneuvered in a manner to avoid tangles and land the keeper that was arguably the most important fish of the season.

Sound lucky? Is it likely that a team who takes teamwork this seriously and takes these steps would be successful as a result of luck? No. The team has game.

This is how they did it.

Lake Manitou: April 17, 2011.

1st place

- 12.09 pound limit.

$695


Fennell admits, "I had crazy butterflies! I had only been to the ramp one time before and was not confident how to get there a second time. I ended up missing my turn. When I finally found my way I was shocked to see the number of boats." Bradley was too. "I was expecting to see 25 boats, but when I saw 40, I realized how difficult [the circuit] would be."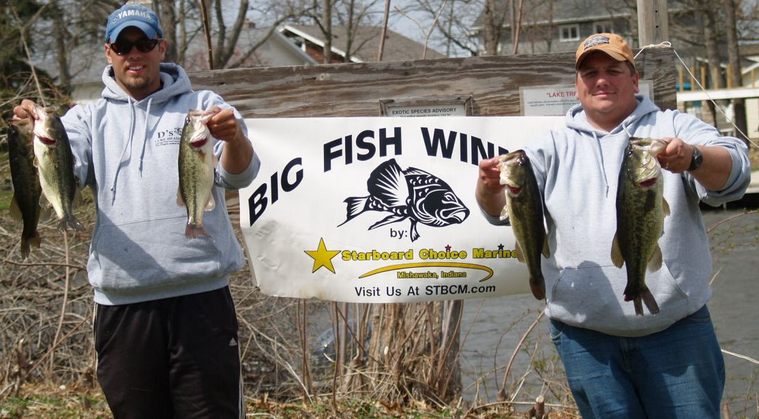 In typical R & B fashion, the weather was terrible – winds gusting to 30 miles per hour accompanied by a nasty cold front. Water temperatures were in the 40s. Most expected a tough bite, but quite the opposite occurred. In what turned out to be a slugfest, half of the field weighed a limit.

From the very beginning, decision making led Bradley and Fennell to victory. Their boat number was 24, and this influenced where they would start. They watched the majority of the field head to their number one area, the south end. Thus, they decided to begin in an area close to the ramp and struck gold.

In the first 45 minutes of their championship season, they were culling fish. They fooled the fish on Erie Darters teamed up with ¼ ounce D's Lures jigheads. The primary depth was 8 foot.

The team soaked the spot for everything it was worth, but at noon they were culling by only ounces. They knew they needed to add at least 3 pounds to their limit for a chance to win. The decision was made to head south. Bradley explains the decision, "That [South area] was beat up early, but at noon only a couple of boats were left. We needed a big fish and felt the best chance of that was there."

They began working the outside edge with rattle traps before noticing the team of Trevor Paulus and Jason Horvath catching a few up shallow. They adjusted, and used that information to exploit other shallow areas. Instead of throwing traps, which they knew the fish had seen all morning, they tossed 3/8 ounce green pumpkin chatterbaits, because, Bradley reveals, "It was something different and you can toss it where a trap cannot go." It was another great decision.

They caught 3 more keepers in the final 90 minutes, including the aforementioned 4.11 pound largemouth that struck 12 foot from the boat.

Lake Maxinkuckee: May 15, 2001.

5th Place

- 8.48 pounds. $136

Fennell quickly admits, "My worst tournament, I stunk!" But Bradley is the first to say it does not matter who catches them in a team event as long as someone does. This top 5 finish was a team effort which was earned before the tournament even began.

The previous day they both participated in the 2011 UMS Youth Tournament that took up the morning. From there, they went to Maxi with both of their boats. They then went their separate ways: Fennell to the channels and Bradley to the mainlake, both looking for bedding bass. They felt strongly that bed fishing was the best pattern to make another run at a win.

By early evening their mission was complete. They were able to mark numerous fish on both the mainlake and in the channels. However, again, in typical R & B fashion, weather was terrible the next day. Rain and heavy winds were prevalent throughout. This made seeing the beds nearly impossible.

Nevertheless, Fennell watched Bradley serve up a clinic, "He caught 12 keepers all by himself. I felt totally worthless." But while Fennell was struggling to catch fish, Bradley also grew frustrated, "I was frustrated because I knew where the beds were, but could not see them."

They began in the channels and caught 2 keepers in the first 90 minutes. From there they went to the mainlake. Fennell explained it as, "[Bradley] just cruised from one bed to the next." But it was not that simple. It was a grind that required countless casts to invisible beds.

They used different baits according to the area. In the channels, the team tossed senkos, while on the mainlake they tossed D's tubes and Erie Darters.

Lake Wawasee: June 4, 2001.

12th place

- 8.73 pounds

Leaving Fennell to fend for himself, Bradley missed this event. Instead, he was competing as a boater in an FLW Tour Open event on the Potomac River. He won

$10,000

. While some thought of this as an opportunity to gain on the leaders, Fennell did the next best thing: he got a substitute – professional angler Chip Harrison.

Harrison is a perennial favorite on any local of body of water (he won the Webster Lake tournament), but especially on Lake Wawasee. Fennell admitted, "I was there for the ride. I just did as he said." Not a bad strategy.

Fennell and Harrison began the tournament on an underwater point on Syracuse Lake but hauled in only water. They quickly made the move to Wawasee and cruised several flats twitching a MegaBass jerkbait; and that was all they did. All of their fish was caught with that bait.

"In hindsight, it was probably a poor decision to stick with the jerkbait [through the entire day]. But we caught lots of fish and Chip was confident in the areas we fished," Fennell admits.

Unfortunately for the champions, they did not finish as high as hoped. They weighed a limit, but failed to boat a big fish and ended with their worst finish of the season. To add salt to injury, Mangus and Fletcher dominated the event with the third heaviest weight in R & B History and pulled within less than a point of the leaders with 3 events to go.

Klinger Lake: July 23, 2001.

3rd place

– 9.04 pounds.

$268

.

Looking in from the outside, Bradley and Fennell were a long shot from retaining the lead after the Klinger event. They both had minimal experience there and the targets on their backs were growing with each tournament. The legends in second place, Mangus and Fletcher, have decades of experience on this lake and countless victories as well. Klinger promised to bring numerous limits to the scales, but catching 3 pound fish would be a challenge. Who would be better qualified than Mangus and Fletcher?

That is why this may have been their signature performance in a season full of highlights. Not only did they log another top 5 finish, but they left with a 20 point lead on Mangus and Fletcher. In fact, now only one team was within 5 points: Tony Kaser and Jason Dittmar were 2.5 points out. They accomplished this in the midst of the closest R & B tournament in history.

Their strategy was brilliantly simple. Bradley explains, "On this lake, we felt it was necessary to fish for as many keepers as possible and just hope for a big one." It was a gamble. Any team could show up with a few bigger fish on a pattern different from the majority, but it did not happen.

They devoted their entire time to catching keepers and adding ounces to their total. This ended up being a huge advantage over those who devoted a chunk of time chasing a big fish that was not destined to bite. The big fish of the tournament was an insulting 2.68 pound largemouth caught by the team of Derek Deardorff and Todd Melson. 20 fish over 2 pounds were weighed.

The champions spent the majority of their time on the flats with a drop shot rig teamed up with a watermelon/gold 4 inch Berkley Powerbait Finesse Worm Hand Pour. Fennell was expecting to toss Gulp! minnows, but Bradley had other plans. He confesses, "Bradley told me the Powerworm would be better, and despite my doubts, he was right. We got more bites on that bait than any other."

Most importantly, their biggest fish (2.38 pound largemouth) came with an hour to go. Had they not devoted their time the way they had, that big fish may not have been there for them.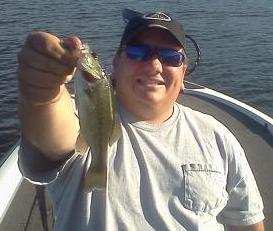 Not every practice produced big stringers. But more importantly, each experience helped Fennell and Bradley put the puzzle together.
Webster Lake: August 20, 2001.

6th place

– 7.47 pounds.

$110

.

After being reported that Bradley teamed up with Bob Johnson and weighed an incredible limit of 19.6 pounds on Webster Lake weeks earlier, the pressure and attention was on them. Monster fish are numerous here and it appeared the leaders were on them big time. But things did not go as planned and this would be the only tournament the team would not weigh a limit.

For the first and only time, both members on the boat felt the heat. Bradley exclaimed the tournament, "Drove me crazy!" and admits, "I felt the points lead slipping away." Fennell described himself as, "Freaked out."

Webster Lake was recovering from a massive weed kill and it took a toll.

While fishing was fantastic weeks prior, as the R & B tournament inched closer, the bite got tougher. Of 35 teams, only 3 weighed limits.

The tournament began well. Almost right away, Bradley caught their biggest fish, a 3.69 pound largemouth, on a rattle trap between the bridge and mainlake. However, that would be it for a long time. They fished their way to the mainlake and caught only dinks and when they arrived to the mainlake, they did not like what they saw. The water looked like chocolate milk and had dead weeds floating throughout. They took one look and went to the Backwaters for the remainder of the tournament.

It was a gutsy call because their previous success had come from the mainlake. They arrived in the backwaters at 9:30. They felt the water had better color and the fish would be easier to catch. In part, they were right. The team of Rich Paton and Dave Morrow caught more keepers than any other team and almost all came from here but it appeared they came late.

It was not until 11:00 that Fennell caught their second keeper, but then another dry spell. The last 90 minutes of the tournament was the worst. Fennell explains the agony, "We watched [Travis] Schroeder and [Tom] Reed catch a couple of keepers right next to us. Then we saw [Aaron] Hochstedler and [Bobby] Nelson catch one. In a really short period of time we saw half dozen keepers caught by us, but we could not get bit. It was getting real intense in our boat."

Part of the team's philosophy for the day was to make more casts than any other team. Bradley explains, "We knew if we made more casts than any other team that that would be to our advantage. And we cast like crazy!"

It paid off. With just 15 minutes left the team had a double. They quickly realized Fennell had a potential keeper and maneuvered in the boat that allowed them to land it. That fish would propel them nearly 10 spots on the day. When one considers their Points victory was by less than 10 points, one realizes how important this fish was. They left Webster Lake with a double digit lead heading into the finale.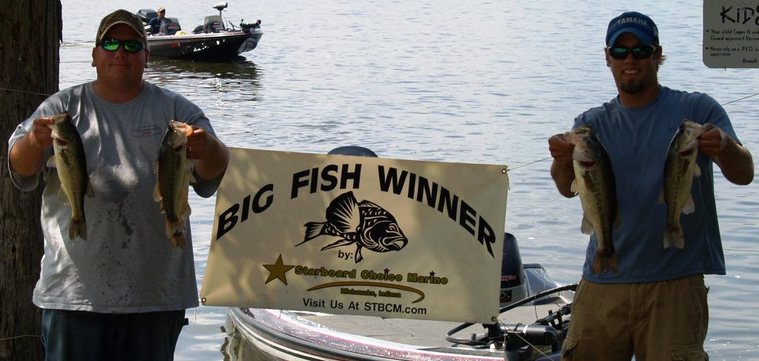 Palmer Lake: September 10, 2001.

4th place

– 9.38 pounds.

$162

.

Bradley and Fennell had a comfortable 12 point lead heading into the finale. However, the competition chasing them would make anyone uncomfortable. Nevertheless, the Palmer Lake tournament is the one Bradley describes as, "My proudest of all 6 tournaments. Trying

to close out and get 5 keepers when few people around us were catching fish is an accomplishment I am very proud of."

As previously posted in the Fishing Report leading up to the tournament, they had a good spot they were confident they could catch a limit of fish. The biggest concern for them was if they could get enough weight to be competitive.

That concern may be the single biggest factor playing into their success. While most teams would be concerned with catching enough fish to retain the lead, Bradley and Fennell did not focus on this. In each tournament, their goal was to win money and worry about the Standings later. Fennell acknowledges, "Our sights were always on a top 5." Bradley concurs, but also admits a possible weakness, "We never fished timidly. However, I have a habit of fishing for a check rather than a win at times."

Fishing at Palmer possessed its own challenges without worrying about the points, and the winners dealt with all of them. With 31 boats on a body of water less than 450 acres, boat pressure was an issue and they were surrounded. Palmer Lake was also in recovery of an immense weed kill, and Fennell admits he was concerned his good luck would run out, "I was a little afraid we would choke because we had such good luck through the season. It just seemed likely something bad would eventually happen." It did not.

They had 2 waypoints in the stump field before the tournament and rode them to victory. They would again land another top 5 and left no chance to be caught. And as was the case at the opener on Lake Manitou, they wasted no time. They had 4 keepers in the first hour and landed number 5 an hour later. This is particularly impressive when you consider only 7 limits were weighed with 31 teams.

Like they had all season, making good decisions and adjusting on the water was key. Bradley explains, "We had a crankbait bite. In practice the fish ate bolder colors (chartreuse and white) but that changed in the tournament. We had to toss a more subtle color (translucent green)."

They refined their pattern more. Fennell adds, "The crankbaits with rattles produced better than those without. Also, you had to hit the stump with the crankbait."

---
Becoming the 2011 R & B Bass Circuit Points Champions was a big deal to both anglers. Fennell humbly recognizes, "This is a huge accomplishment for me. The competition [at an R & B tournament] blew me away. It was awesome!"

Bradley, who has won thousands of dollars on the national level and boasts more tournament wins than he could possibly count, also recognizes the accomplishment, "To win this against the quality of fisherman in the R & B is a big deal. It took 6 tournaments where we performed nearly flawlessly."

Wire to wire; now that is impressive.