Lake Manitou
DNR Public Access Site
April 17
7:30 am - 2:30 pm
Wow! To say the least, 40 boats for our opener exceeded our expectations. We expected to see growth from 2010, but that was a higher number than we anticipated. After 1 event, we now have over

$1200

in our classic pot. (View the details on the

P

ayback

page.)

Like typical

R & B Bass Circuit

fashion, we made sure the weather was terrible: we hoped this curse left us at New Year's but apparently it has not. Cold temperatures and incredibly gusty winds, 30+ mph, made fishing a challenge. But we have an incredibly rich field of fishermen. 20 limits were weighed, along with 2 bass exceeding 5 pounds, and several others weighing 4 and 3 pounds respectively. In all, 36 teams weighed fish. Congratulations to all!

Last, Kevin and I thank all of the participants for making the day run as smoothly as it did. Not a single incident came to our attention. All 78 participants deserve a big round of applause.

1st Place:

Teddy Bradley

and

Mark Fennell

used a combination of precise lure presentation and decision making to win the opener. They ended with a limit that weighed 12.09 pounds and won

$695

.

The team began the day tossing green pumpkin Erie Darters on 1/4 ounce D's Lures jigheads and racked up a limit in just 45 minutes! They worked the combos in 8 feet of water.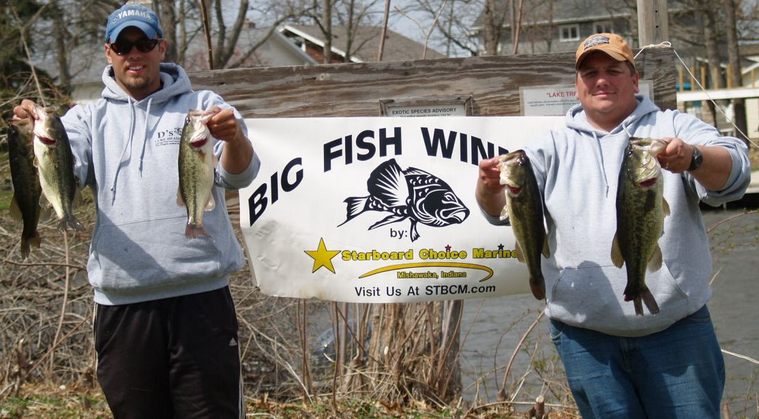 After culling several times, the team was still in need of some quality fish so they abandoned the area that produced and went shallow. It was here they won the tournament.

By tossing green pumpkin 3/8 ounce chatterbaits they culled 3 more times including a 4.11 pound toad that proved to be the difference.

In all, they caught a total of 13 keepers and won the by a mere .134 pounds: an R & B Record. Congratulations Teddy & Mark!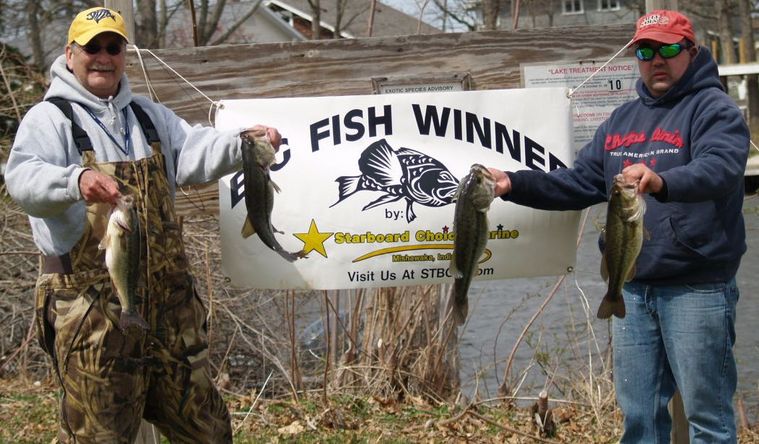 2nd Place:

Sean Cleland

and and

Larry Thomas

had limited experience on Lake Manitou, but still nearly pulled off the victory. In fact, Cleland had never laid eyes on Manitou and it had been nearly a decade since Thomas had last wet his line here.

The team targeted windy shorelines and tossed a combination of crawdads on 1/4 ounce jigheads and rattle traps. They boated 10 keepers.

Their top five weighed 11.96 pounds that was anchored by a 3.96 pound largemouth that fell for a rattle trap. The team caught the majority of their fish on the crawdad combo, but caught their larger fish with the trap. The trap caused heartache as well. Cleland explains, "We lost 2 fish that would have gone to the scales with us." And after losing by a Record .134 pounds those likely would have put the team in first.

The bite was best for the team in the morning and afternoon. They experienced a lull in action mid-day. Their efforts won them

$421

.

3rd Place:

Bob Johnson

and

Ron Guthrie

used a combination of jigs and rattle traps to boat 12 keepers and accumulate a weight of 11.72 pounds. That limit included a 4.09 largemouth. They earned

$316

.

They concentrated on the outside edge of breaklines where 10 foot of water seemed to be the key depth. But the 90 minutes between 10:30 - 12:00 was the magical time as the majority of their fish came then.

4th Place:

Tony Kaser

and

Jason Dittmar

cranked rattle traps on their way to a high finish which included a 5.03 pound beast. Amazingly, they caught that fish around a crowd of other boats around noon.

In all, they caught 12 keepers. Their best 5 weighed 11.63 pounds. They won

$210

.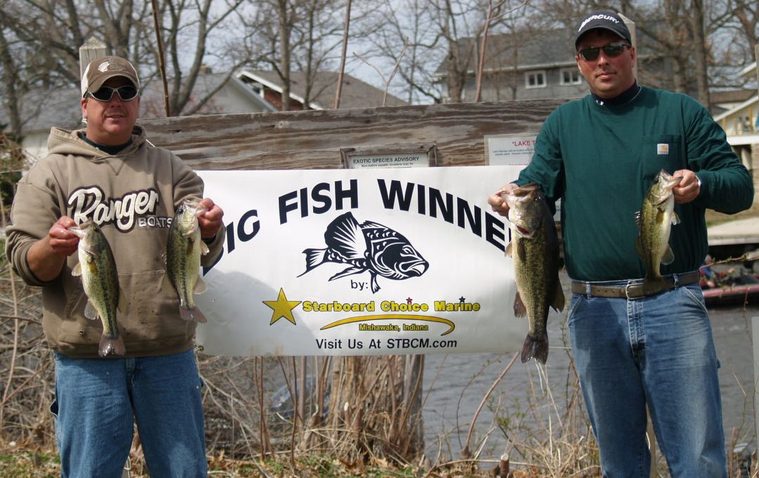 5th Place:

Craig Chupp

and

Dave Miller

caught over 20 keepers and won

$147

! While many teams had to pick fish up from multiple areas, they never left their original spot. They picked apart a 100 yard stretch for the duration of the tournament

Their area was unique because it was a holding spot for fish ready to move up and feed during the pre-spawn. Interestingly, they finessed their fish with drop shot rigs armed with finesse worms. 8 foot of water was their key depth.

The team reported catching them in flurries. There would be dry spells, but those were balanced with 5 minute bursts the produced multiple keepers.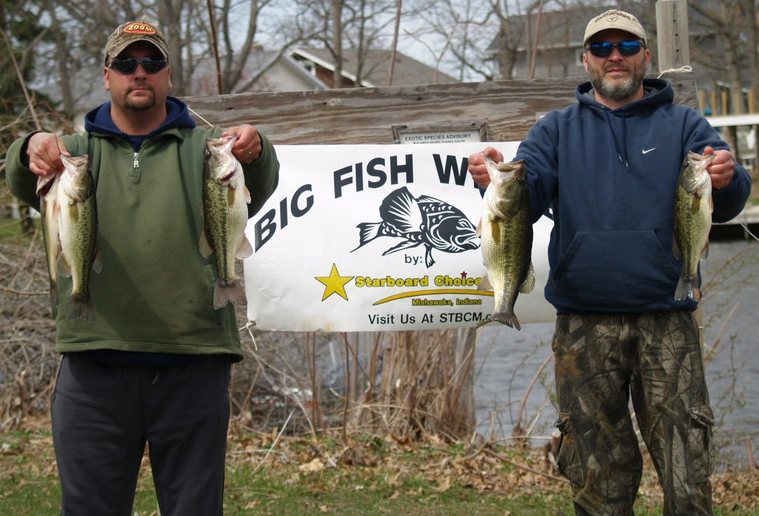 The Starboard Choice Marine Big Bass Award went to the team of

Mitch Bair

and

Steve Grim

. This is the second time in as many years the team won this award. They have now weighed the 2nd and 3rd heaviest bass in R & B history (view Records). They are also amongst the all-time money winners.

This 5.45 pound toad fell to a Lock Jaw Jig, but the team was hesitant to give up any more information. Study the photo to the left. The team better get ready, because now we all know what they look like! They should feel the eyes on them.

The team earned

$400

dollars for this fish, but they also finished in 9th place which earned them the D's Award.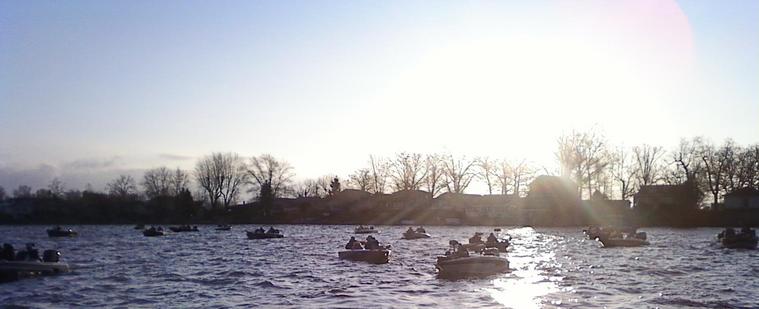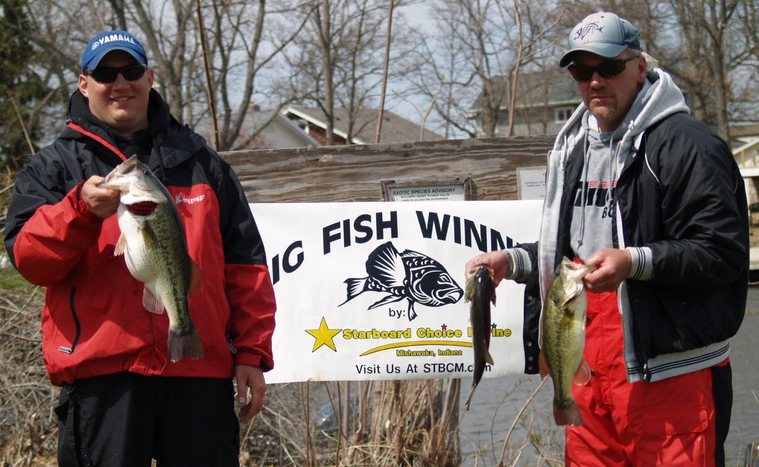 Rounding out the money & cash winners:





6th Place:

2010 Point Champions Aaron Hochstedler and Bobby Nelson started out right with a limit weighing 11.04 pounds and winning

$127

.

7th Place:

Jason Horvath and Trevor Paulus with a 5 fish tipping the
scales at 10.62 pounds and earning

$105

.



8th Place:

Cliff Conley and Gary Price with 5 weighing 9.79 pounds and scoring

$85

.

D's Award: Mitch Bair & Steve Grim with 3 fishing weighing 9.52 pounds.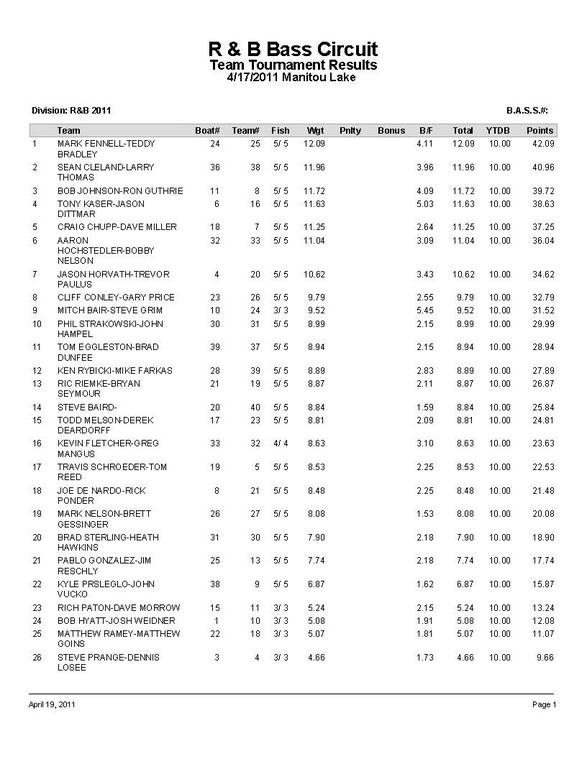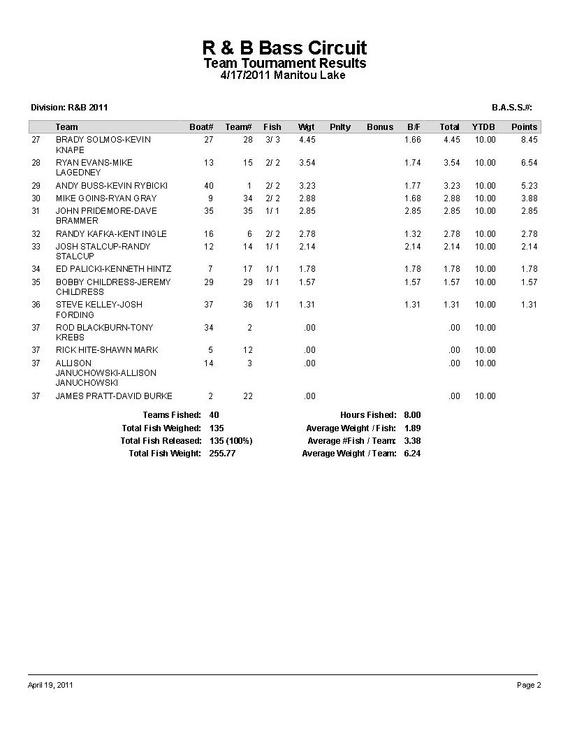 Click on Image to Enlarge.
Participate in the 50/50 drawings to win prizes from:

...proudly supporting the big bass awards.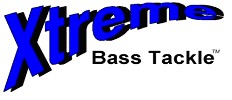 Become a more efficient angler by using: