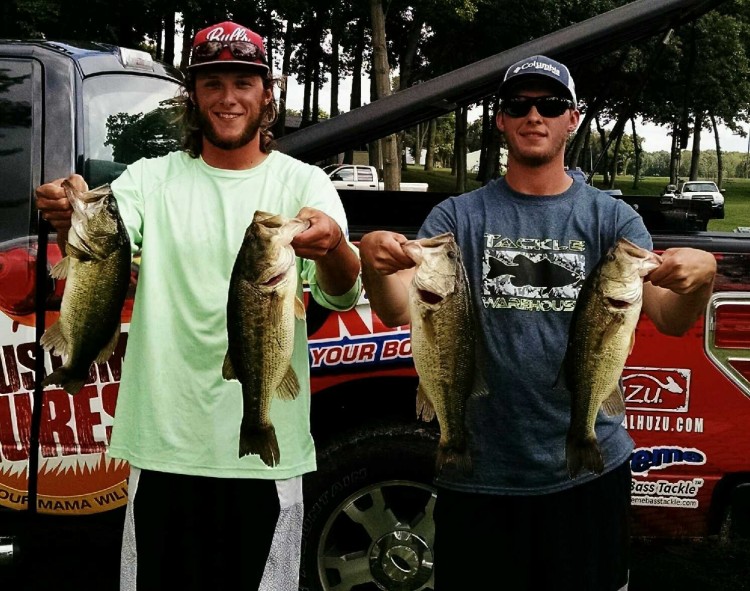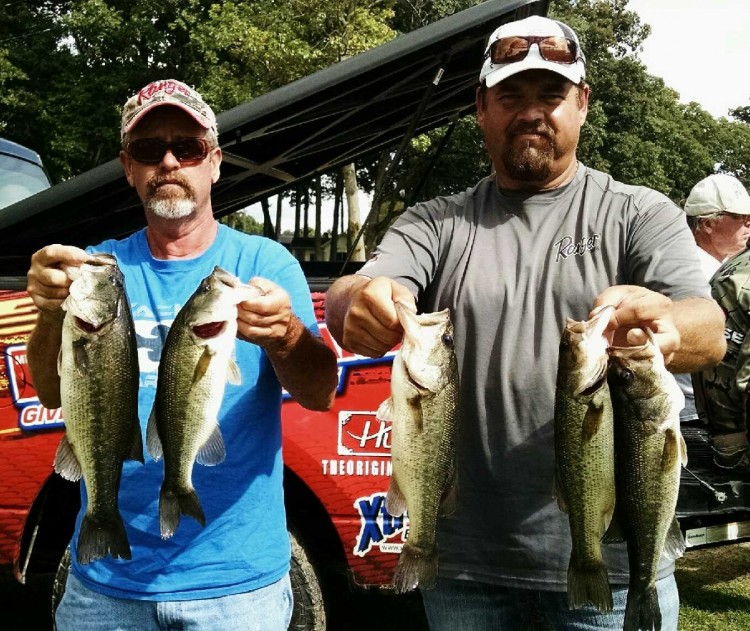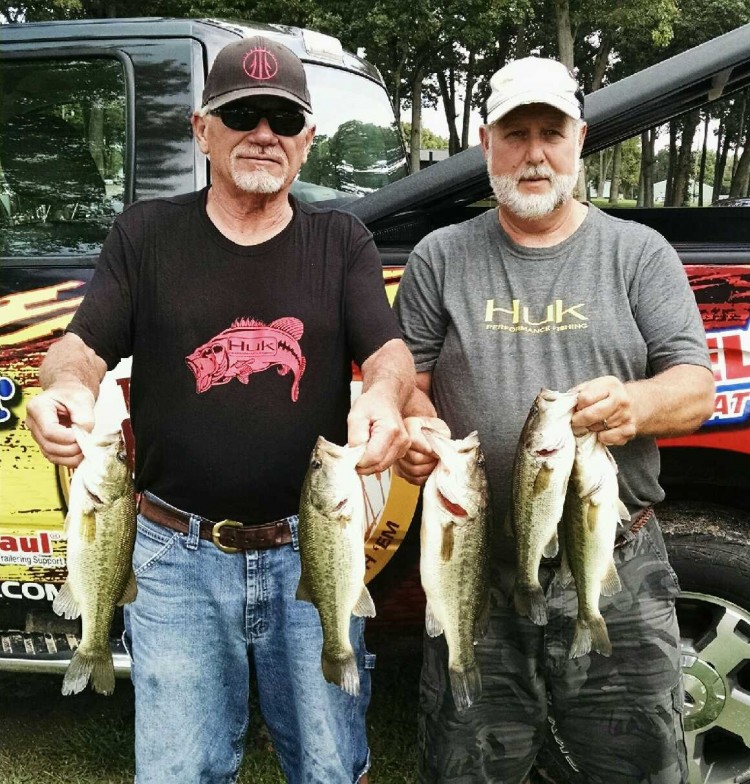 1st Place:
Going into the West Division finale, the Standings were the tightest ever seen in the seven year history of circuit's existence. Less than 13 points separated the Top 5. That Top 5 included the 2015 Season Champions, John Gipson and Tom Noe; Mark Farver and Steve Kline, who have amassed the most Top 5 finishes ever and sitting third on the All-Time Money Winners list; the red hot team of Jim Wheeler and Ray Smith who had won the last two tournaments; and one of the most consistent teams throughout all of Michiana, Larry Stanley and Dave Terry.
So what does the young team of brothers,

Kyle

and

Michael Kaser

, do? Well, they calmly put together the second most lopsided victory in R & B History.
Upon arrival to Randall, they sat in second place, 1.86 points behind Mark Farver and Steve Kline. Their dominant 14.14 pound limit beat the next closest team, Farver and Kline, by 5.98 pounds! This was their fourth time finishing in the Top 5 and second victory in the West Division this season.

Persistence has been a repetitive theme in the West Division. Inundated with rain and terrible bites throughout, West Division participants had to endure. Kyle and Michael Kaser exhibited endurance until the very end. During the waning hour of practice the day before, they made a discovery on Messenger Lake that set up the victory. Kyle shared, "After hitting all of the lakes, we got a small keeper, our only keeper, on a dock that sat in deeper water, about six feet deep. We spent the rest of daylight looking for deeper docks. Most of the deep docks we found were on Craig Lake." That clue came to fruition almost immediately in the tournament.

"We spent the first 15 minutes of the day throwing topwater on Craig Lake without a bite, and then we skipped our first dock," Kyle said. As the saying goes, the rest is history. That first skip was with a black & blue jig and produced their biggest fish of the day: a 3.96 pound brute. Sticking with the jig and docks on Craig Lake, they wrapped up their limit before 10:00.

With confirmation that bigger fish were sitting under docks, they went to the other lakes armed with jigs looking to improve their limit; however, that did not happen. "All we could catch were dinks," lamented Kyle, "so at the end we went back to Craig." Upon return they switched tactics and threw frogs on top of the slop. They made one cull that improved their catch by 1.5 pounds.

The first West Division Champions were rewarded with

$461

and a Rod Bender Baits certificate for the victory, but another

$250

and plaques await them at the Classic on White Lake. Enjoy the winter, Kyle and Michael, and enjoy the bulls-eye in 2017.
2nd Place:
If you think you've seen the names

Mark Farver

and

Steve Kline

an awful lot, you would be right. Try comprehending this: No other team has scored more Top 5 finishes (16) in the history of the R & B than this tandem. Furthermore, they also rank in third in the All-Time Money Winners list with over

$6,600

of winnings. Since 2012 they have never finished lower than fifth place in the final Standings, including three runner up finishes. This season they tallied up three runner up finishes in the West Division and one more in the East Division on their way to finishing runner up in the West Division and fifth in the East. They are the model of consistency.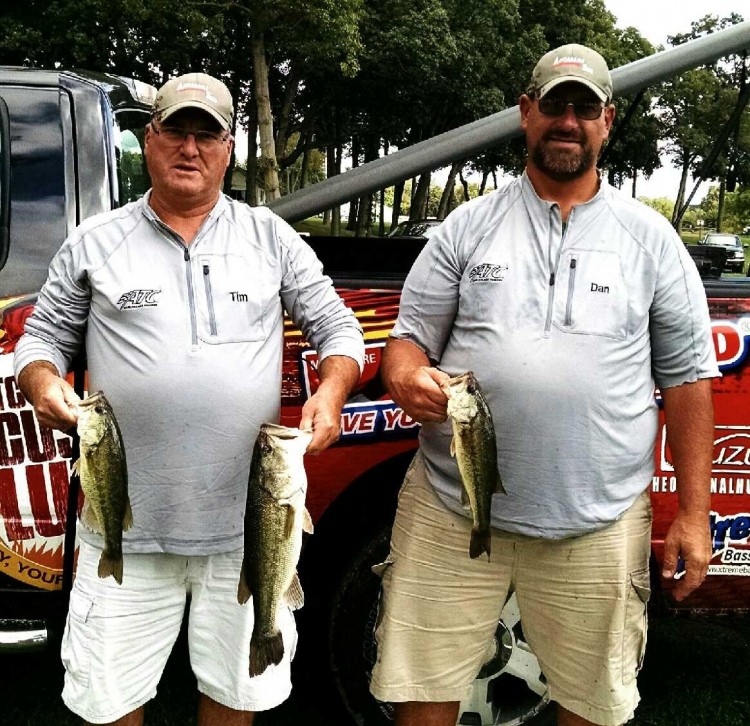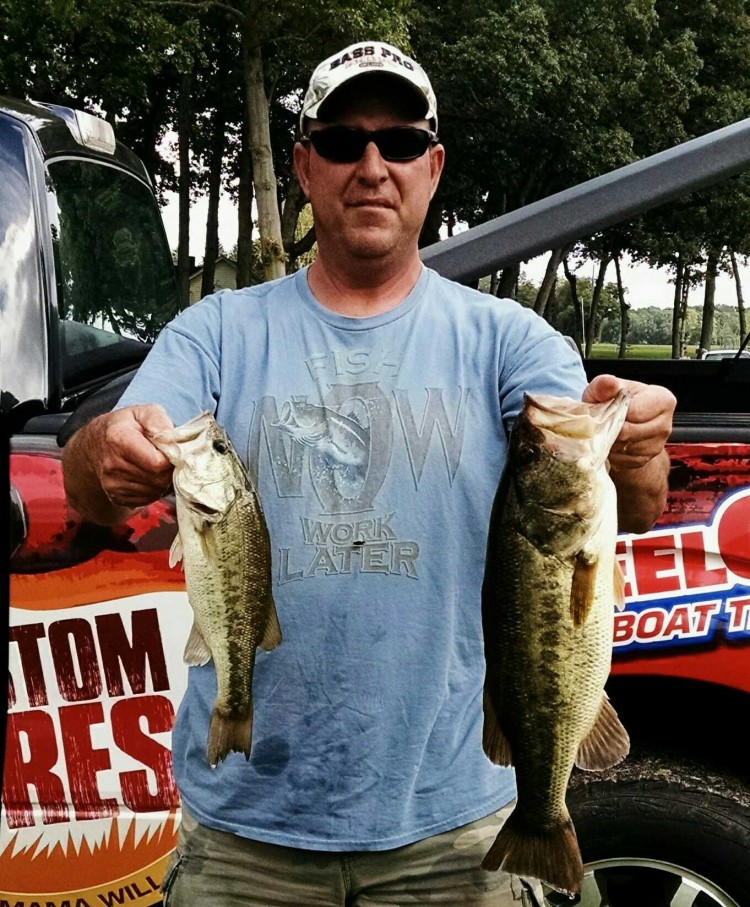 2nd Big Bass:

A 4.37 pound largemouth by

Jim Wheeler

and

Ray Smith

(pictured) won them

$40

.
Rocky Brook Award & 5th Place:
The only team to ever be recognized with a Sportsmanship Award (Lake Michigan), Team ATC, landed their first Top 5 finish with three fish that weighed 6.21 pounds.

Tim Pugh

and

Dan Truex

ended the season with their best finish, yet, also threw back an opportunity to finish higher.
"We thought the penalty for a dead fish was to lose the big fish of your sack," Pugh professed. Unfortunately, that is not the penalty, so the team threw back a keeper that had died during the day. Since the team finished less than a pound behind fourth place, the "throwback" cost them a higher finish. Rules state, "Dead fish weighed will result in ¼ pound penalty from total weight. A dead fish cannot be weighed for a team's big fish."

They were anchored with a 3.32 pound largemouth, which fell for a topwater plug in the rain. "The topwater bite was best for us in the rain early on," admitted Pugh. That big fish was their first keeper and came just 30 minutes into the tournament. At 9:30 they coaxed another keeper with the topwater. At 11:00 they were able to add a third keeper that fell for a tube. They received a tackle pack courtesy of Rocky Brook Sinkers.
Schnelker Marine & ProX Outfitters Award


Damon Woodard

and

Carl Piper

brought one fish weighing just 1.45 pounds to the scales to win a

$25

gift certificate redeemable at Schnelker Marine or online.
4th Place:
Cole Schroder

and

Zach Suchanuk

came to Randall without any pressure, "We had already qualified for the Classic through the East Division, and we did well [at Randall] for the East Division tournament, so we just went fishing," Schroder said. Their laid back approach led to three fish, including the biggest of the tournament. Their 4.43 pound largemouth awarded them

$160

, while the high finish drew another

$110

.
Like the team above them, they spent all day on Morrison Lake. Along a breakline, they began in nine feet of water where the weeds grew two feet off the bottom. At 8:00 with a jig, they landed their first keeper; however, after failing to entice another keeper they made a move.
"One side of the lake is barren of weeds," Schroder shared, "but we found an isolated weed bed." While working this weed bed at 9:00, Schroder set the hook on a fish he assumed to be another sublegal fish. It was not; it was the big bass of the day. However, as he set the hook, he stepped back and fell into the gunnel of the boat. While laughing and regaining his balance Suchanuk recognized this was no short fish, "He told me you better get serious about this one!" Schroder recalled. "Now, not only could I not keep my balance, but we left the net at home! So, there I was just flipping a 4½ pound fish in the boat."

A third keeper came aboard at 9:45, and all signs were pointing at a great day. Unfortunately, that was their last keeper. All of their fish came from jigs.
3rd Place:
Talk about ending the season on a roll. Don Amari and Kevin Rathke finished in the Top 5 in the last three West Division tournaments and at the finale on Coldwater Lake for the East Division. This is their fifth Top 5 this season, including a Top 5 at Randall for the East Division in June. This time around at Randall, they were one of just three teams to snatch a limit, which won them

$195

.

They spent all day on Morrison Lake. Their start began with a bang as they quickly tagged two keepers off an isolated piece of wood; which built critical momentum on a lake they knew keeper bites would be far and few between.
From there they dissected both sides of a weedline, "We spent most of the day in one area," Amari revealed. "On the outside edge (10-14 feet of water) we threw worms, and then threw Yamamoto twin-tailed grubs on the inside edge (6-8 feet of water)." Their primary area produced four more keepers.
Click on image to enlarge.
Going into the finale, they held a slim 1.86 point lead in the Standings but things still looked gloomy. Farver had practiced all day Thursday and only had two small keepers to show for his efforts. Kline's question to Farver was sarcastic but honest, "How far are we going to drop [in the Standings]?"

Veterans of the R & B understand one thing about this team: never doubt them or their prowess. Their credentials above speak for itself.

The culmination of their limit is the definition of junk fishing, endurance, and grit. At the outset of the tournament, they caught a small keeper on a drop shot rig at their first stop on Craig Lake. From there they worked through Morrison, Randall, North, and Cemetery Lakes before catching their next keeper on South Lake with a soft stickbait. They remained in the area, and at 12:00 Kline suddenly caught two on a jig off a shallow weed bed. As they worked their way back, they boated keeper five, and last, on a drop shot rig on Morrison Lake.

An 8.16 pound limit was good enough for another runner up finish and

$256

. Quite fitting for the team who always ends up near the top.