Diamond Lake

DNR Ramp


​​
September 9, 2017
7:30 am - 2:30 pm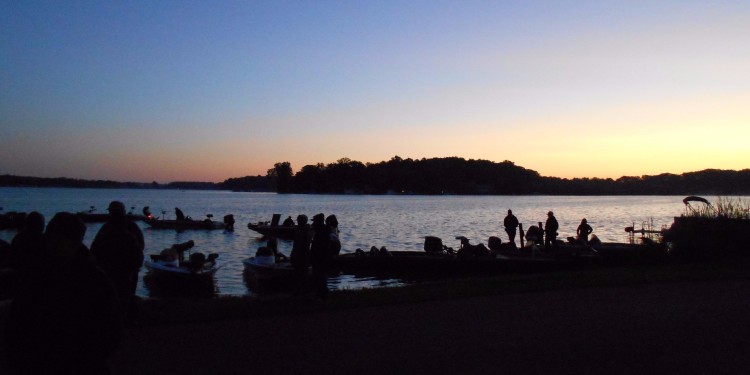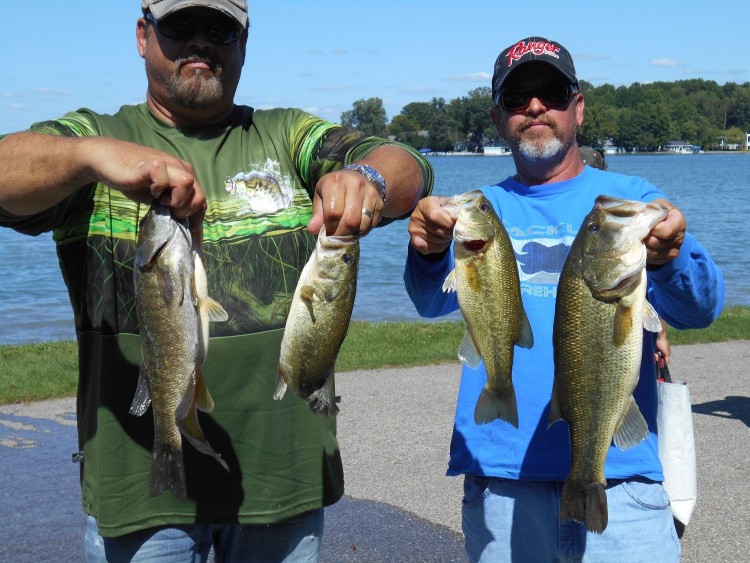 1st Place: Mark Farver & Steve Kline
Weight

: 10.37; Native Pride Tackle Big Bass - 4.77



Pattern

: largemouth and smallmouth bass relating to weedbeds between 12-14 feet of water



Baits

: tube jigs and bass jigs



How it Happened

: Motivation for this victory began in 2014. That year the R & B finale was also on Diamond, which was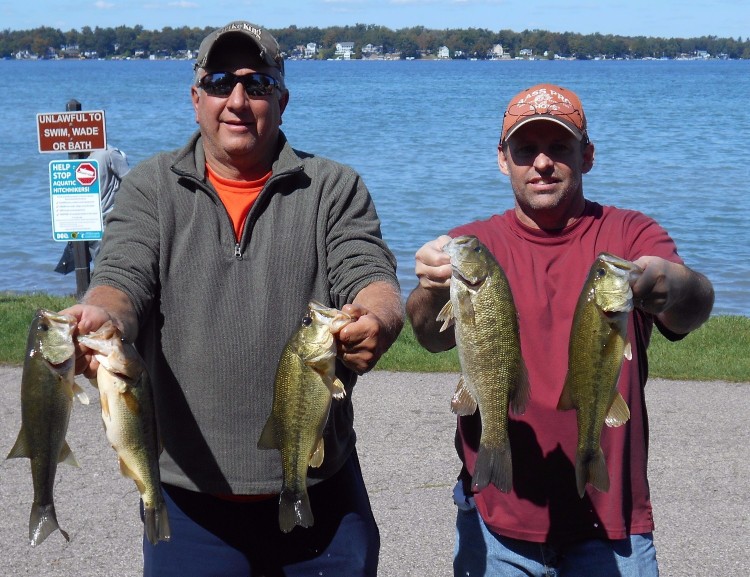 a humbling experience for Farver and Kline - they managed just two keepers and finished 32 out of 48 teams. "We didn't do our homework," Farver recalled, "and we were not going to let that happen again."​​

Consequently, they spent a day covering "the entire lake" probing for areas holding fish and what they would bite. "We threw the kitchen sink at them," added Farver. "I mean everything: jigs, tubes, crankbaits, square bills, curly tail worms, senkos, topwater, everything. But the only thing that produced were tubes and jigs." They also concluded, "We believe the northern pike outnumber the bass 3 to 1 here!" During that day, few places produced quality fish.

But one spot did produce a 3.5 pound smallmouth, and another spot 500 feet away yielded a few additional keepers. Hoping for an early limit, they began the tournament on the spot that produced multiple fish, but after an hour, they had nothing. Strategically, they worked towards the spot that produced the smallmouth, and after working closer, Kline commented, "Our shadows are out in front of us." Fearing their shadows were spooking the fish, he slung his jig as far as he could past the shadows and immediately caught the Native Pride Tackle Big Bass (a hefty 4.77 pound largemouth), almost exactly on the same spot at the smallmouth in practice.
While it was incredible to land this for their first fish, the bite did not improve. Despite covering lots of water, at 11:00 they still were stuck on one bass. This is when they returned to their starting spot, "We knew they would turn on eventually," and he was right. Upon returning, they pieced together their limit using jigs and tubes.

Winnings:

550

+

200

=

$750

+ Rod Bender Baits Certificate & Native Pride Tackle product
Watch the weigh-in,
​


OR



​​Click HERE for the Results!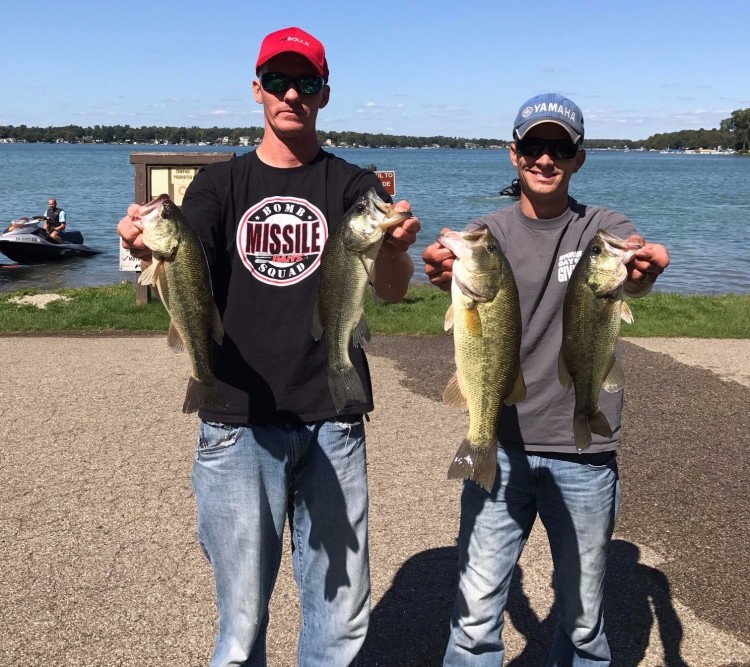 2nd Place: Tom Noe & John Gipson, Jr.
Weight

: 9.59; 2nd Big Bass 3.59



Pattern

: largemouth & smallmouth from three water levels - 20 feet, 6-8 feet, and on the bank



Baits

: drop shot rigs, tubes, and jigs​​



How it Happened

: No team deserves the title of "ringer" on Diamond Lake than these two. Gipson readily admits he has won more tournaments on Diamond than any other body of water.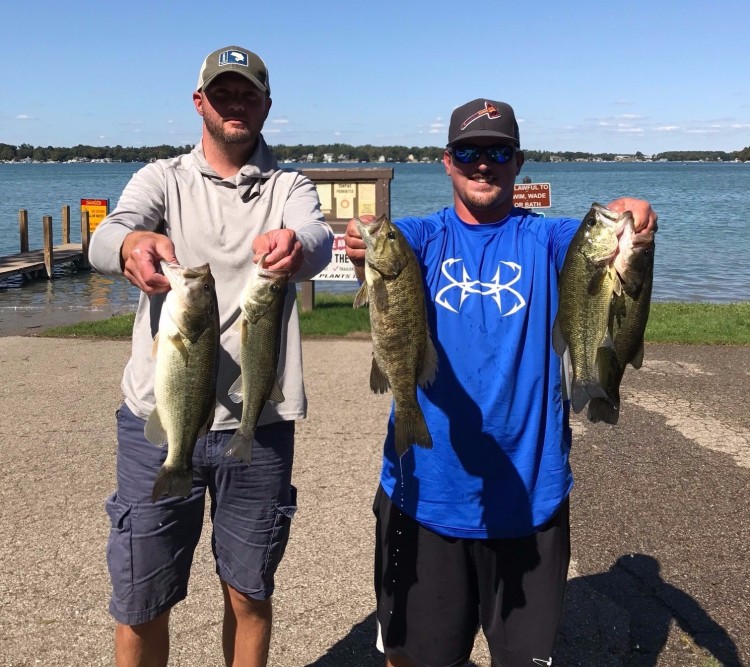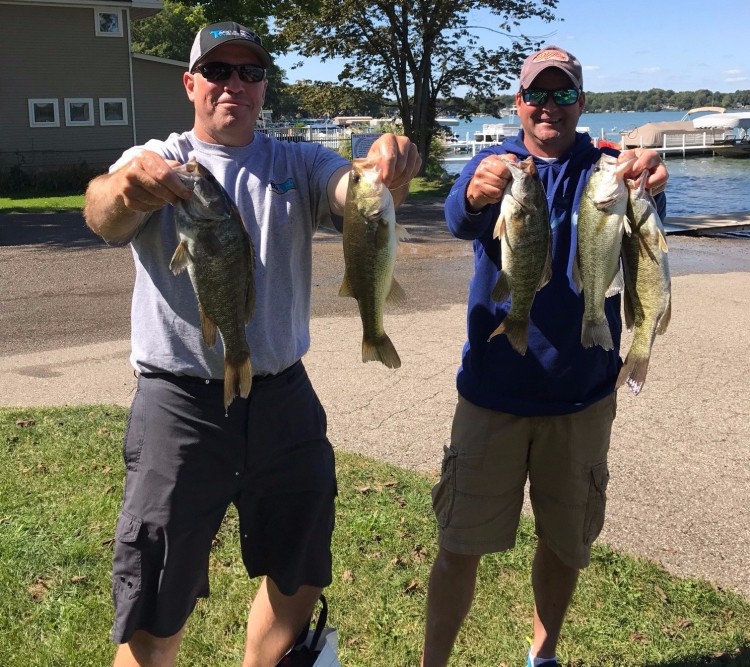 In 2014 they finished 3rd place and were disappointed. This time around they divided their day up between three different depths.​​

First, they began with topwater in shallow water, but after failing to trigger a strike in two hours they slung drop shot rigs in 20 feet of water where they plucked two keepers. After 90 minutes they moved up to the 6-8 foot range with tubes and caught two more keepers. Finally, at noon they returned to the banks and caught the second biggest bass of the tournament with a jig from under a dock.



Winnings

:

300

+

50

=

$350​

​
3rd Place: Matt Kiefer & Landon Baker
Weight

: 9.29



Pattern

: largemouth and smallmouth bass on flats exposed to the wind relating to weeds in 5 feet of water



Baits

: jerkbait
How it Happened

: This was the first time either member had seen Diamond Lake, but it only took 90 minutes to get comfortable. That was when they secured their first keeper on a
jerkbait and unlocked their pattern. "The fish were 1000% relating to the weeds," revealed Kiefer. "Every fish were caught came from the edges, and the wind was key - the harder it blew, the more bites we got."​​

For the remainder of the day they worked the jerkbaits with various retrieves. By 11:00 they had their limit and spent time looking for similar areas, but were not able to cull.

Winnings:

$190
4th Place: Matt Osonicki
&
Steve Januchowski
Weight

: 8.32



Pattern

: largemouth and smallmouth feeding on baitfish between 8-13 feet of water



Baits

: deep diving jerkaits



How it Happened

: The day began strong as the team bagged
two keepers in the first 30 minutes and had another pair an hour later. They finished their limit at noon as they rotated between two areas and culled two times.

Retrieval was important as they worked the baits especially fast to get their bait 8-10 feet deep. They tie their jerkbaits to a fluorocarbon leader that is attached to 10 pound braid line.

Winnings:

$160
5th Place: Dave Selig & Trevor Paulus
Weight

: 7.84



Pattern

: largemouth bass relating to weeds between 12-16 feet of water and smallmouth relating to weeds between 4-6 feet of water



Baits

: smallmouth - white swimbaits with ¼ ounce weights; largemouth - green pumpkin with orange B & N Custom Baits darter w/ ¼ ounce weight
How it Happened

: Paulus is quick to admit it was a painfully slow bite, but taking the time to target both species paid off. In totality, they caught 4 keeper smallmouth, which all fell victim to the swimbait, and 3 keeper largemouth that were fooled by the B & N Custom Baits darter. It took nearly two hours to get their first keeper, but as the day wore on the bite got better.

Winnings:

$90