A

Winter with Bite



By: Andrew D. Buss
It is not supposed

to happen this way. In Michiana, typical fishermen only get to utilize their boats seven months a year; even the die hards can only squeeze in eight or nine. However, 2011 was special.

We had a mild winter, which opened the door for some fantastic fishing. I am one of those die hards, so when November was acting typical - cold nights and dropping water temperatures - most Michiana fishermen winterized their boat to prepare for the inevitable ice, but I pushed the limit, and for once it did not push back.

In late November I was catching big largemouth bass and walleye; in December I fooled walleye in 25 degree air, caught multiple limits of smallmouth on the St. Joe River, and netted a trophy northern pike. Even January allowed me to catch a limit of largemouth.

So here it is broken down. My most memorable moments of the 2011-12 winter; nothing special for anglers in southern states, but impressive for Michiana. Keep it in mind, perhaps next year you will think of me before winterizing your boat.
Klinger Lake got my winter started. Buddy

Steve Prange

and I had decided to enter a bass tournament held here the Saturday after Thanksgiving. It is an annual event that does not draw much of a crowd, but the crowd that does show up, normally includes some of Michiana's finest.

To prepare, we headed out the Saturday before,

November 19

, to get a feel of the conditions. Water temperature was around the 46 degree mark throughout most of the lake and it was initially difficult to locate any fish. We focused on the breaklines and tossed jerkbaits, rattle traps, Erie darters, drop shot rigs, and blade baits. But after two hours we had little to show for our efforts. So we inched our way up shallower. This was a good decision.

In the eight foot depth, tossing jerkbaits and blade baits, we caught several fish. The aforementioned baits were still offered, but ignored. Three areas in particular produced. In the next four hours we ended with five legal-sized largemouths and nearly 20 other non-legal sized. Included was a two-foot long walleye that tasted great later that night. After covering a considerable amount of water we concluded this depth, submerged weeds, and the two baits were the right recipe.

In late November, Klinger Lake produced largemouth, smallmouth, and this 24 inch walleye. The fish fell for a custom painted (work by Teddy Bradley) jerkbait.
One week later,

November 26

, we were optimistic. The weather that week was cold; thus, we did expect cooler water temperatures and arrived unsure if that would send them deeper. Undeterred, we began in the area we had our most success.

Surprisingly, the water temperature had not changed a single degree. Steve began tossing a blade bait while I tossed a jerkbait. It took 20 minutes for my jerkbait to fight back, and when it did we wrestled in a 15 inch largemouth bass. We were excited; however, that enthusiasm was short lived.

An hour passed and we still only had that fish in the livewell. Befuddled, we crept out to deeper water, but that failed to produce as well. After considerable debate, we put our hands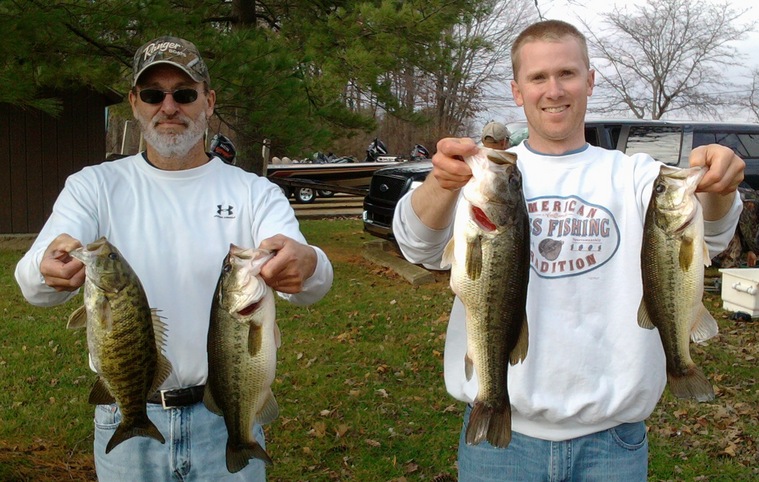 Just before take off for the Thanksgiving Tournament at Klinger Lake, a bald eagle soared over the contestants. The only two anglers to see the bird were Andy Buss and Trevor Paulus. Those two teams finished first and second. Coincidence?
in the air and let the wind drift us into shallower water. As we entered the six foot depth, Steve tied on and tossed a tube bait. Almost immediately, he set his hook on a 14 inch smallmouth bass: keeper number two!

Now just before he had hooked that fish I had casted my jerkbait and it sat still while I netted the fish. To our amazement, when I picked my rod back up, a full 45 seconds later, a fish was hooked. I worked it back slowly to the boat where Steve netted a 3 pound, 11 ounce largemouth. We were ecstatic. Immediately, I tossed the jerkbait back out, but to calm myself down, instead of working it, I laid my rod down and arranged my rods on the deck. It sat motionless for 30 seconds. That was a good move, because when I grabbed my rod, another fish had the jerkbait in its mouth. This time a 14 inch largemouth joined our livewell. Now four keepers were swimming in our livewell with four hours remaining.

After drifting into water deemed too shallow, we motored back to make the same drift. Only minutes after setting adrift, Steve set the hook on another big bass that was fooled by his tube bait. It was a 3 pound, 8 ounce largemouth that looked great alongside the other big fish. But better yet, his very next cast produced a 2 pound smallmouth bass! Five keepers were fooled in just 60 minutes.

The bite cooled off considerably afterwards, although we still managed another handful of non-keepers. The wind gusted to 25 mph out of the west and in the last hour we used that to our advantage. Tossing blade baits into the roughest part of the lake, we culled two more times. In all, we caught eight keepers and 20 total fish. Our best five weighed an impressive 12 pounds and 11 ounces. We won the event and also weighed the heaviest fish: the 3 pound 11 ounce largemouth. Needless to say, we are anxious to defend our title next year.

On

December 3

, legendary angler Greg Mangus accepted a challenge from me. He agreed to be the first in the series, "

Day on the Lake

" sponsored by the

R & B Bass Circuit

. He was taken to a mystery lake in Michiana and given five hours to come up with a limit. He did so in impressive fashion: his best five weighed an astounding 17.2 pounds, which included 5, 4, and 3 pound bass! It was proven to me, and all readers, big fish can be caught during the onset of winter. Click on the image to read the entire story.
On a chilly December day, fishing icon Greg Mangus landed over 17 pounds in 36 degree water!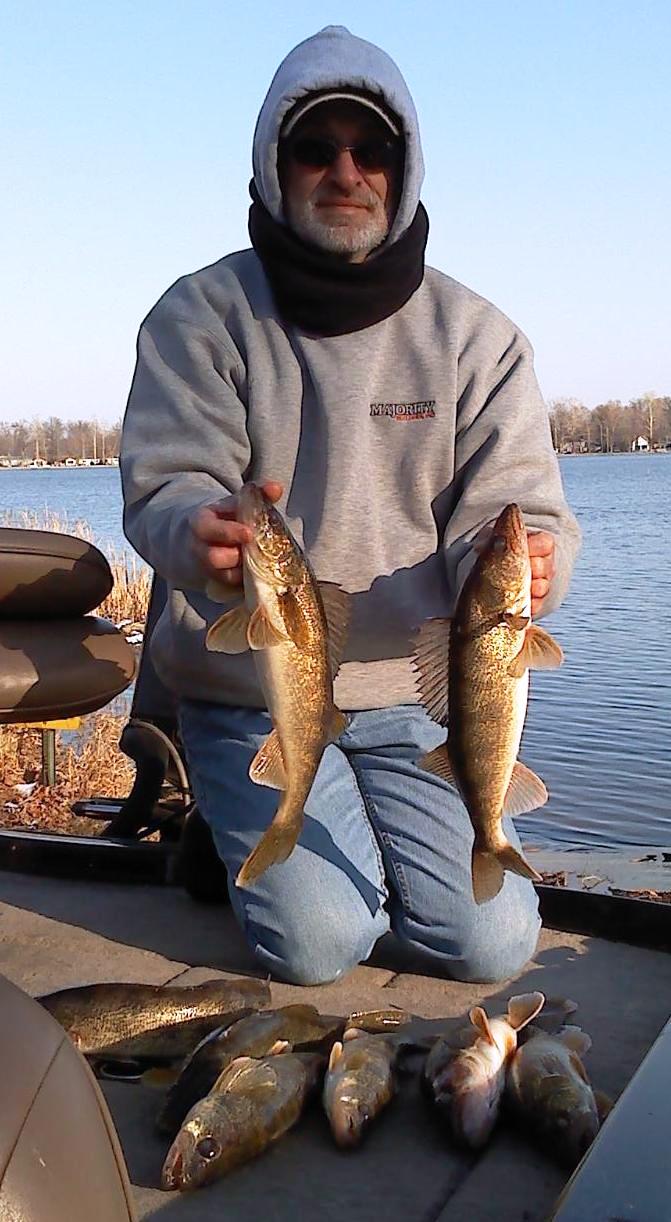 During the weekend of

December 10

, it was becoming apparent that it was time to prepare the ice fishing gear, as high temperatures were only in the mid-20's. Steve Prange wanted one last shot though. He felt if we could stand the frigid temperatures, we could hook into some largemouth and walleye at

Lake of the Woods

near Bremen. Being equally as deranged as he, I took up the offer to ride along

Steve beat me to the ramp by nearly an hour and launched his boat at 9:30 with an air temperature of 14 degrees. The ground was snow covered and he had to break through an inch of ice just to launch his boat.
Despite freezing temperatures and a bone chilling wind, Steve Prange and I were able to boat several walleye in mid-December.
When I arrived at 10:30, it had only warmed to 20 degrees. His first words were, "It is

real

cold and I haven't gotten a bite!" He was not happy and was questioning his own sanity. But to be fair, so was I. The forecast called for a high of 30 degrees with a steady wind of 10 miles per hour; that is a wind chill factor of 16 degrees. To complete the scene, the water temperature was a bone chilling 38 degrees.

That was also my first time on this lake, so Steve was the guide. We headed straight for a mainlake point and began tossing blade baits. On my very first cast, the guides on my rod were gathering ice. Touching the steel components on my reel was painful. But Steve looked like a genius. On his second cast he set the hook on a fish. I was shocked. He battled a 16 inch walleye to the boat and I gladly played Net Boy. Two casts later, he set the hook again. An identical 16 inch walleye was the victim.

All the while in 25 degree temperature, we landed eight keeper walleye and had two others shake off in the next 90 minutes. All fish were fooled by a blade bait and

tasted great. Despite the cold air and constant battle of ice in our rod guides, we were never cold. It is funny how the fishing can get hot even in freezing temperatures. We left rejuvenated, excited, yet, full of regret. Regret filled us as we were certain that would be the last time in the boat for 2011.



Boy, were we wrong!

Not only had the waters stayed clear of ice, but it got, flat out, nice outside. Temperatures had been hovering in the low 40's the week surrounding Christmas and I discovered the St. Joe River. This proved to be an awesome combination.

On

December 23

, Bryan Ritchie and I headed out to see what we could catch. When we met at the ramp, 8:00 am, the temperature was just 30 degrees, but the forecast promised temperatures in the low 40s.

We immediately noticed the water was muddy due to recent rains and the water level was falling. The water temperature was a numbing 36 degrees, so we looked for cleaner water. After searching the river without success, we checked out a channel that had crystal clear water and, surprisingly, water temperatures in the low 40's. Quickly, we worked our way towards the back. I tossed an Erie Darter with a ¼ ounce jighead and within minutes I had hooked into a feisty smallmouth bass. It measured just 14 inches, but who could complain just days before Christmas?

Unfortunately, Bryan had a terrible backlash and was working to fix it when I caught another identical smallmouth from the same spot. In fact, nearly as fast as I could cast, I caught smallmouth. In five minutes, I had landed five fish. It was at this point Bryan had had enough: he just cut his line and tossed out a darter as fast as he could and immediately caught a smallmouth too.

In the next hour, we landed 19 keeper smallmouth bass from a pocket in this channel no larger than a backyard swimming pool. The technique was simple: let the darter settle to the bottom and slowly work it back to the boat with intermittent twitches on slack line. They bit when the bait sat still.

To add a cherry on top, we left the channel to try our luck by the dam. We tossed blade baits, and on Bryan's fifth cast, he hooked and landed a 2.5 pound smallmouth bass. This was larger than any fish caught in the channel. Thirty minutes later, he again hooked a smallmouth pushing three pounds, but this one shook loose three feet from the boat. It was a painstaking loss, but the day itself had exceeded expectations by a mile.

I could hardly wait

to get back on that action. So I talked Steve Prange into joining me

the day after Christmas

. The past 72 hours had provided ample opportunity for me to boast, brag, and make him jealous of my time on the St. Joe River. He wanted to know if I was a liar or not. This time he accepted my offer.

Once again we began at 8 am and the forecast was identical from three days ago. This time I knew where to begin, so we headed straight to the same channel that Ritchie and I pounced. However, a lot had changed.

The same pocket that produced so many smallmouth only produced one after 30 minutes of prying. We searched high and low for more fish, which only resulted in three small bass and one exceptional northern pike. Tossing a ¼ ounce rattle trap, Steve hooked and landed a 34 inch northern pike. It was an awesome battle in which he delicately worked and wore out the fish before I was able to net it. This was larger than any pike I had ever caught and Steve was proud, yet released it.

That was a good decision. Only 20 minutes later Steve again hooked another fish with his rattle trap, a much bigger fish: another pike. But this one dwarfed the last. This was a giant! He expertly worked it for several minutes, which saw

The 34-inch pike, (above) was considered a good catch but only for about 20 minutes.
The size of this 40-inch northern from the St. Joe River is not all that made news.
the fish make several runs – stripping line as quickly as he could reel. She thrashed her head violently. Steve merely kept pressure, she was in control. As it came closer to the boat I attempted to net her, but the net was too small. My first scoop failed. This allowed her to make another run. Luckily, she wore down and this allowed me another attempt. I did not fail. This time I was able to bring the net around her head and hoisted her into the boat.

The behemoth measured 40 inches and weighed 14.6 pounds. Then words were muttered in my boat I had never heard before, "I think she is going on my wall." In my lifetime I have never witnessed the capture of a wall-worthy fish. It was surreal. I witnessed a magical moment in an angler's life that included 50 years of fishing.

The big fish made news, not just for its size, but for what she had in herself. Steve does his own taxidermy work and that night when he opened her up, he found out why she had such an impressive girth, "She had two huge sacks of eggs, but inside her stomach was a 14 inch smallmouth bass!" He theorizes, "She had eaten that morning, because the bass still had all of its distinguishing marks and had just begun breaking down. This tells me she did not bit the rattle trap to eat, but rather, it was a reaction bite." Word spread amongst anglers, the internet, and the

South Bend Tribune

ran an article on the catch.
In fact, the fish was hooked on the outside of the mouth and bit before Steve had been able to make a full wind of the reel. Therefore we conclude that the bait landed on top of the fish and as it darted to get away, it snagged the bait on its mouth. Only the dissection revealed this, without it, we would have always thought it bit, but failed to inhale it.

After securing the pike, we headed out of the channel to search for more clear water. We found it in another channel. Here we found the "Mother Load" of smallmouth bass. As we entered the channel, literally a hundred smallmouth were spooked by our presence and raced away from us. Our presence put them on alert, which made them more difficult to catch, but we still sore lipped nearly 20 more keepers. Initially I tricked two with a jerkbait, but then patiently worked the darter to catch the majority. Steve also fooled a few with a three inch senko bait attached to a lead jig.



Great weather continued

through the next week, thus, on

News Year's Eve

, I, and seven buddies, hit the river one last time. We filled up three boats and went our separate ways. Along with me were

Bryan Ritchie

and

Gary Price

. However, bragging rights were on the line this time. Each team was to bring back their best 10 keepers and whoever weighed the most would win the competition. The three of us caught 18.

These were lofty goals for December 31 on a river with falling water levels, but the fish came through again. In just six hours the seven of us caught 36 legal sized smallmouth and largemouth bass. The common denominator for all of us was the combination of clear water and warmer temperatures. The same channel that produced for Ritchie, Prange, and I accounted for 23 of the 36 keepers caught that day.

The girth was explained later when a 14 inch smallmouth was discovered in her stomach. Prange exclaimed, "That should count as two fish for me!."
Winter kept biting back.

The very next weekend, January 7, Steve and I headed out to Lake Wawasee. My fishing experiences in January can be counted on one hand, so, admittedly, I had no idea what to expect. As far as we were concerned, we were charting unmarked territories on the Michiana fishing map. It was a chilly day, but the water was still soft. When we launched the boat at 8:30 in the morning, the air temperature was right at freezing and accompanied with 12 mph winds straight out of the north.

The water temperature was now 36 degrees and the majority of channels were covered with ice. The ice had eliminated much of our game plan too; we wasted valuable time breaking ice in a channel before determining our efforts were futile. Two and three foot waves became commonplace on the lake before the day's end. Then Steve suggested an area, a hole actually, about 50
The 2-pound smallmouth and largemouth bass were fooled December 31, 2011.
The man is a genius. Immediately we began catching largemouth on a blade bait. Over the next four hours we caught 17 largemouth bass including seven keepers. At moments we had "doubles" and on two separate occasions I caught a fish on consecutive casts. Our best five fish weighed about twelve pounds. Our biggest fish weighed 3.5 pounds. Though this is not newsworthy in July, for January, we felt very proud of the results that day and the entire winter.

For those who took advantage, Michiana was blessed with an extra season of fishing. When the opportunity knocks again, anglers would be wise to be prepared: smallmouth, largemouth, walleye, and pike will eat with or without you. And as fate would have it, the very next weekend I was ice fishing.
Although just peanuts to limits weighed in June, Prange and I were proud of our 12 pound limit on Lake Wawasee on January 7, 2012.
yards in circumference on the north shoreline, he thought held potential based on his map study.