1st Place: John Gipson, Jr. & Tom Noe
Weight

: 12.88; 3.92 - 2nd Big Bass



Pattern

: Sight fishing for largemouth bass on the main lake and channels



Baits

: Jigs with a Missile Baits Craw for a trailer and a 6-inch worm
​


How it Happened

: The South Division tournament directors are now tied for second-most wins and claim spot #3 on both the All-Time Money Winners list and Top-5's.
2nd Place: Trevor Paulus & Dave Selig
​
Weight

: 11.67; 4.26 - Lochness Lures Big Bass



Pattern

: Junk Fishing for largemouth bass in shallow water



Baits

: Soft stickbait, jigs, & hula grub



How it Happened

: hey had a solid main lake, shallow pattern in practice, but it did not pan out, so they just went "junk fishing." Paulus admits, "We caught first keeper off a bed, a second one on a rattle trap on the main lake, a then a third
3rd Place: Mark Farver & Steve Kline
​

Weight

: 10.83



Pattern

: Post-spawn largemouth on Lake Wawasee



Baits

: Homemade jigs

4th Place: Frank Berning & Mike Lytle


​​
Weight

: 10.05



Pattern

: Bed fishing for largemouth bass in channels
​


Baits

: Small plastic crawdad bait on leadhead and dropshot with a swimbait
Click HERE to view results.
AND


​
Watch the Weigh-in
This day came together immediately. Gipson confessed, "We pulled up to the first fish, 2.5 pounds, and caught it on the first cast. Tom didn't even have his rod unhooked. We were going to continue down the channel, but I said something like 'Let's go for the win instead of a small limit.'"

They then went right to the second 2.5 pound bass they found Friday. "It was behind a boat lift, dock on the right side, and a pipe on the left. I made one cast with the worm and my line swam sideways," Gipson said. If that doesn't prove the stars were aligned just right for them, this will.

"We were idling into the next channel when I saw 4-5 fish swimming in front of the mouth on the main lake. I threw maybe 10 yards in front of the big one and my line started swimming away - that was the big fish. 3 casts, 3 bass for about 9 pounds!"

With the approaching storm they chased smallmouth and quickly finished their limit. Afterwards, they went back into the channels and culled with a largemouth. Later, they plucked one more largemouth from a bed on the main lake. Overall, they caught a dozen keepers.

​​Winnings: $730 + 90 = $820

How it Happened

: The All-Time Money Winners sat their Ranger boat in 22 feet of water and cast into 8 feet with their jigs. They began catching their fish immediately, and wrapped up their limit by 7:15. "I found these fish on Friday," Kline acknowledged. "I was out there all day Thursday, but could not come up with anything, so I got lucky to find them Friday."

Two spots produced. One yielded 12 keepers, while the other supplied another six.​​

Winnings:

$340
How it Happened

: They caught 10 keepers by looking for and tricking bedding bass in the channels. "They were hard to see, but they would show themselves, and then we set
5th Place: Don Amari & Kevin Rathke





Weight

: 9.47





Pattern

:

Post-spawn largemouth bass on breaklines near outside channel mouths


​


Baits

:

Jigs and Texas rigged plastic baits

​​

How it Happened

: This team of veterans did not want to fish for bedding fish, but also knew they could not disregard the
fish's instincts to spawn. Consequently they worked breaklines outside channels with a combination of jigs and Texas rigged plastic baits. By 8:00 they had a limit and worked through 10 more keepers.

Winnings:

$194
6th Place

: For the second straight tournament,

Teddy Bradley

and

Mark Fennell

(left) finish just outside the Top 5. This time a 9.43 pound limit won them

$170

.
8th Place

:

Paul Hollabaugh

and

Don Bobay

(left) landed a 9.25 pound limit and won

$90

. ​​
9th Place

: A 9.04 pound limit won Denny Cook and Rick Sawyer (right)

$75

.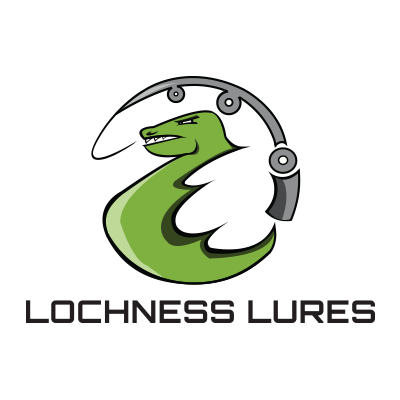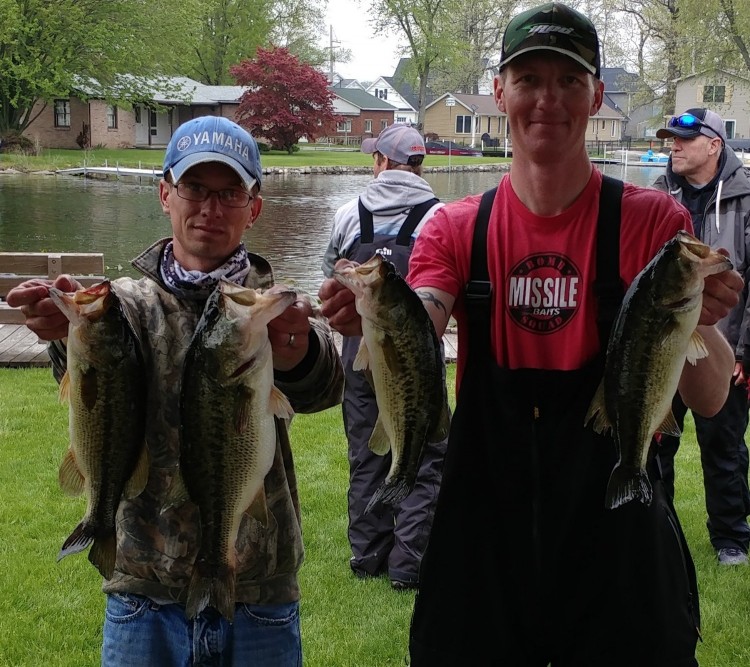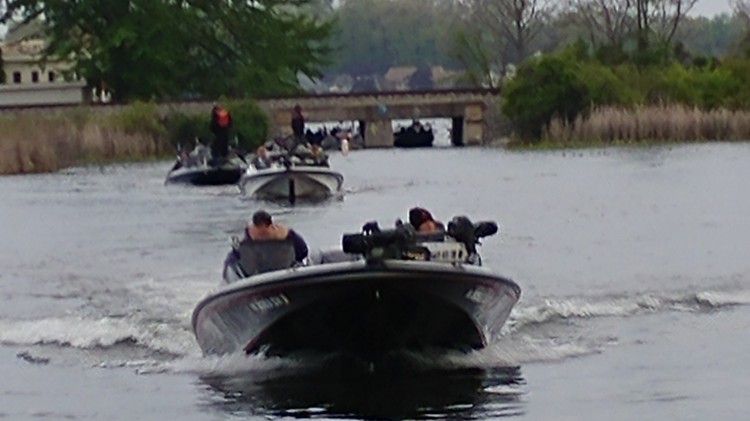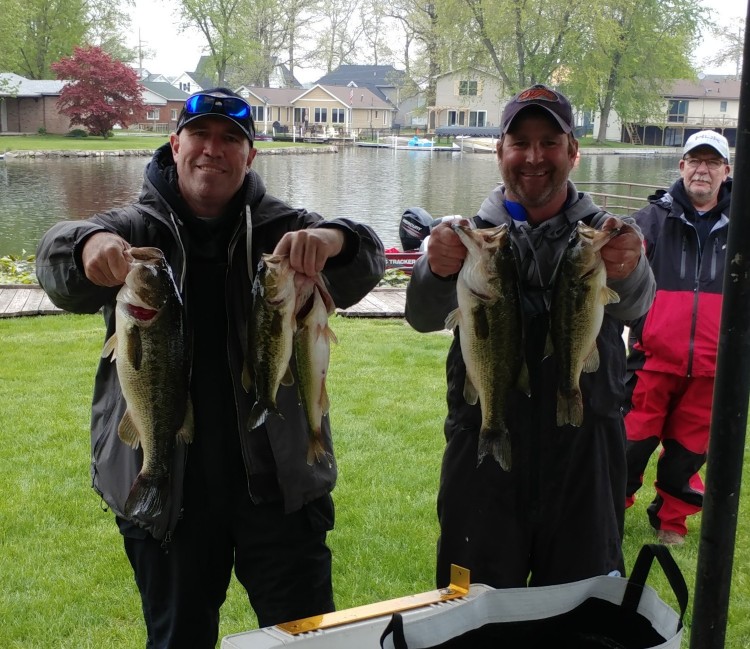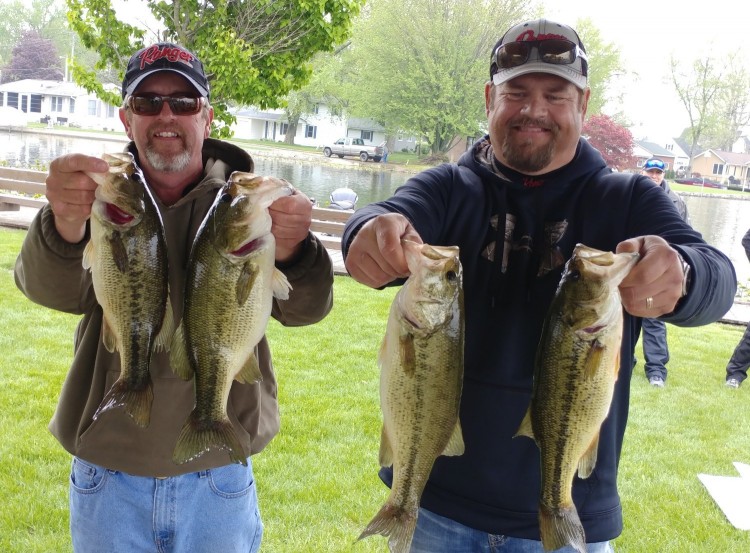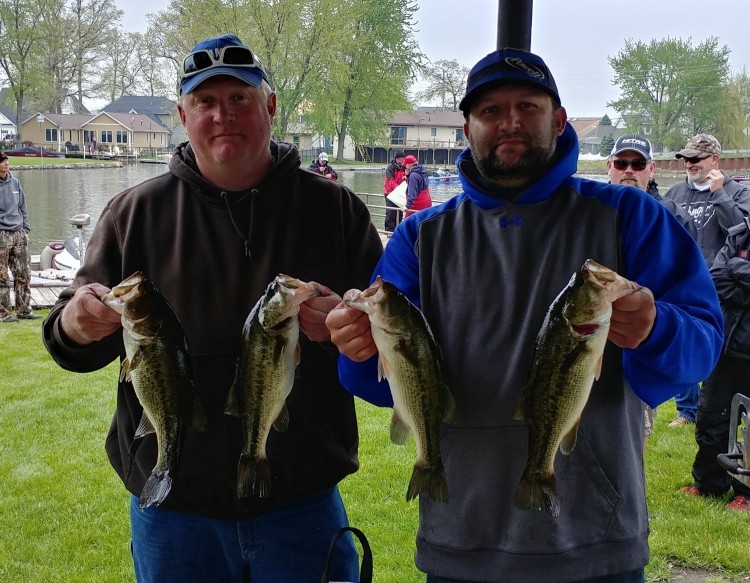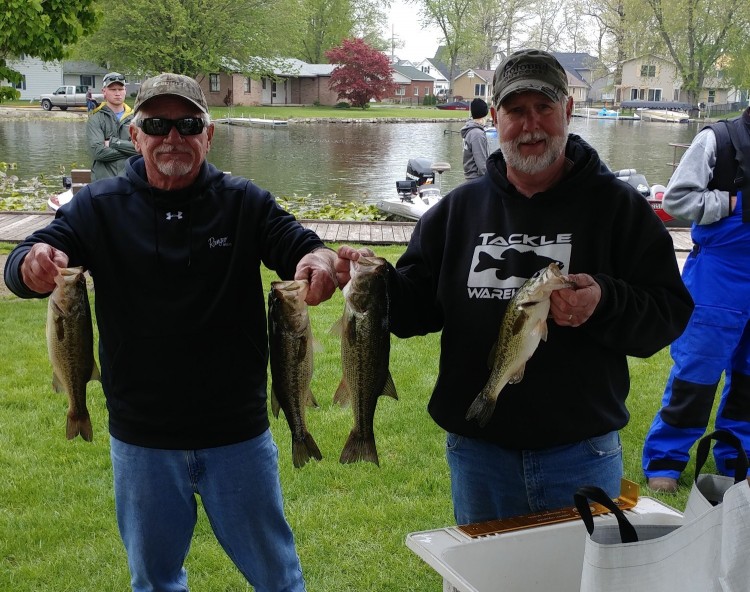 keeper on a jig under a dock." However, at 12:45 they were still stuck with only 3 fish. "At that point, we went out to a break and caught a 3 pounder on a soft stickbait. A few minutes later, we finished our limit with a Yamamoto Hula Grub," Paulus added. "We then decided to check one last main lake spot where we caught the big fish on a swimjig, with less then 20 minutes before we had to head back."

Winnings:

$472
up," admitted Lytle. All of their fish were caught with the two aforementioned baits, but one other keeper was landed when fancasting a soft stickbait. Their limit was complete by 10:00.

Winnings:

$248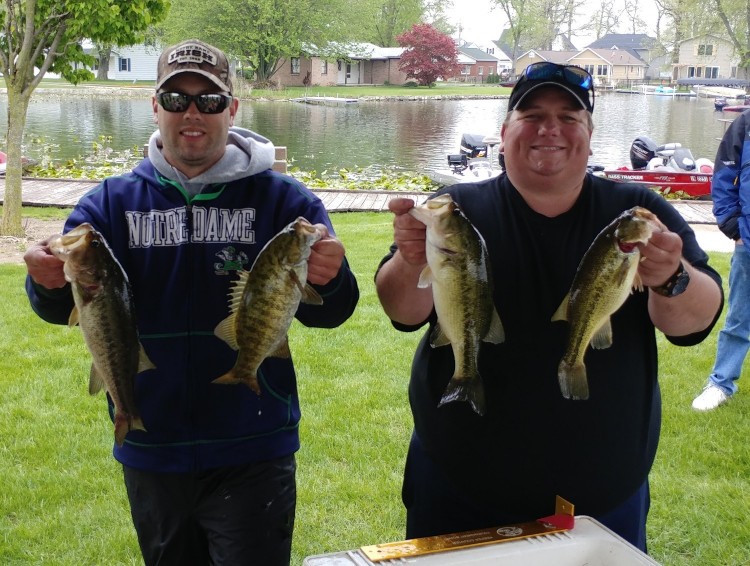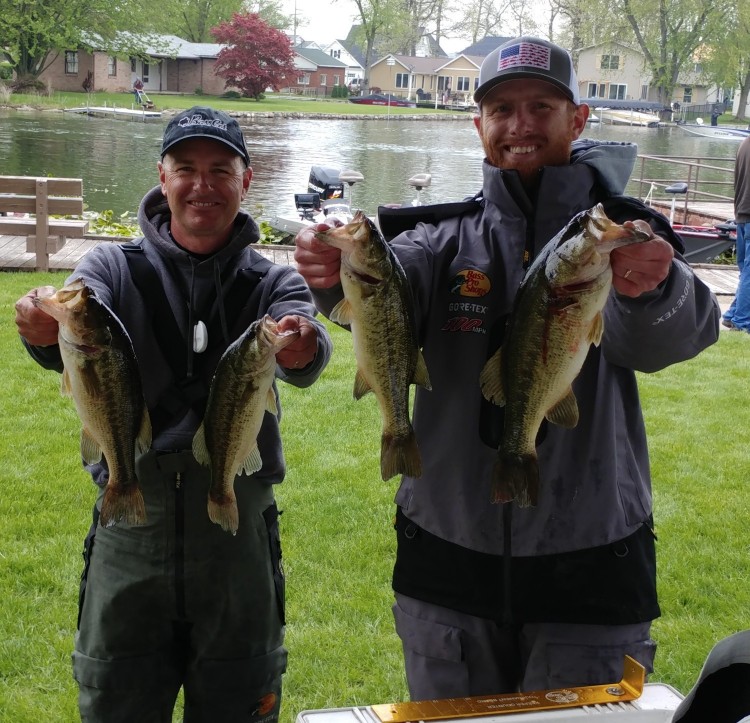 7th Place

: Hunter of Fish,

Heath Wagner

, and

Andrew Quillen

(right) brought 9.29 pounds to the scale to claim

$120

.