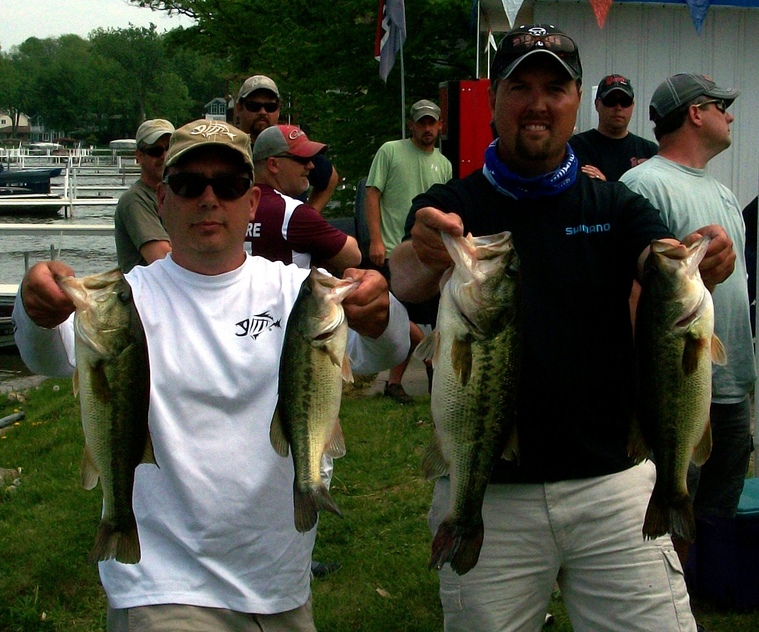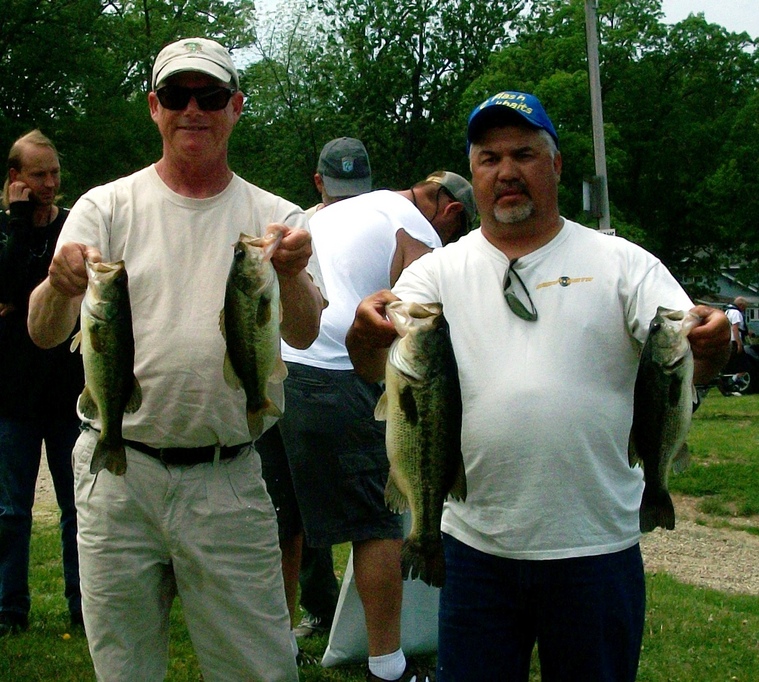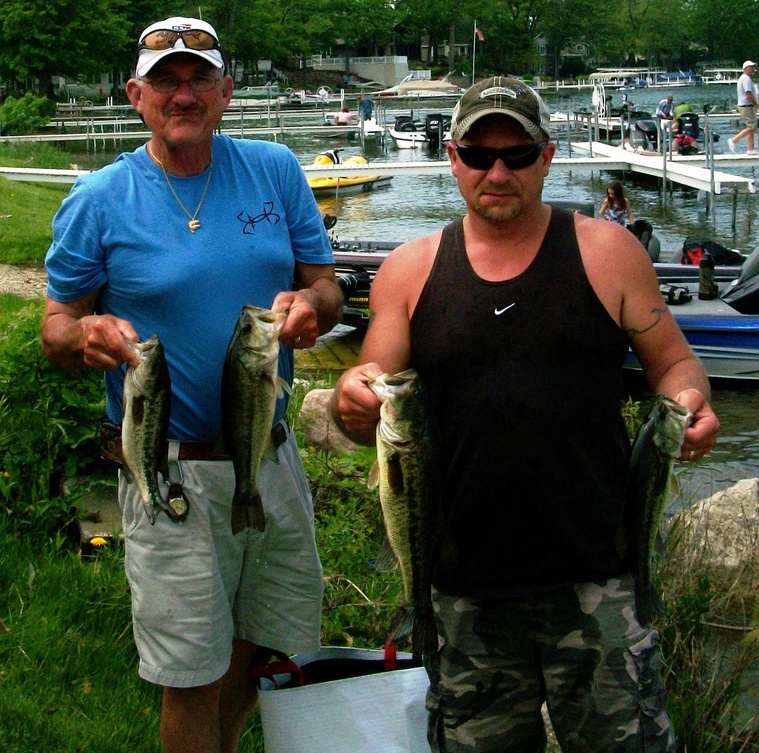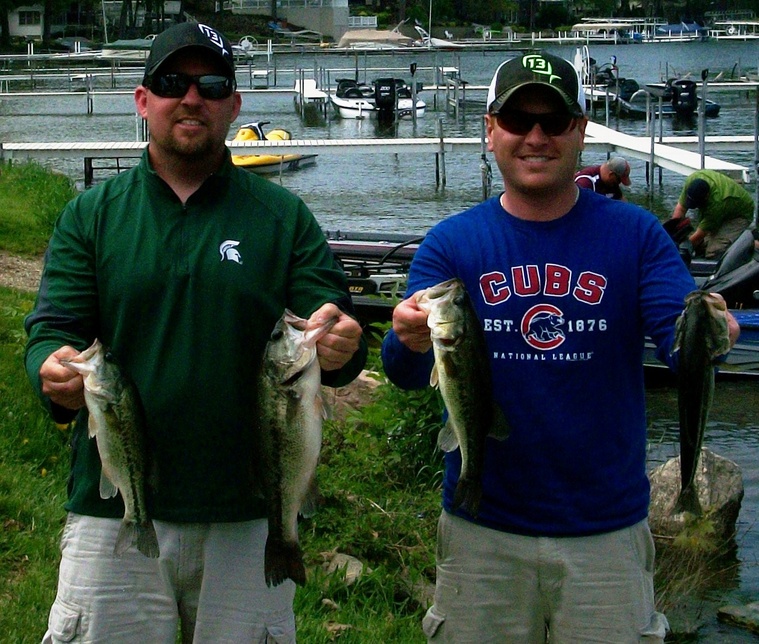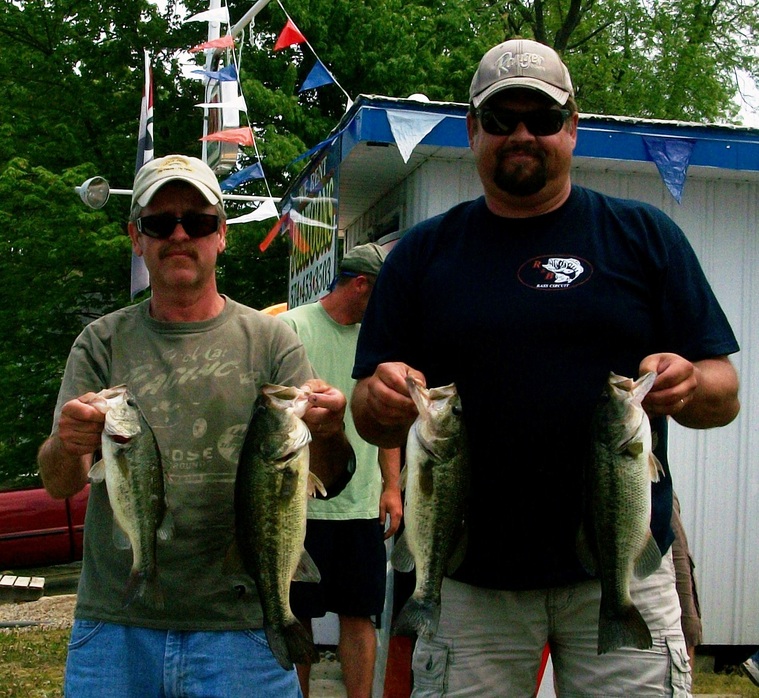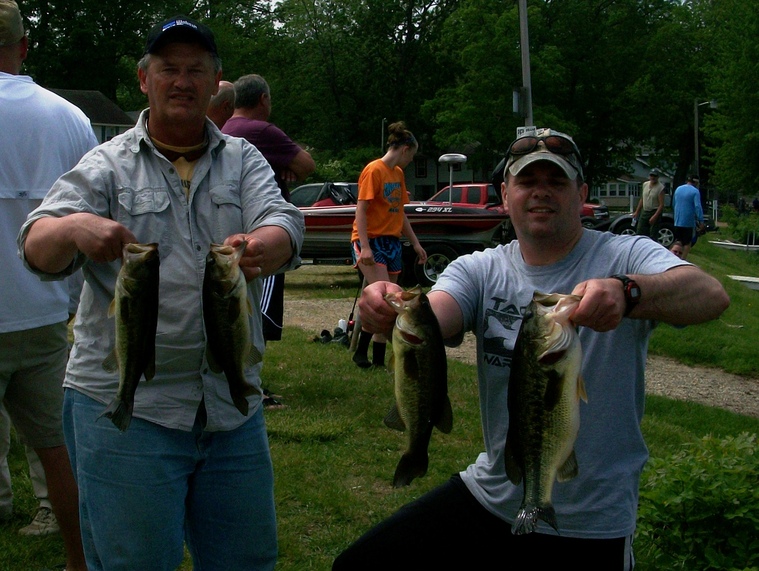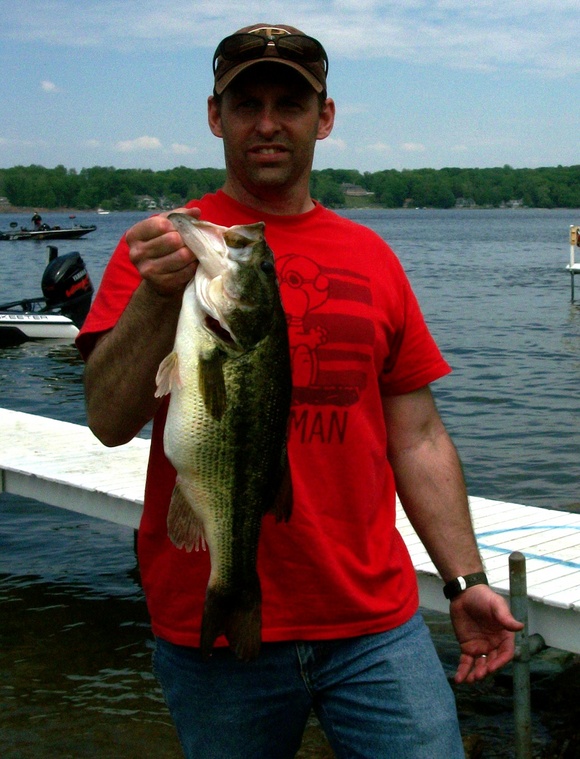 1st Place:

According to Dictionary.com, domination is defined as control. No other adjective could better describe the grip that the team of

Ron Fabiszak

and

Ron Nelson

have on the R & B Bass Circuit so far this season. Even with the 44 boat average, they are poised to destroy the competition less than half way through the season. To back up the record setting victory at Webster Lake, the duo put together a 15.36 pound limit to win by 4.2 pounds at Tippecanoe: the third most lopsided victory in the Record Books. Furthermore, they are the first team to ever win back to back R & B events.

While Fabiszak fished solo at Webster, Nelson more than made up for himself at Tippecanoe. All of their fish were caught off of beds and Fabiszak credits him for the victory, "He has bionic vision! For the most part, I just sat in the back of the boat and let him do his thing while I fan casted and enjoyed the weather."

But it was actually Fabiszak that found the fish Thursday afternoon. Wisely he realized the bigger fish were not in the channels. He explains, "With the gradual warm up this spring, the channels were the same temperature as the mainlake, so the fish did not need to move into them to spawn. Why would they go into channels where they are more vulnerable when the conditions are the same five feet deep on the lake."

The fish they caught were between five and six feet deep, and they caught eight of the nine fish they targeted. Their weapons of choice were black/blue jigs and green pumpkin Poor Boy Erie Darters.

Their biggest fish, a 5.35 pound beast, also the second biggest of the tournament, was a story in itself. Fabiszak recalls, "That fish was with a three pound male. We caught him and came back to see what she was doing 15 minutes later. When we got there, she was locked on." It was not easy going though. It took nearly 60 minutes to fool her into biting.

As good as the day was, it could have been even better. They spent the final 90 minutes casting at a fish they estimate over six pounds. She bit twice, but they failed to hook her. Regardless, they took home

$92

for the big fish and

$730

for the victory, bringing their total to

$822

.

2nd Place:

For the second straight event,

Greg Mangus

took second place, but this time did so with substitute partner

Terry Tucker

. The veterans are within striking range of the leaders and are heading to a body of water, Lake Wawasee, where they are always contenders.

The team began fishing a flat with Mango jigs teamed up with Poor Boy's Baits chunks on Lake James and filled their livewells quickly. At the midway point of the tournament, after working the flat for all it was worth, they headed to Tippecanoe and upgraded their limit with a 4.20 pound largemouth fooled on a centipede rigged wacky. They culled a second time after skipping a centipede under a dock.

Altogether, the team landed a dozen keepers with the best five weighing 11.16 pounds. Their efforts were awarded with

$460.
3rd Place:

If R & B competitors did not know newcomers

Ben Diamond

and

Bryan Holderman

before Tippecanoe, they do now. Their 10.82 pound limit won them

$340

, but it took some grit and determination to put it together.

Diamond reveals, "We began along a breakline in front of a channel and caught a handful of shorts quickly, but not any keepers, so we went into the channel." There they scored more shorts on a Snag Proof frog before landing a 15 inch keeper on it. "We were not getting the keepers we needed, so we ran to another channel," admits Diamond.

This was a great move. Shortly into the channel they found a 4.29 pound largemouth on a bed and worked it with a Sweet Beaver in the watermelon seed color scheme. After nearly 15 minutes, it bit Holderman's bait, but his line snapped on the hook set. Fortunately, the fish settled back down and Diamond was able to coax it into biting again after just five more casts. This time they landed it. Diamond admits this made them comfortable, "We knew with a fish this size, we should be in the money if we could finish out our limit."

He was right. They stayed in this channel for the remainder of the day and landed six more keepers, all of which fell for the same Sweet Beaver off of beds.

4th Place:

When it comes to Tippecanoe,

Mark Farver

and

Steve Kline

may be the team to look out for; after finishing second at Tippecanoe in 2012, they follow that up with another top 5 in 2013. They too targeted spawning fish, but on Lake James. They only landed five keepers, but their best five weighed 10.36 pounds. This earned them

$242

.

The day before, Farver scouted the water and found several bedding, which is where they began and ended their day. They caught all but one fish on a Zoom Fish Doctor bait. The exception was their biggest fish, a 3.14 pound largemouth, that was tucked under the corner of a boat lift.
It would not cooperate until they tossed a weightless Castaic Minnow, which it could not refuse.

After cashing in at Webster as well, the team now sit in the top 5 of the Standings and head to several lakes they figure to be contenders.
5th Place:

Right off a Top 8 victory,

Curtiss Werner

and partner

Blaine Pickavett

kept the hot streak going with a top 5 finish using their signature Money Mouth Baits. They did not target spawning fish, rather they targeted fish coming and leaving spawning areas. Specifically they fished the mouths of channels.

Their main weapon of choice was a 5 inch watermelon red Money Mouth Baits Fishbone (pictured below photo) rigged wacky style. It did not take long to capitalize. Only 20 minutes into the tournament they bagged their biggest fish, a 3.23 pound largemouth. This not only added a quality fish to their well, but confirmed they were doing the right thing. They went on to catch six more keepers, and countless sub-legal fish.

Werner reveals their strategy, "We stayed in four foot of water or less. After fishing the mouth of a channel, we would work both sides of it." Most fish bit when they were dead sticking their baits.

Their best five weighed 8.93 pounds which won them

$194

.
Other Teams in the

Money

:
Money Mouth Baits Big Bass Award:

Steve Januchowski

(left) fooled a 5.52 pound largemouth on a Zara Spook earning him

$368

plus baits.



Starboard Choice Marine Challenge:

Tom Montague

, while boasting a Starboard Choice Marine sticker, fished solo, yet came up with a 7.24 limit to win

$200

in gift certificates to the marina.


Solar Bat Sunglasses Incentive:

Travis Schroeder

and

Tom Reed

finished in the qualifying spot of 19th place for a free entry fee for Lake Wawasee. Unfortunately, they did not fulfill the requirements of the program. Don't let this happen to you! To learn more visit the Bonus Money and Prizes page.
6th Place:

Backing up their third place finish at Webster Lake,

Larry Stanley

and

Dave Terry

ended with an 8.79 pound limit winning them

$170

.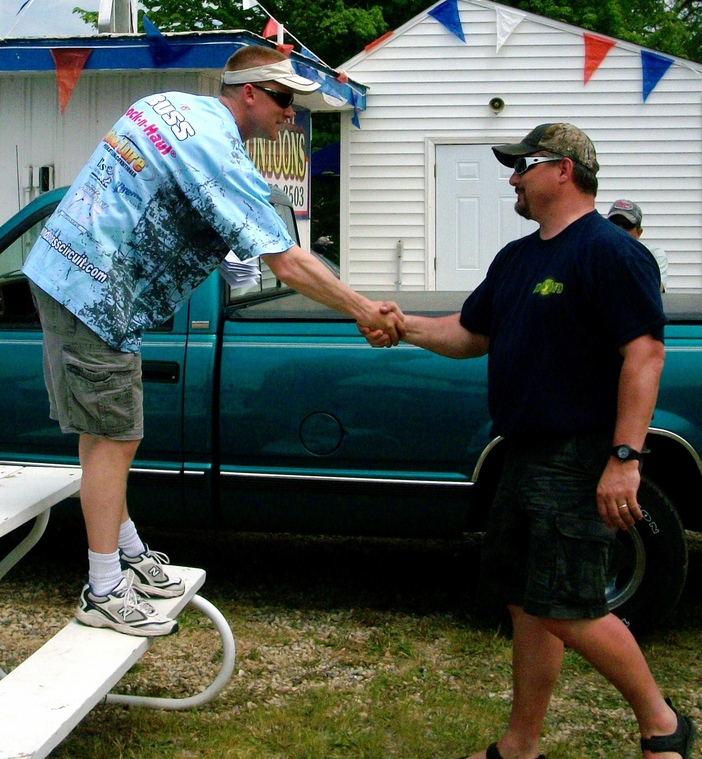 7th Place:

R & B veterans

Dave Morrow

and

Rich Paton

rebounded from Webster with an 8.49 pound limit earning them

$120

.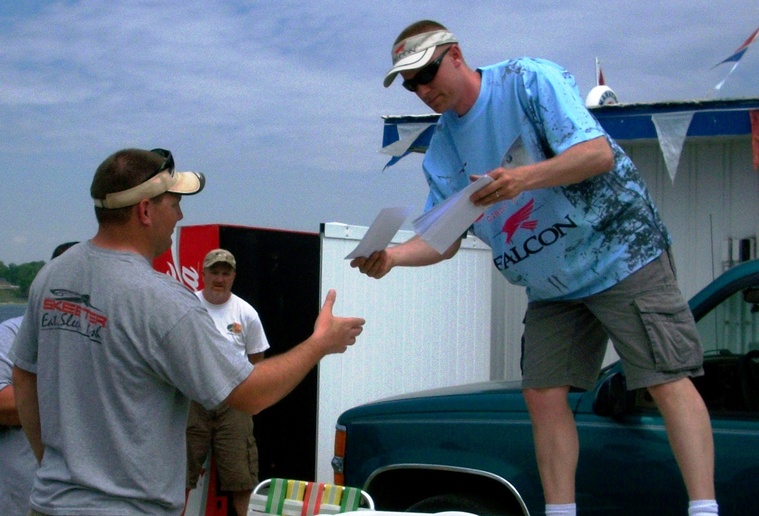 8th Place:

Mitch Bair

and

Scott Sizemore

find themselves in the Top 5 after cashing in again with an 8.45 pound limit and pocketing

$98

.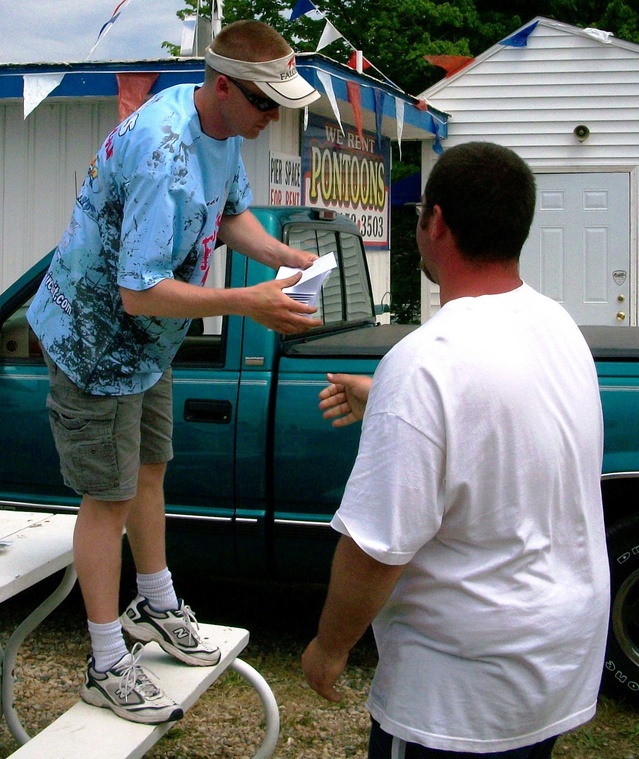 9th Place:

2012 Tippecanoe winners

Kevin Miller

and

Larry Schwartz

weighed 8.21 pounds. This was also the first time in R & B history, the circuit paid out this spot:

$72

.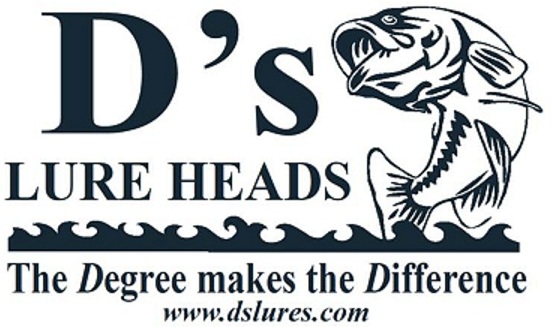 D's Lures Award:

Bill Hovermale

fished solo and weighed 7.91 pounds to win shirts and tackle supplied by D's Lures.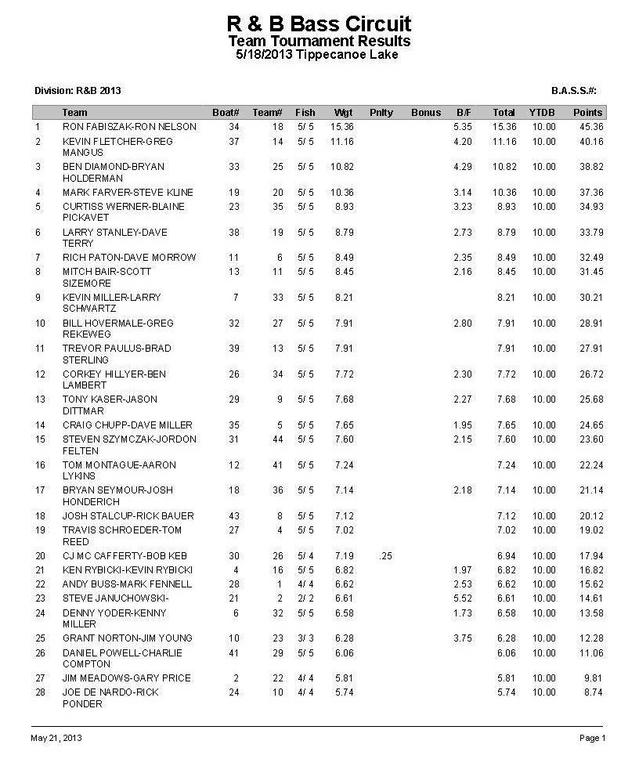 Click on the Results for a pdf file.
Click on the image to enlarge.