Lake St. Clair
June 17, 2018
6:30 - 2:30

How it Happened:
Heath spent Friday and Saturday checking for spots that he knew would have bedding fish. Heath had 16 marked that were over 4 pounds. His big dilemma was did he have enough to fish Cash for Bass on Saturday or would they be picked over and possibly leave him short for Sunday. He opted not to fish Saturday's Tournament and continued scouting. When Andrew arrived Saturday afternoon he asked "How much weight do we have sitting on beds"? Heath estimated with 6.45, one over 5 and one over 4.5 LB he had caught pre fishing that would put them at over 23 -24 LB. A phone call from a Friend fishing the Cash For Bass and a picture confirmed without a doubt the 6.45lb Smallmouth had been caught. Heath was concerned several others might of as well.
​
On Tournament day their first fish took over 20 minutes to hook but their second came in one cast. They made a 10 mile run for their 3rd fish which was a 4.3 lb Smallmouth on a sand flat. As heath got the boat situated and started to set the power poles Andrew had the fish hooked up on a Drop Shot. By 9:00 they had 5 in the livewell at just a little over 20 lbs. With the relatively flat water conditions they continued to sight fish casting and catching fish that they hadn't found prefishing. After catching 15 – 18 fish they really hadn't up graded, with the largest being a 3.93 so they changed their target from Bedding Fish to Post spawn fish looking to upgrade. They were able to upgrade a little with the post spawn fish making repeated long casts to weary fish holding shallow in about 5' of water with a wacky rigged Senko.
Weight: 20.87 LB





​Baits: ​Soft Plastics





​​How it Happened

Shawn sent me the following email to share: "

We made a fairly long run in the morning. We had found an area in practice that we caught good keepers pretty quick. We thought we would get 5 there quick and then go to an area where the fish seemed bigger but the bite was slower. Our first area took about 2 hours to get our limit, then we moved to second area and culled all 5 in less than an hour. We caught probably 4 limits through the day, upgrading our limit almost every catch. We fished in 4-6 foot using several different soft plastics".
Weight:

20.06 LB



Pattern:

.Drop Shot and Tube


How it Happened:
.
Lance said that he and Greg (Chad was in New York Fishing) found fish on Friday in the mile rodes in 15-17' but they were all in that 3.5lb class. Knowing they needed more they kept looking until they found fish in 10' of water they were the size of which they felt would give them a chance. On Sunday their first four fish were Largemouth. There seemed to be no reason Largemouth would be in the area they were fishing but none the less they were getting a little worried. The last three hours however the Smallmouth returned and they were able to weigh and cull up to their final weight.
Eastern Division Tournament #3​

​The R & B Bass Circuit's Eastern Division 3rd trip to St. Clair. 40 teams entered, 39 launched (1Paid and Skipped) at Harley Ensign and in the end 37 limits were weighed in.


The results were similar and
proved again what a phenomenal fishery Lake St. Clair is and why were will return again next year. Again this year it to over 20 LB to win and 18.93 to cash a check.
Lake St. Clair has a reputation that can be concerning to those who fail to take caution seriously. This year it wasn't the weather or the lake that reared its ugliness. The rain moved out Saturday and the wind and lake were manageable. In fact don't recall running the length of the lake ever being as smooth as it was late morning Sunday. But many of our friends did'nt fair as well. It might have been the Mother Nature's heat, or it might have just been Lady Fate, but mechanical issues seemed to be on the menu this year. had a great day on the Water.
A few say that "we shouldn't go to St. Clair". They say it "costs to much", It's "not safe, and its too big a water". A phone call from Larry Stanley ​​summed up why the trip to this nationally ranked fishery for an R&B Tournament is however manageable. Although we are competing against one another, we look out for one another, we are friends first, competitors second, but above all brothers, not just fellow anglers.


Larry said he started out Thursday morning quite a ways from the ramp when he experienced engine trouble. Stranded, Scott and Leeann Sizemore who were prefishing for a tournament on Saturday came to help and towed them a mile or so to the nearest ramp where another angler friend of Scotts, CJ also practicing for the tournament took Dave by truck back to pick up Larry's truck and trailer.
Dave and Larry headed back to Lagrange where they received the news that the Optimax air compressor was terminal and parts would have to be ordered. They picked up Dave's boat and headed back to Detroit arriving early Friday Morning.
​
After Dinner Friday they realized that there was water in one of the oil bath hubs and with the help of Jim Dailey and Don Amari who had a grease gun, they packed the wheel's bearings finishing up around 11:30 at night in the Parking lot.
​
On Tournament Day We added a new team to the R&B that showed up to fish with us. At 10:00 AM they ran into Dave and Larry whose engine wouldn't start. Team number 106 Eric Moore of LaGrange and Austin Freed of Wolcottville, threw a line to Dave and took them in tow. When the tow rope broke, and Larry and Daves fish started to struggle due to low batteries and the heat Eric and Austin threw back their fish and donated live well space to Larry and Dave to make sure their limit made it in alive…
On Tournament Day, Dave and Larry went the only anglers to suffer issues. Mark Farver and Steve Kline experienced engine problems at the Launch and ended up fishing around Harley Ensign. Dick Peiserich and Tyler Burton lost a cylinder, limped back to the ramp around noon where they dumped an estimated 19Lb of fish and headed home. Don Amari and Kevin Rathke experienced engine problems. Frank Randol Lost a wheel bearing on 94 heading home and ended up having to be flat bedded back to Indiana.

It's the fact that we are out there together and willingness to answer the phone when a brother angler calls that adds a little safety to St. Clair. It's the awesome fishing and good sportsmanship that makes it fun. Let's continue to make both the norm.
NOTE: Once again we experienced software Issues. The software we are using was intended to handle one not three divisions or handle over 100 teams. I am working on the points manually and will have them up in a couple weeks. You may notice that we paid out 8 places today instead of 7. Normally we pay out ​one place for every 5 boats but that starts at 11 not 10, I screwed up and simply divided 40 boats by 5 and paid the percentages based on 8 places not 7. I apologize for the mistake. JG
​​Weight: 20.96 Lb





Pattern:

Bedding and Post Spawn fish



Baits:

Drop Shot and Wacky Rigged Senko
Weight:

19.77

Pattern: Bed Fishing



Baits:

.Ned Rig and Drop Shot

How it Happened:
.Brian said that he and Derek had found a spot near 9 Mile that had fish bedding in 9' foot of water. On Saturday they were constantly pulling 5 pound Smallmouth in but on Sunday they were gone. Its an under statement to say they had a shot but like many of the teams fishing, they were in the hunt for sure.
3rd Place: John Marquardt and Jon Hall
2nd Place: Shawn Flegal and Tom Hall
​Weight:

20.16 LB
​

Baits: ​​
.Erie Darters, Rage Tails

​How it Happened:
.Jon stated that they found their fish in the mile roads. There was several other anglers around them cranking and tubing but they got they got their fish in the shallow 4' just dragging Darters and Rage Tails around.
1st Place: Heath Wagner and
Andrew Quillen
6th Place: Frank Berning / Nick Klopfenstin
Weight:

19.71

Winnings:

$130.00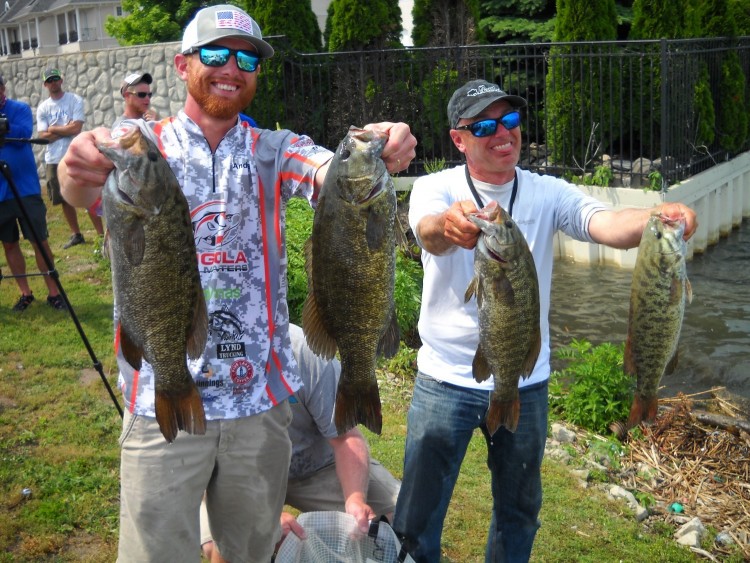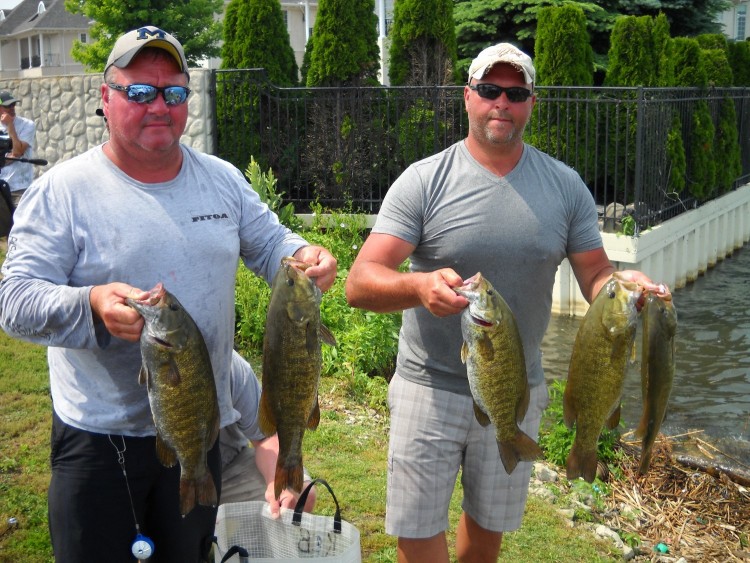 7th Place: Russ Bissell / Brandon Bissell
Weight:

19.71

Winnings:

$108.00
8th Place: Mark Evans / Bear Griva
Weight:

19.71

Winnings:

$86.00
Landon and Tyler brought the largest bass to the scales at 5.01 Lb. For their efforts the team ended up taking home the Lochness Tackle Prizes and
Winnings of

$320.00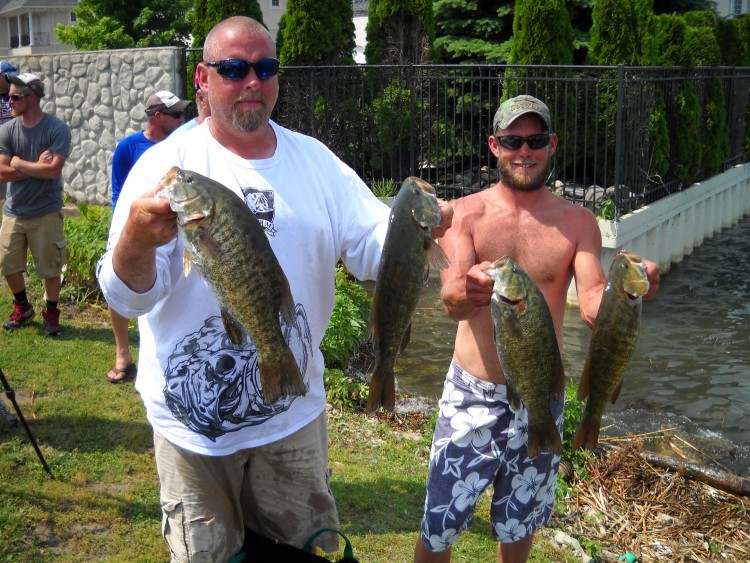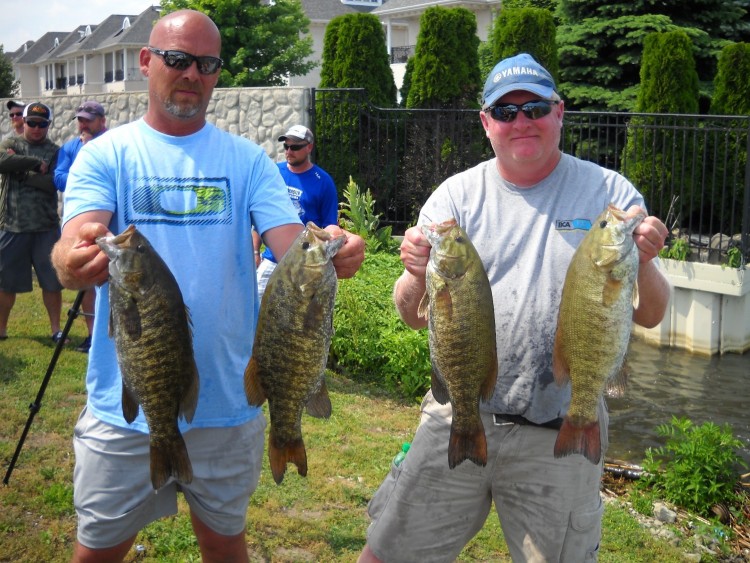 2nd Big Bass : LaVon Raber / Mike Raber

LaVon and Mike brought the second largest bass to the scales at 4.82 Lb. For their efforts the team ended up taking home
Winnings of

$80.00
4th Place: Lance Tresenriter and
Chad Walter
​ (
Greg Clark subbing today)
5th Place: Brian Molnar / Derek Molnar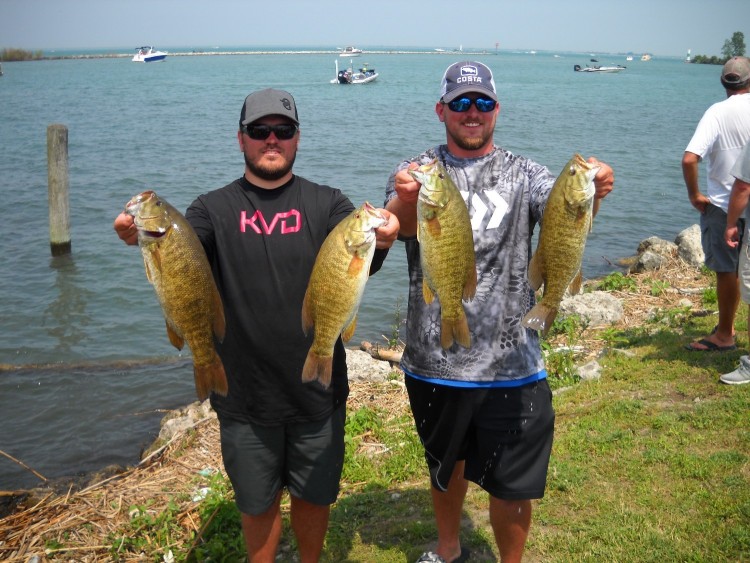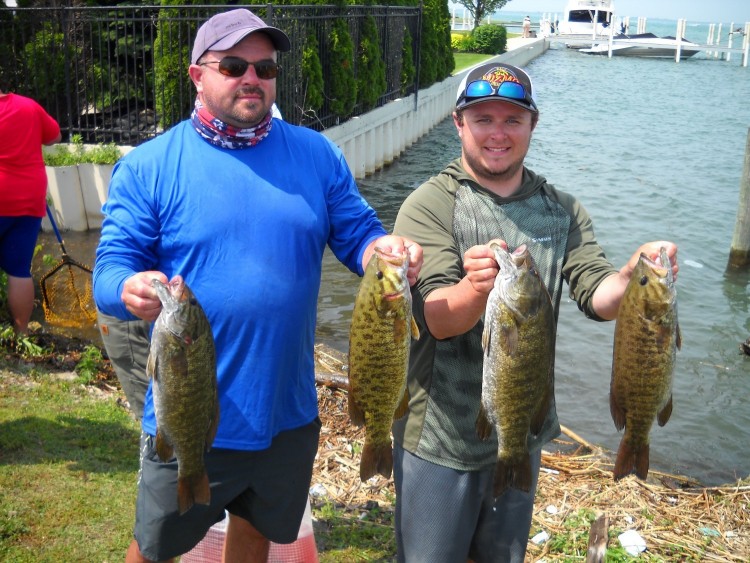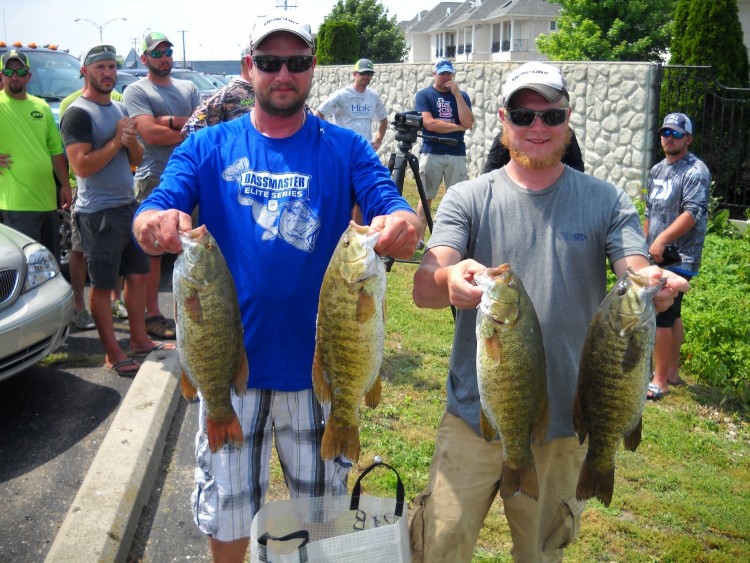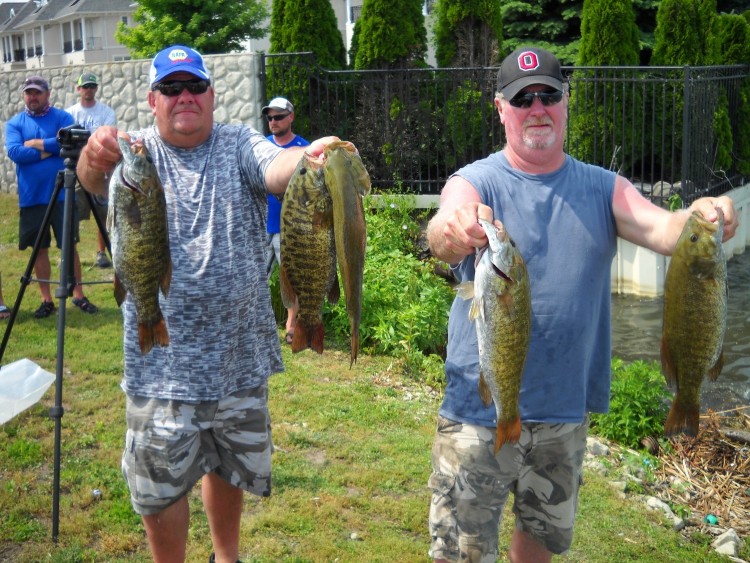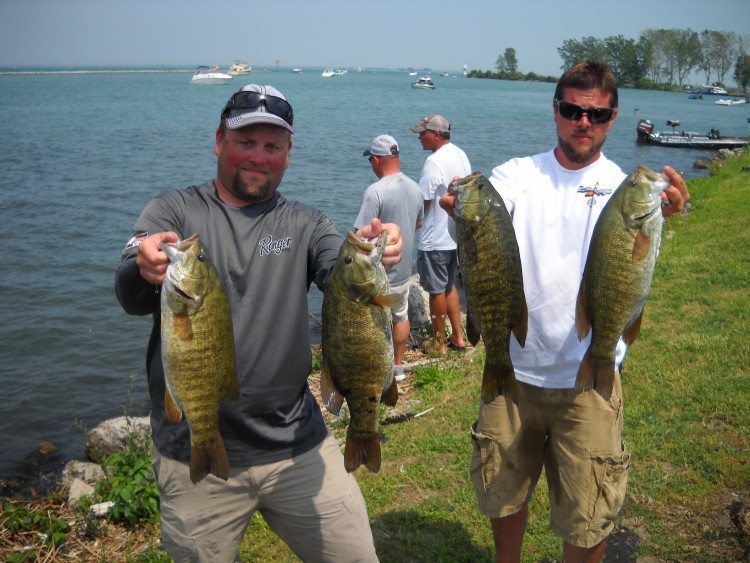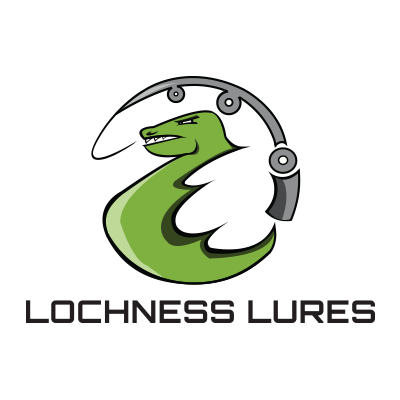 Lochness Lures Big Bass : Landon Baker / Tyler Baker