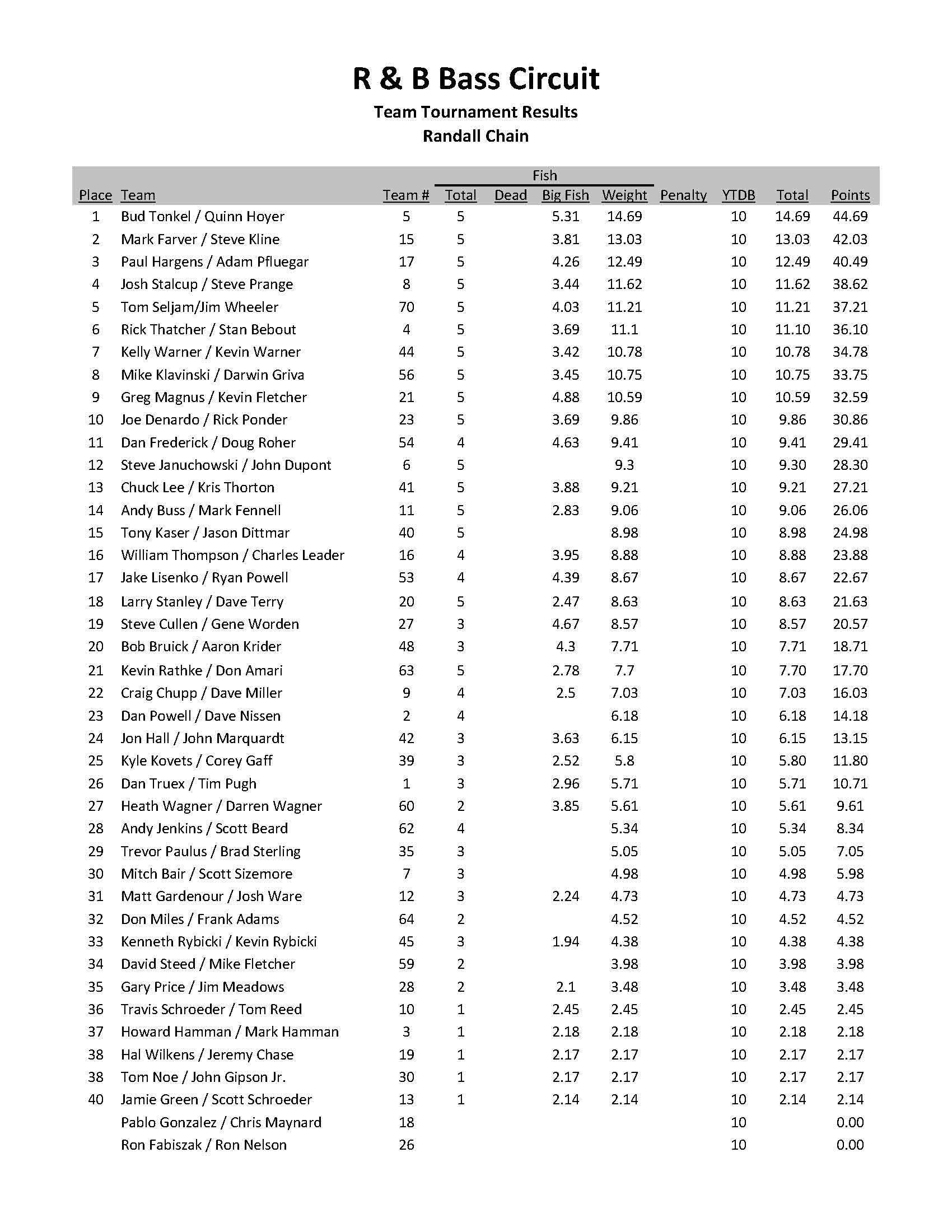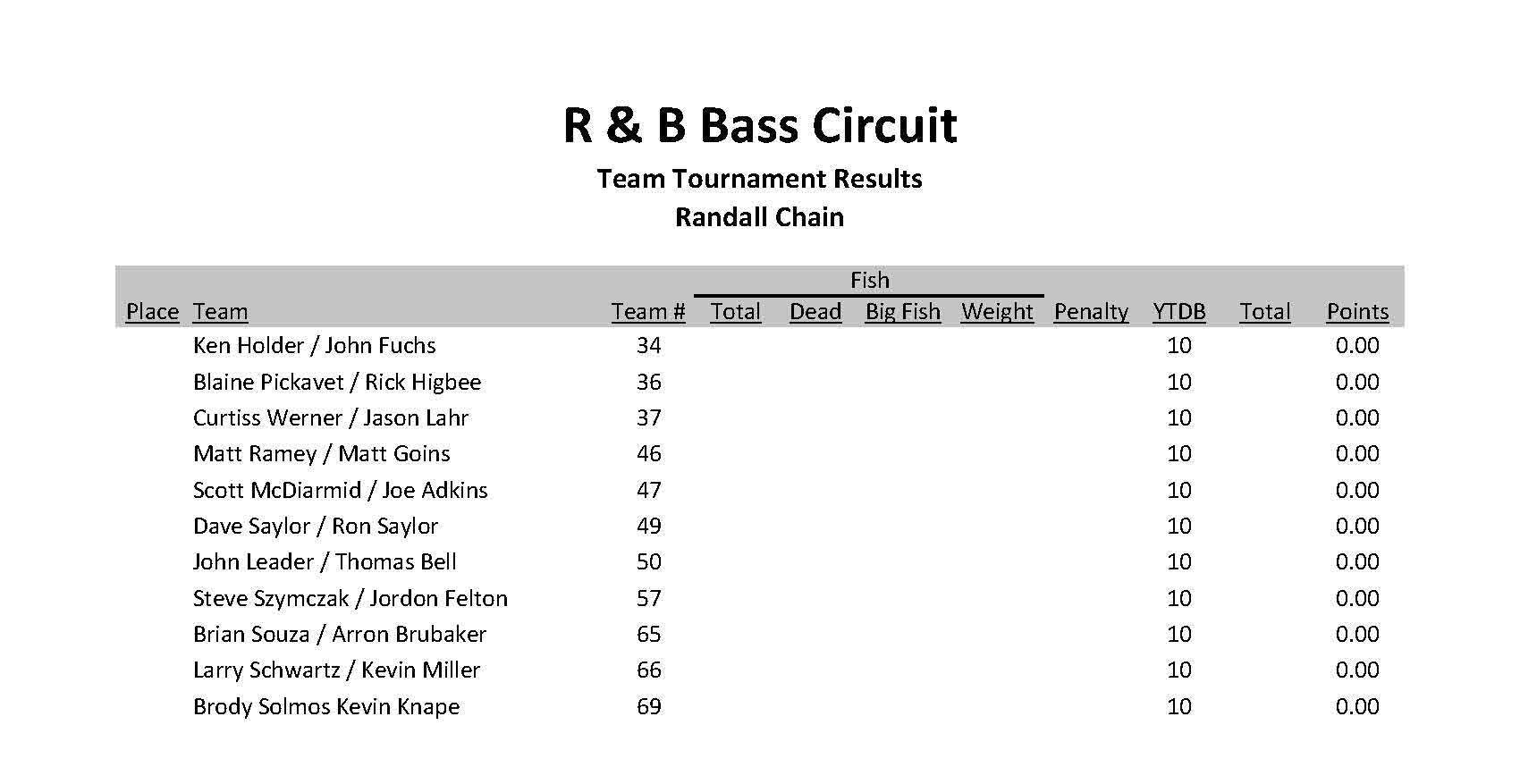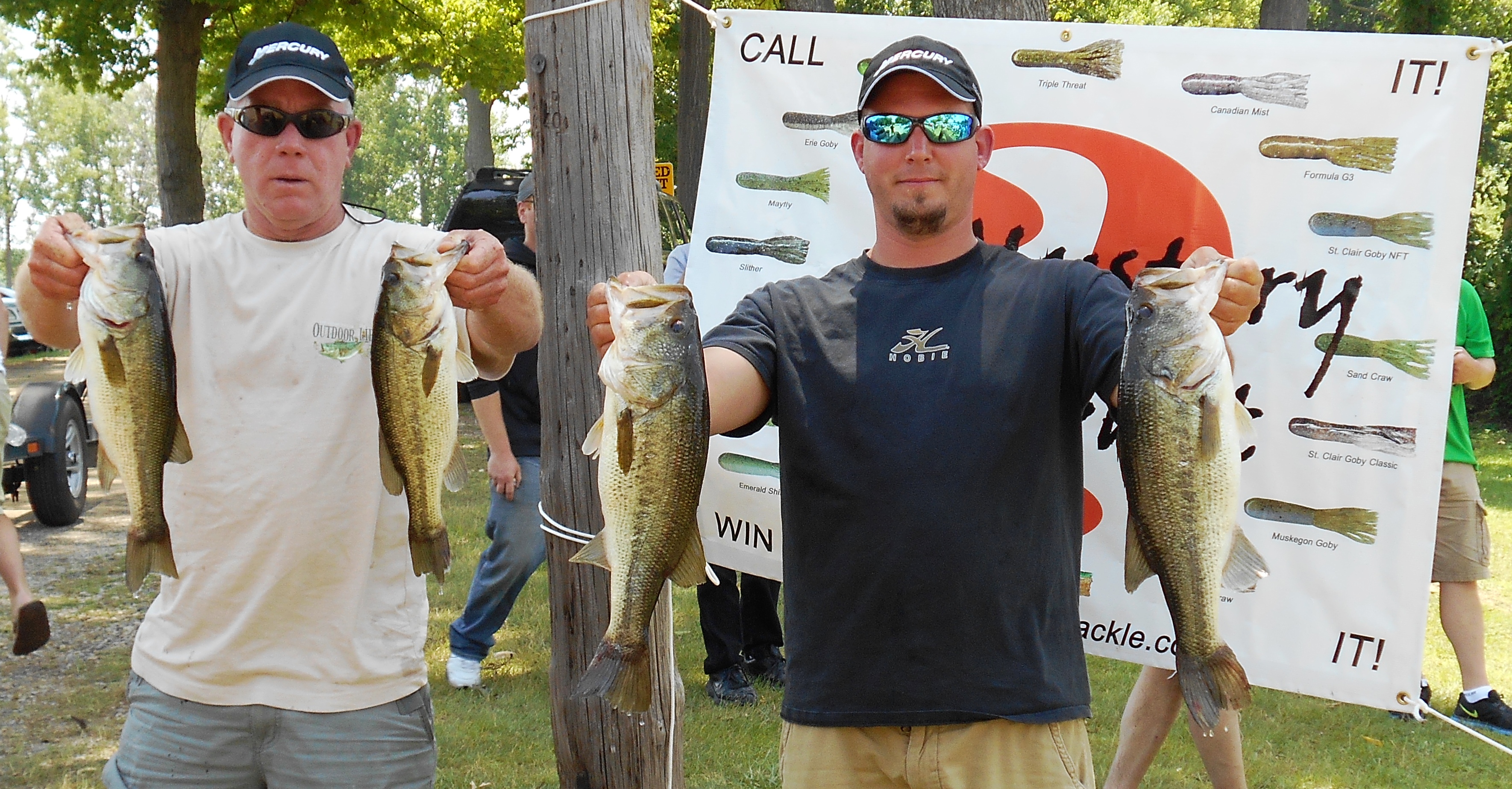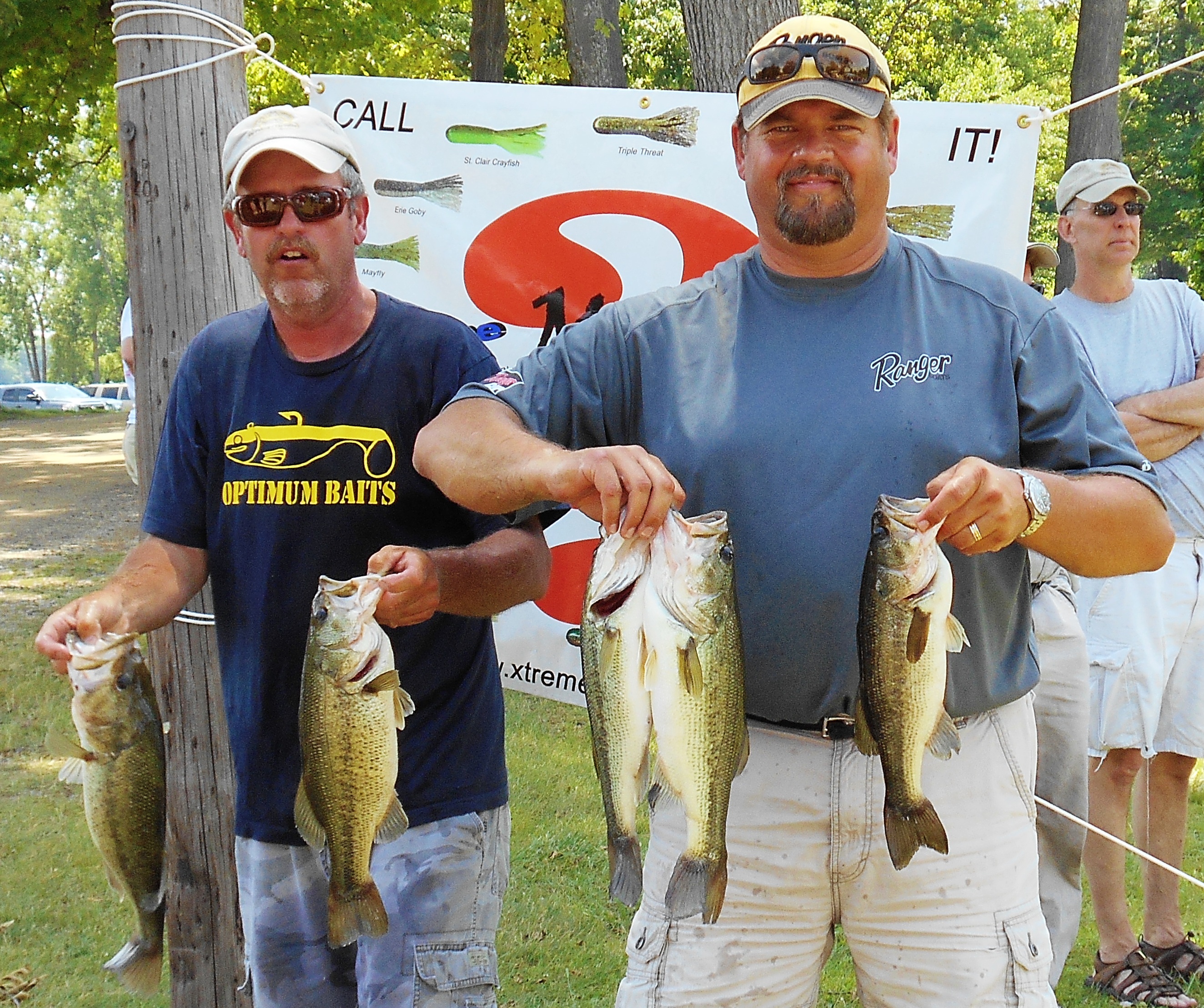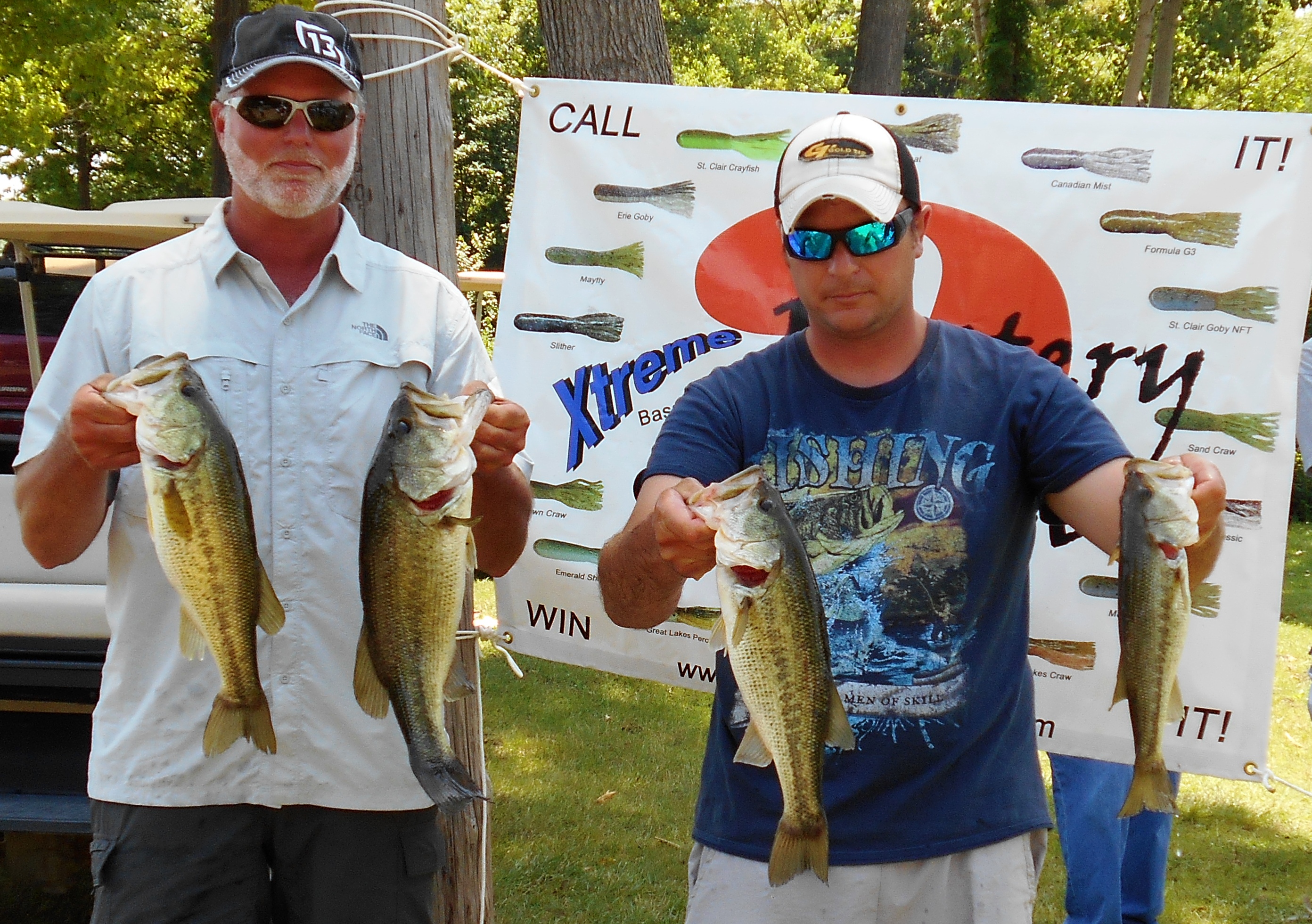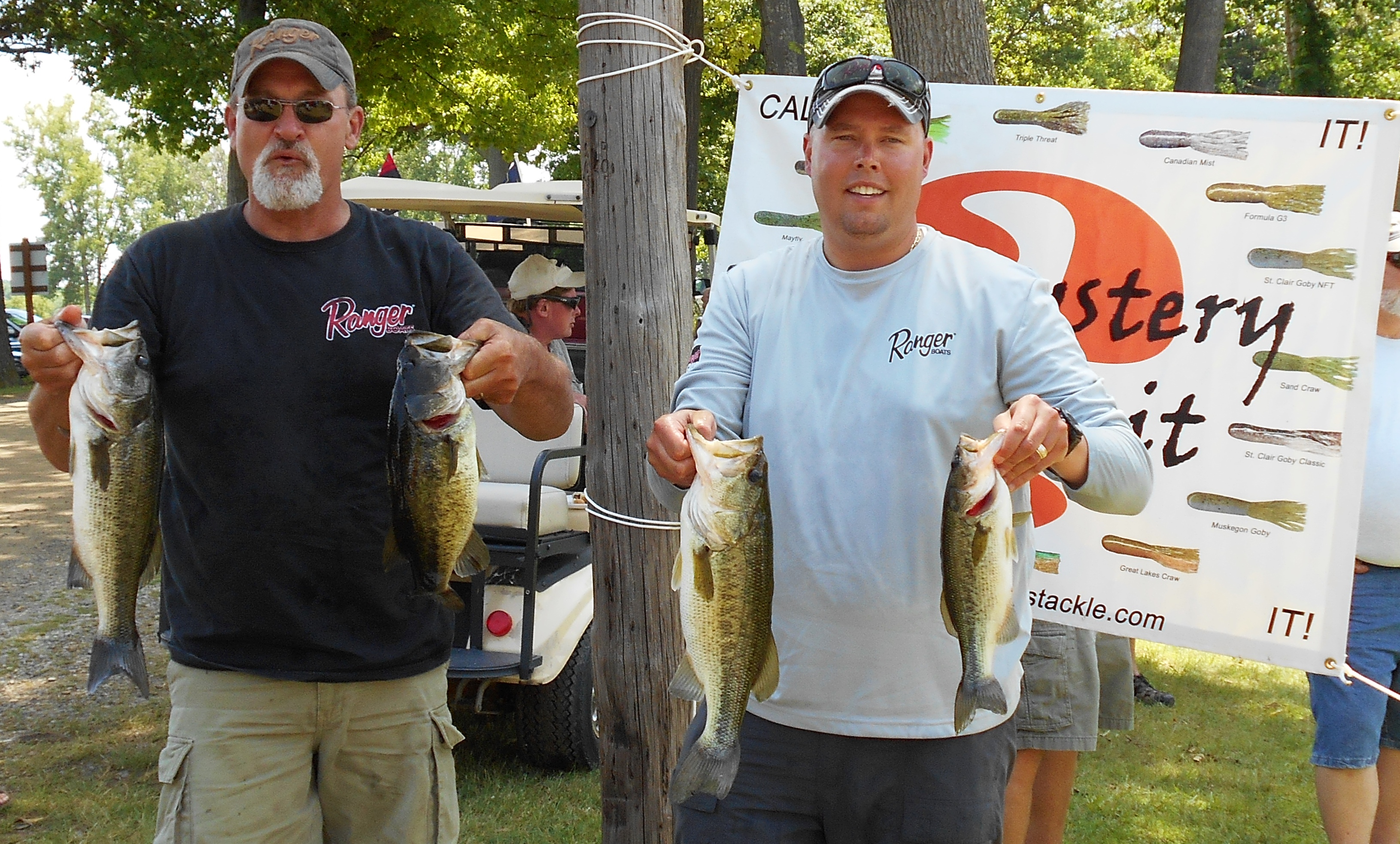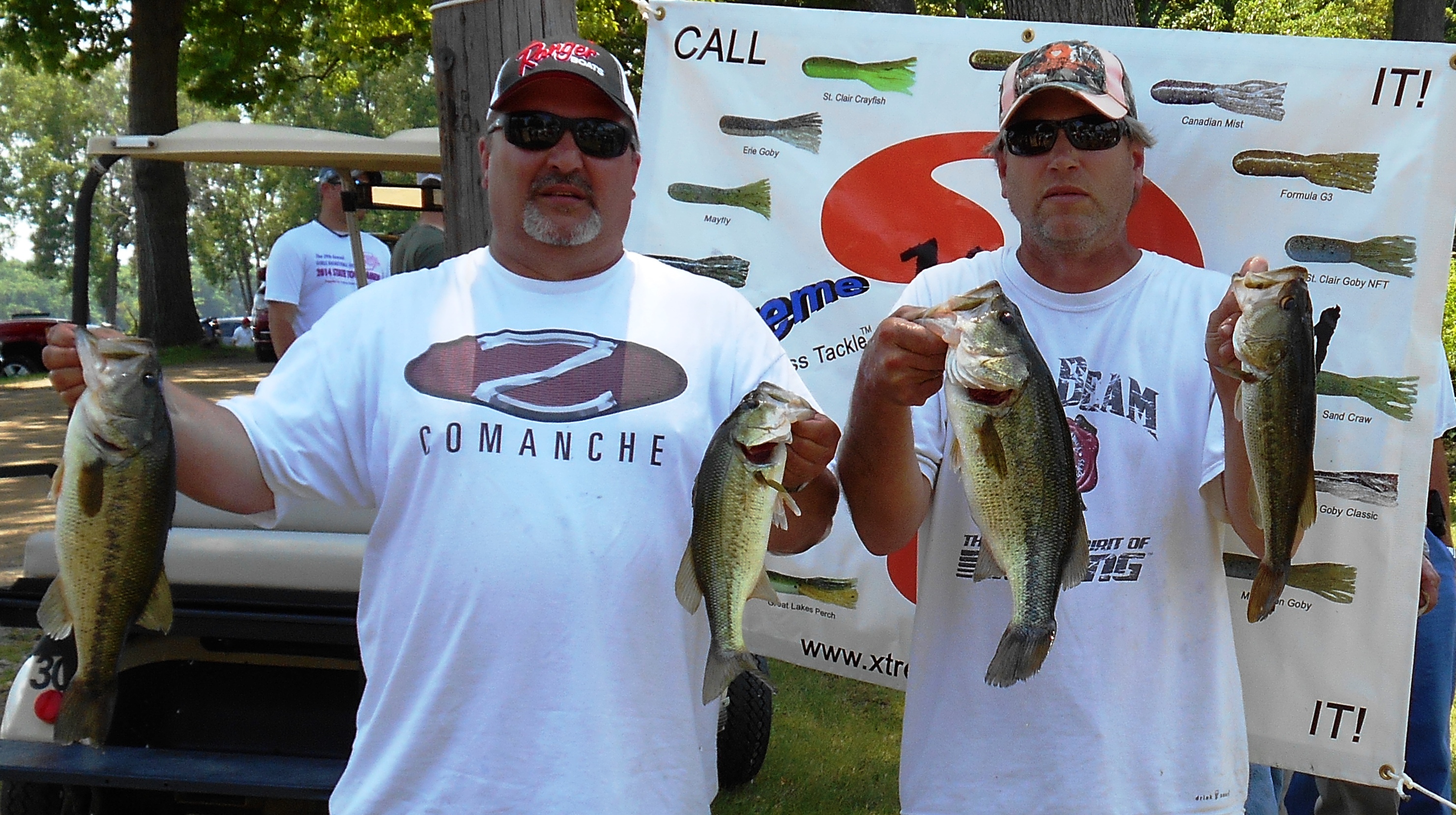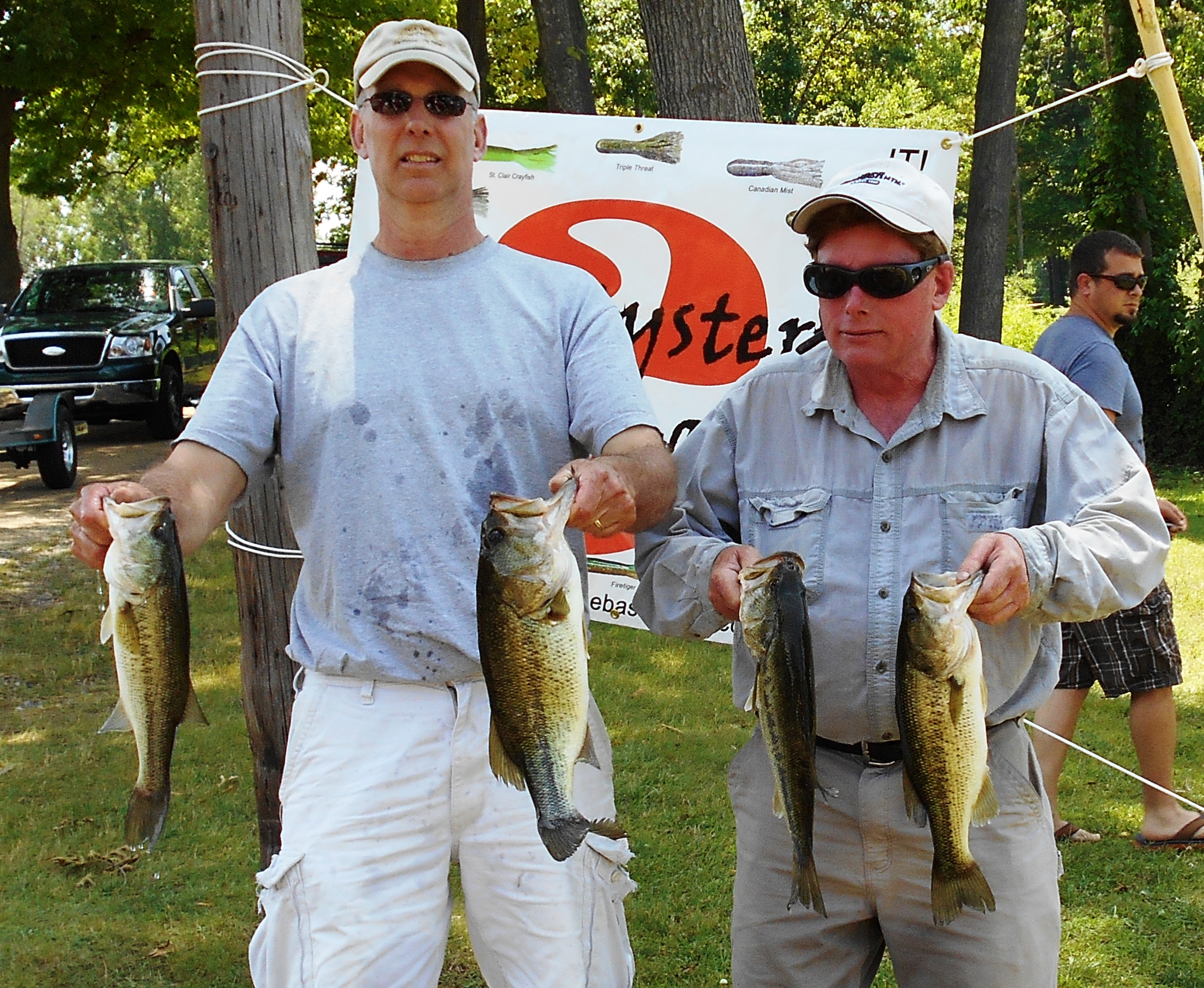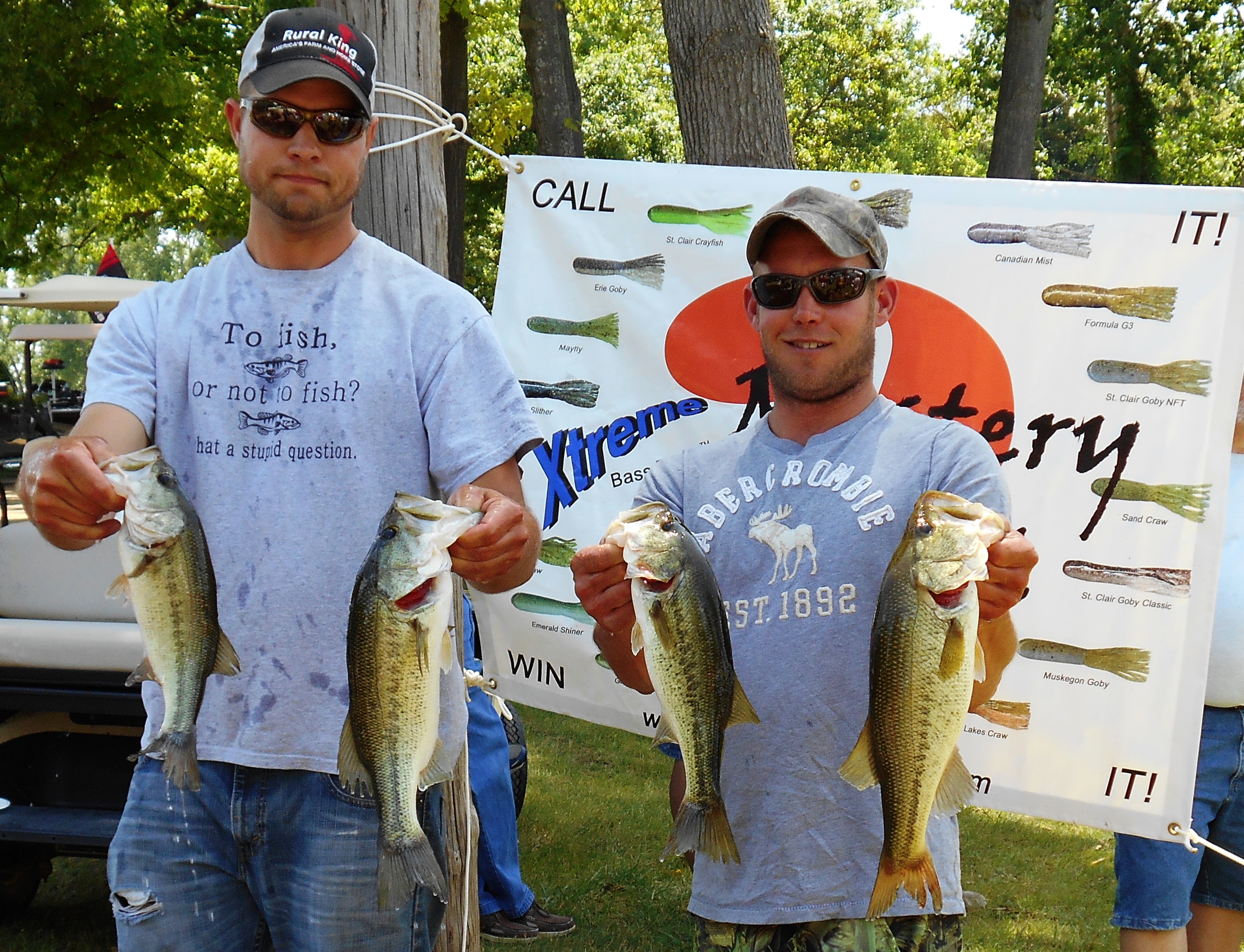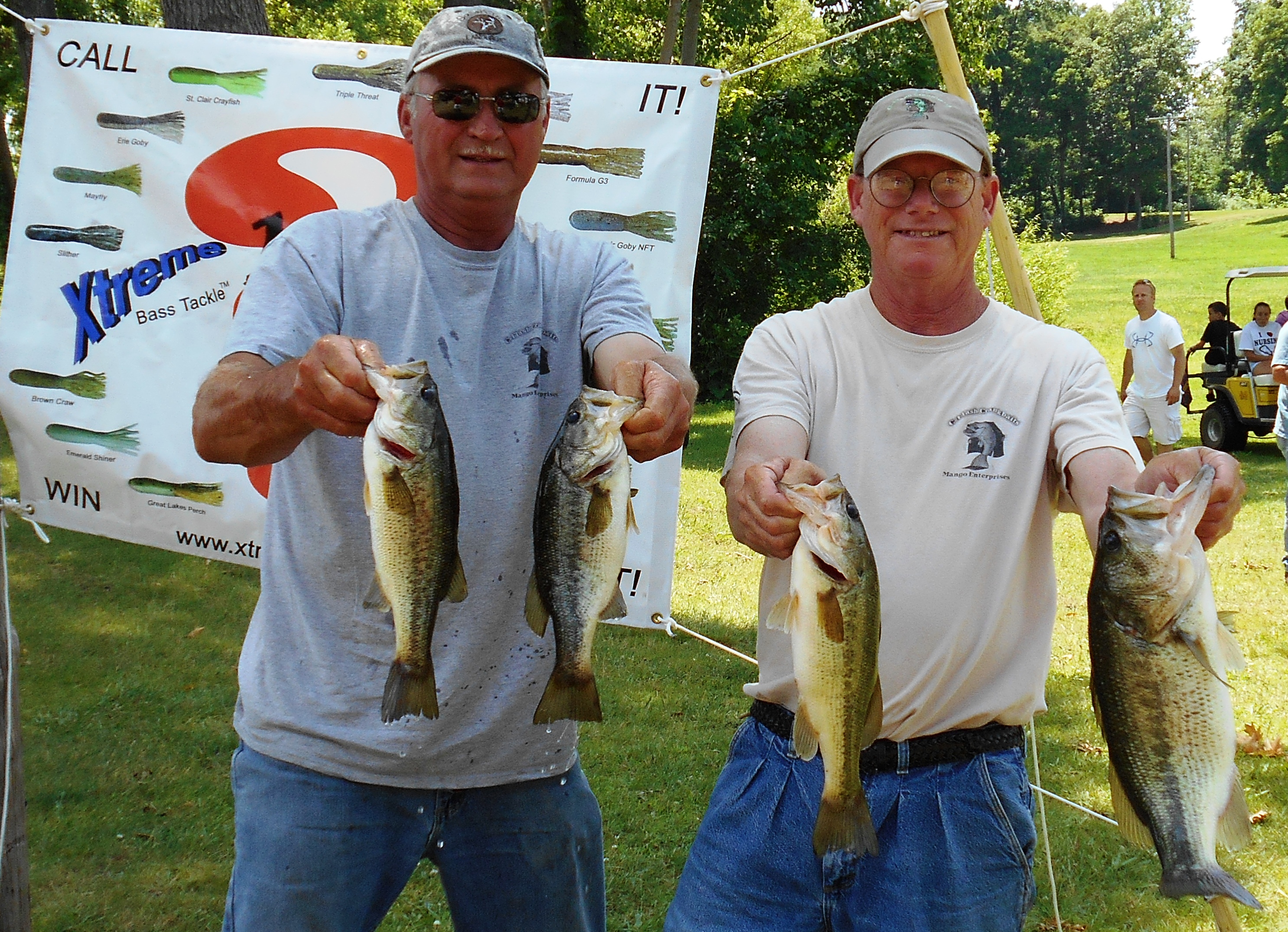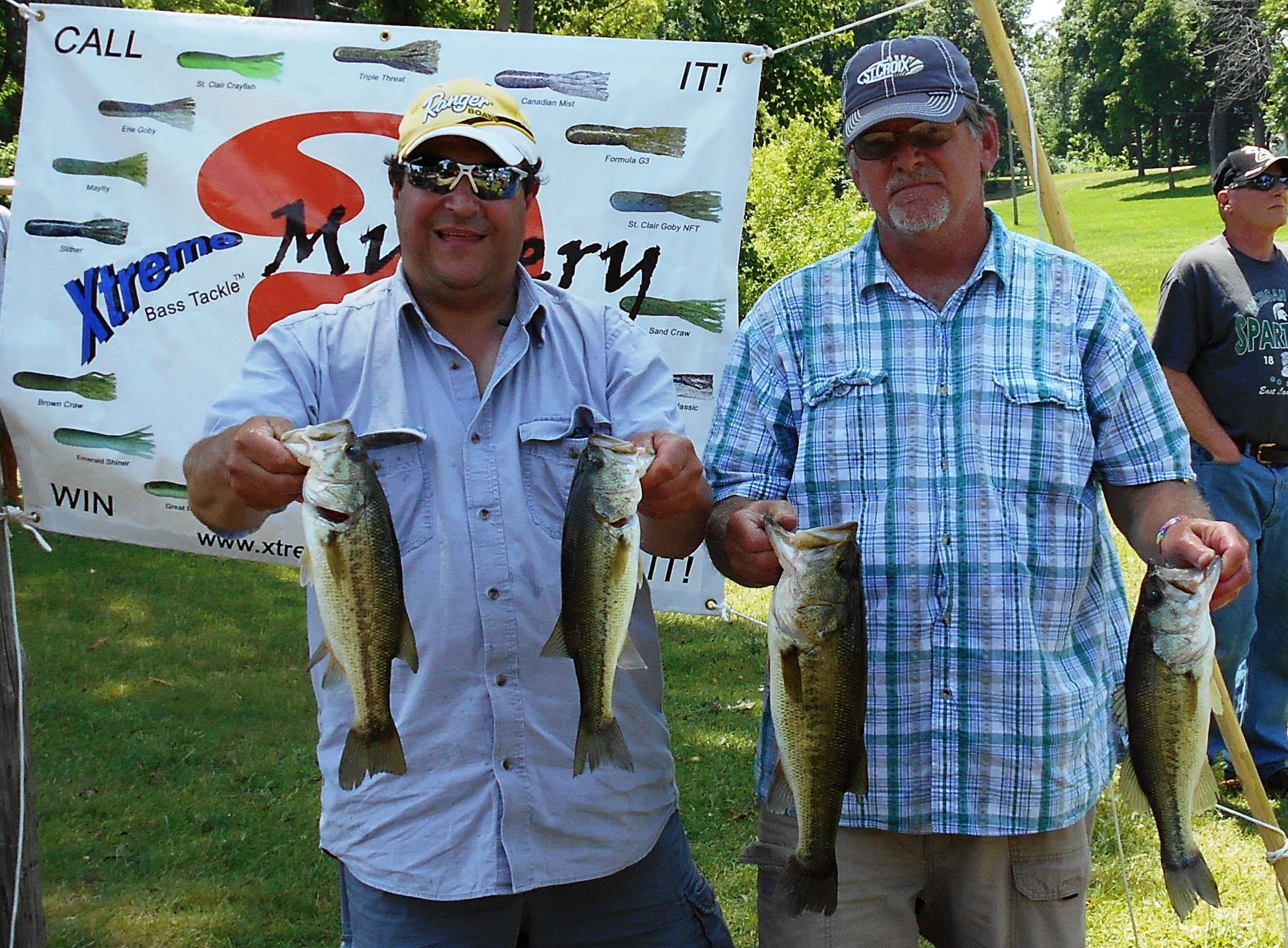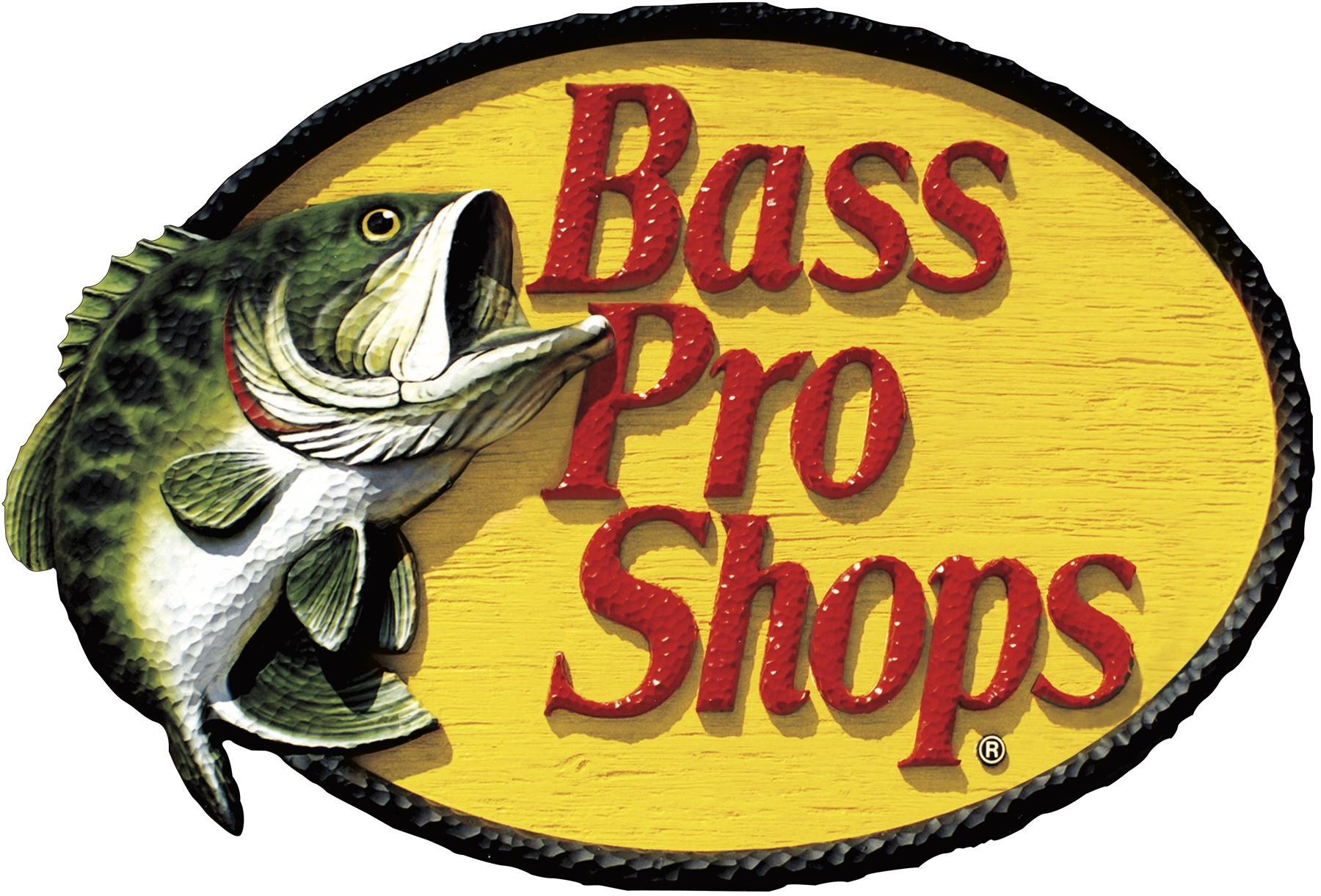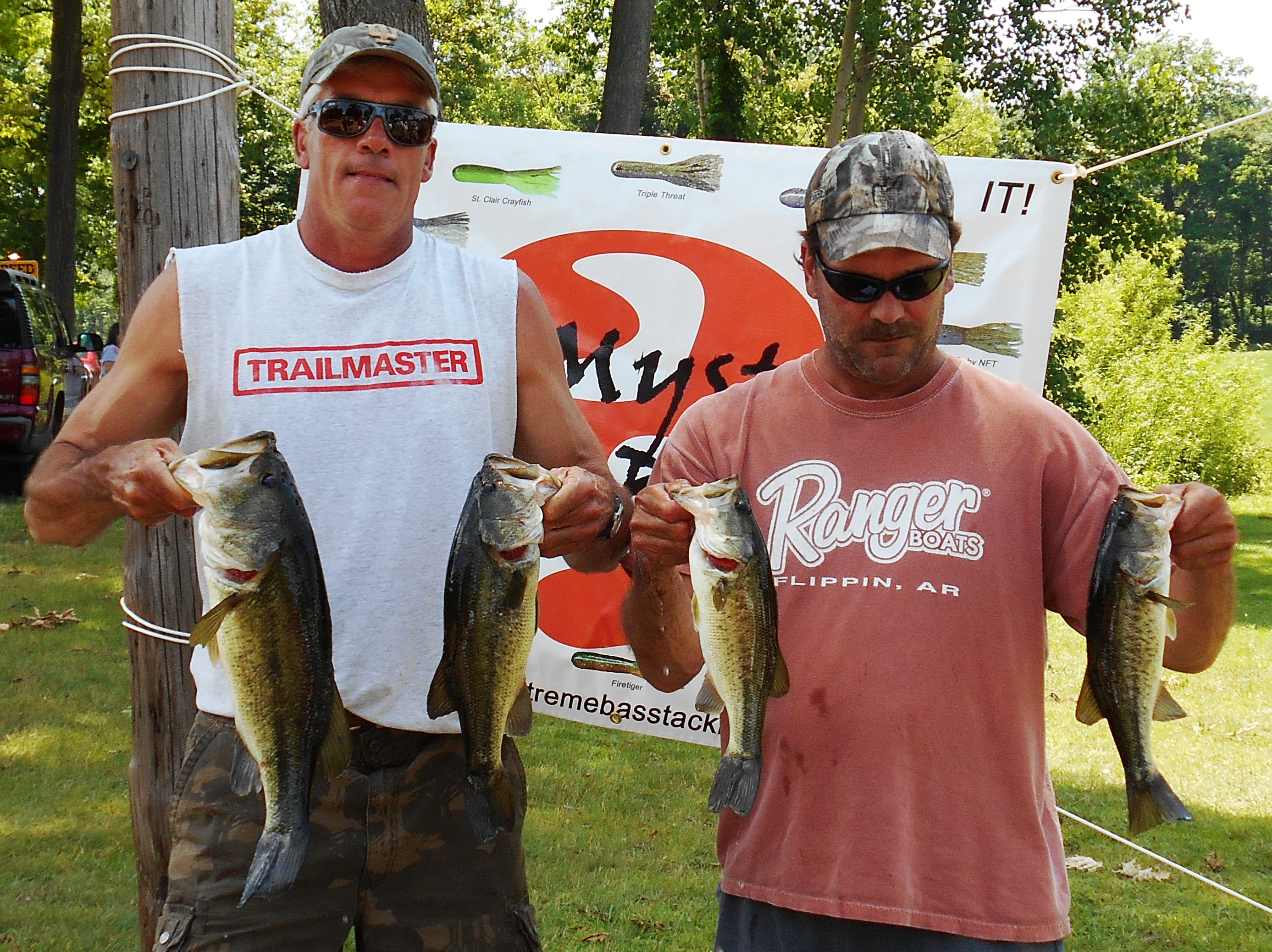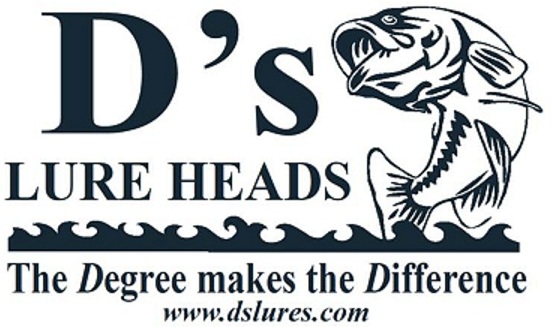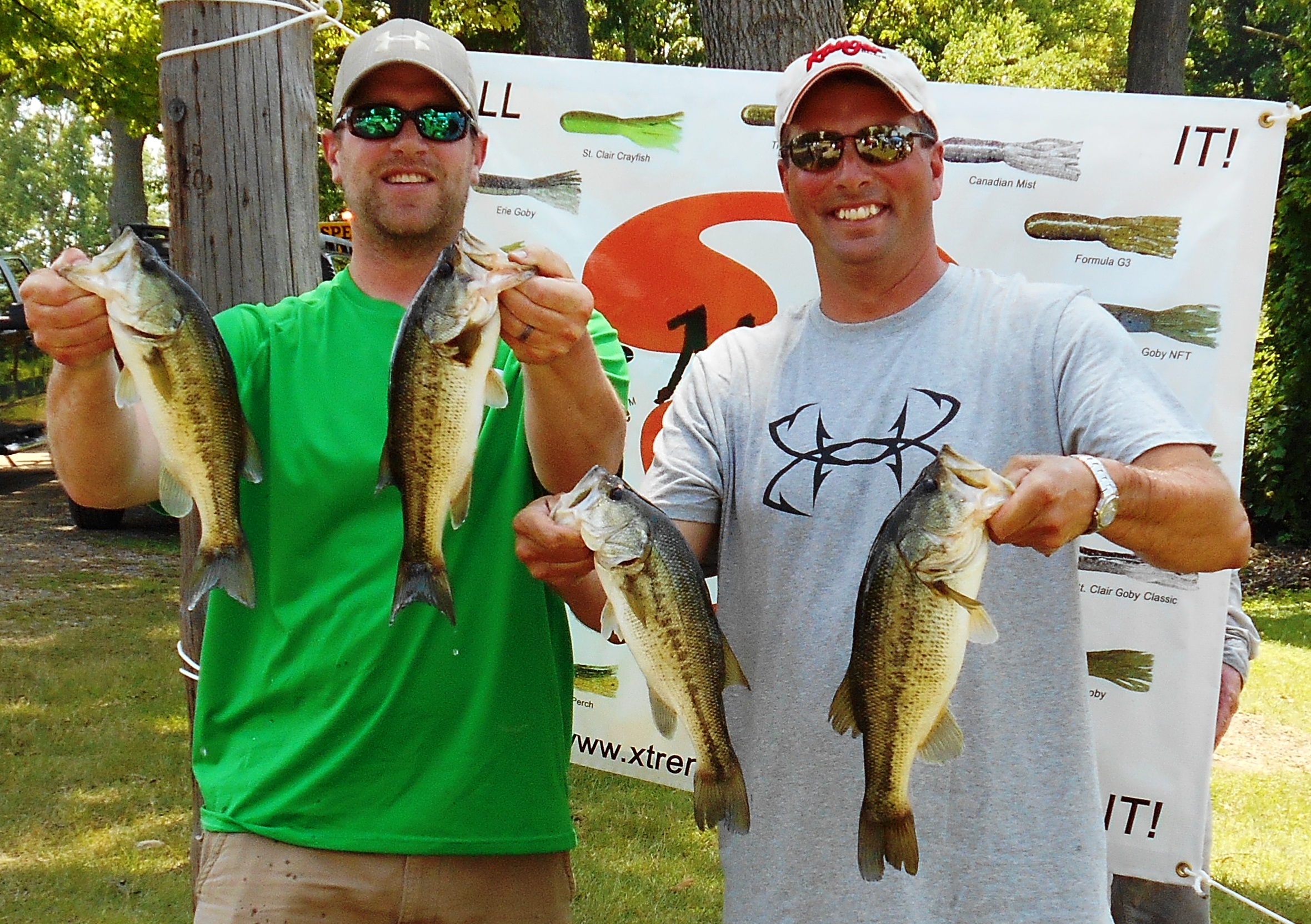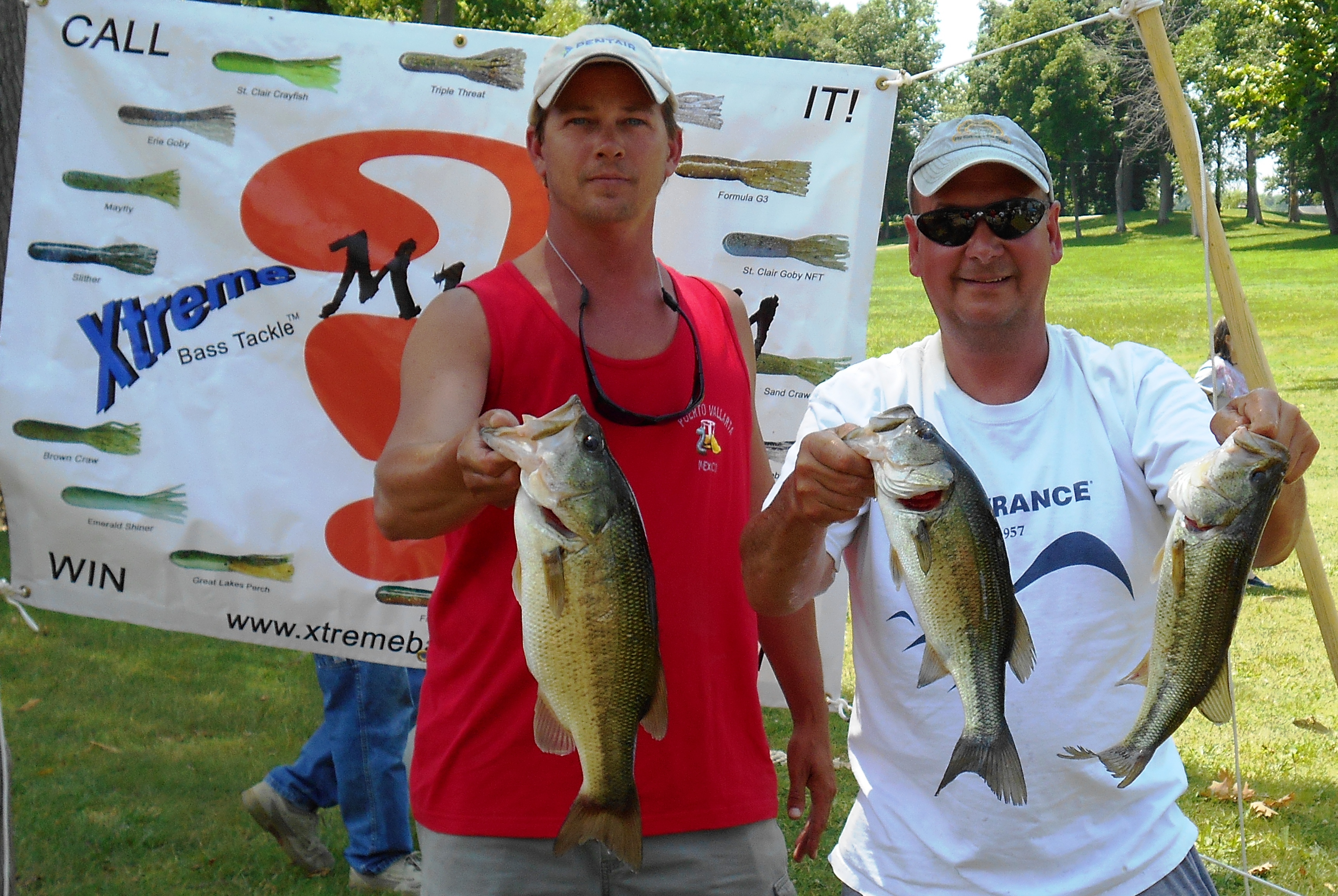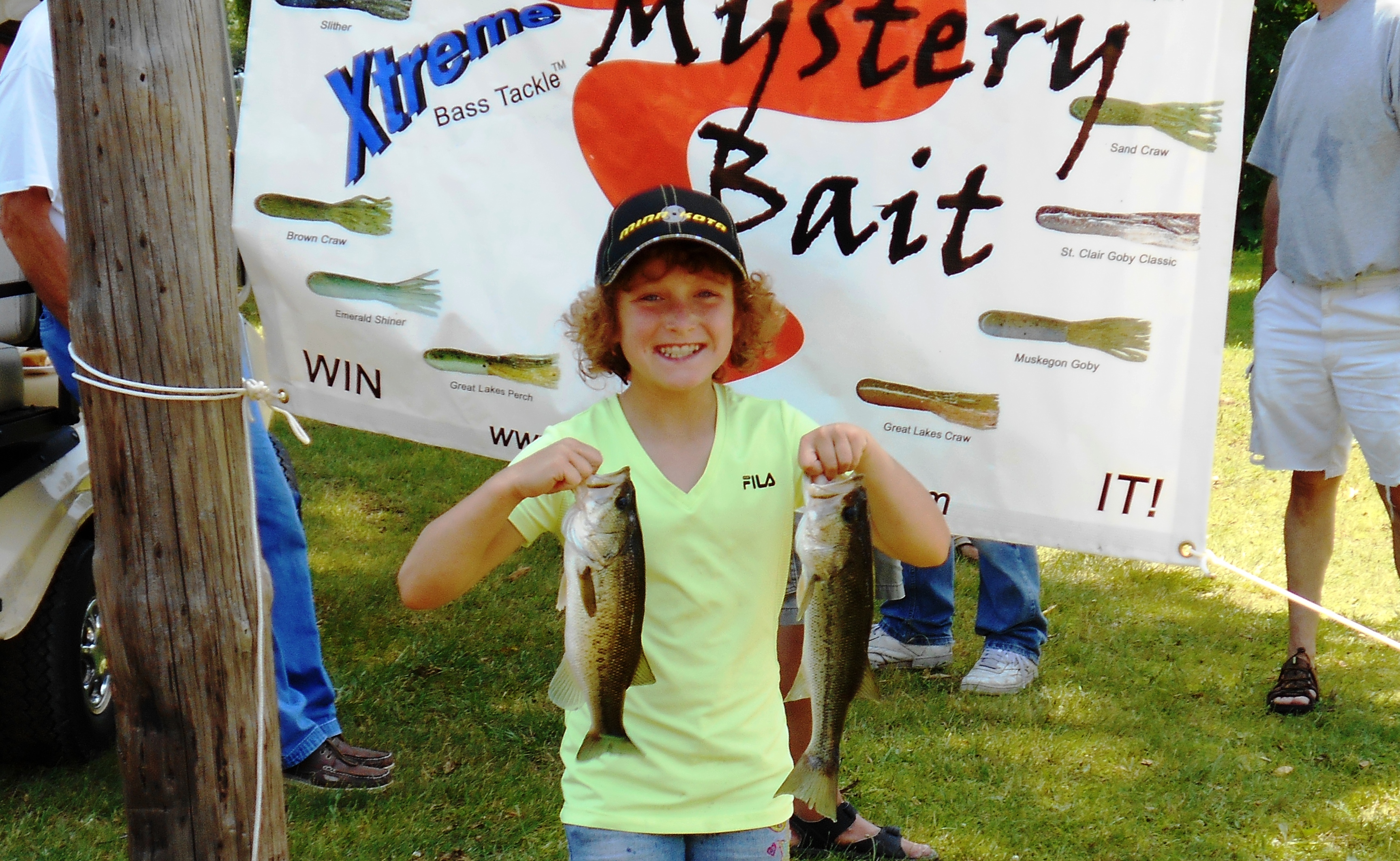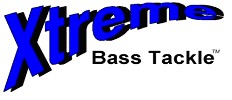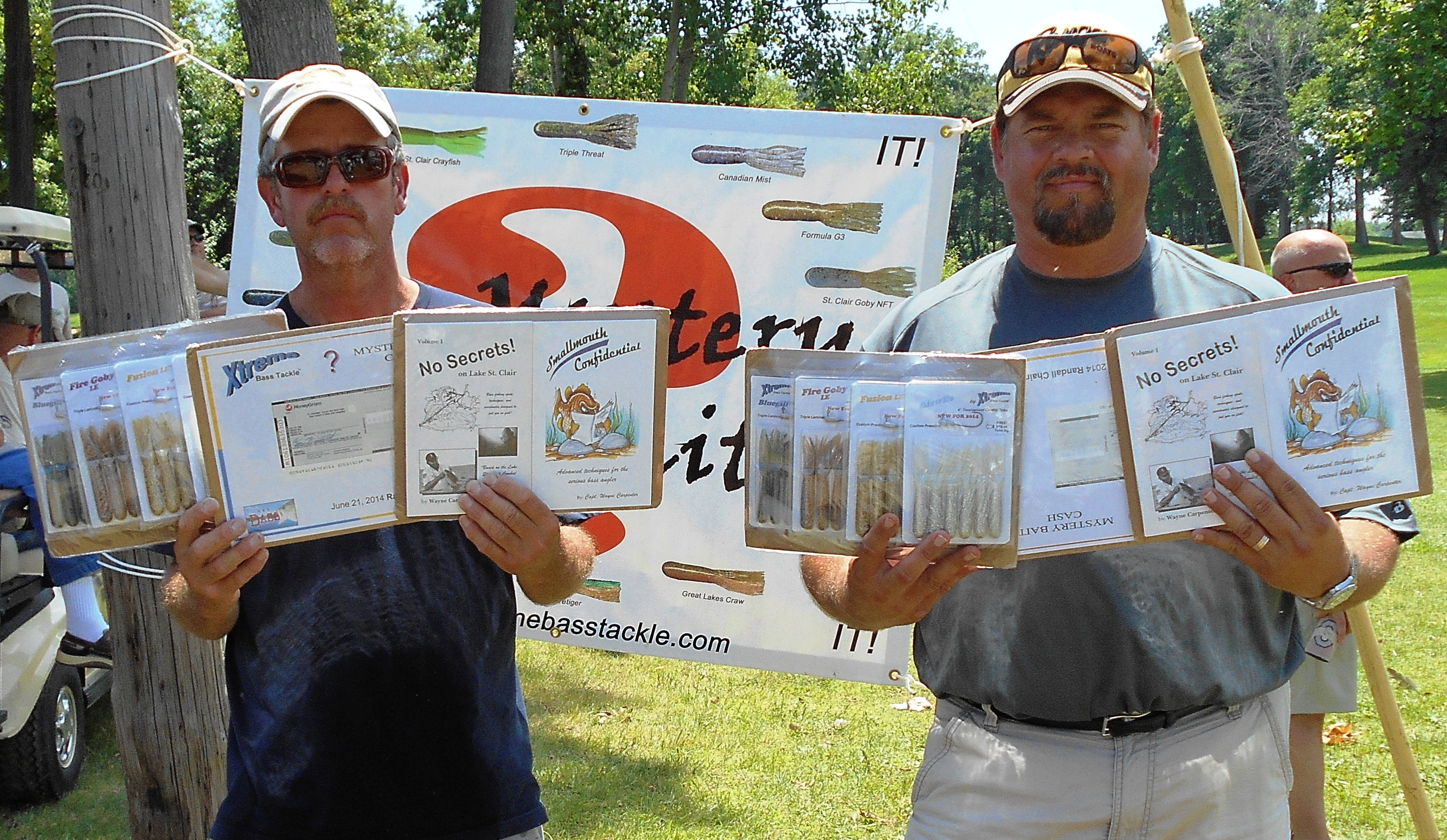 1st Place:

It was a very profitable 40 minutes for the team of

Bud Tonkel

and

Quinn Hoyer

; to be exact,

$1,225

valuable. "We fished breaklines all day," admits Tonkel, "but we did not catch a single keeper until we came across one weedbed that produced all five." That weedbed also produced another five pound class fish that would have shook up the Record books had it not come off.

"The weedbed was thicker from the surrounding

weeds," Tonkel reveals, "Beyond that, nothing stuck out to be significant." This came after what that team calls a "horrible" practice and nearly 100 nonlegal fish for the day. The limit included the Money Mouth Baits Big Bass, a 5.31 pound toad, the tenth heaviest fish in R & B History. They won

$801

for the victory and another

$424

for the big fish.

Tonkel humbly admits, "This was my best day ever on Randall! I had never weighed a limit from here before." The 14.69 pound limit of fish came from a combination of jigs and wacky rigged senkos. The big fish came from the senko.
2nd Place:

Familiar faces landed in the top five, after all it was the eighth time in their R & B career. This distinguishes

Mark Farver

and

Steve Kline

as the sole owner of the #2 slot in the all time Top 5 finishes. On top of that, a 13.03 pound limit put another

$505

in their pockets.

Like the winners, the team found a honey hole during the final two hours. "We were on our way back to Craig Lake to finish out the day," admits Kline. "We had just a couple of small keepers caught on a drop shot rig in the boat when we came across a hump that rose from 13 to 11 feet." Here they caught 12 more keepers on a ¼ ounce black/blue jig and a C Flash crankbait. They culled out all of their small keepers caught on the drop shot.
3rd Place:

Neither

Paul Hargens

nor

Adam Pfleuger

had ever been to Randall before practicing for this tournament, and to make the event more challenging, outboard motor trouble kept the team from covering much of the water they planned to cover. Regardless, the team still managed a 12.49 pound limit to win

$365

.

Similarly to the other teams in the top three, "We found sweet spots. A main lake bar had two weed clumps that we pulled our fish out of," confesses Hargens. A combination of Texas rigged worms and

swimjigs in green pumpkin color schemes were used to land their catch. "We used the worms on the outside edge and dropped the swimjigs in the holes of the weedbeds," Hargens reveals.

Now with a little extra cash, perhaps the team can address their motor issues.
4th Place:

Steve Prange

finished in fourth place at Randall in 2013. In 2014, with new partner

Josh Stalcup

, the result was the same. Relying on last year's experience and a decent practice, the team covered a ton of water, and their efforts produced 11.62 pounds, which won them

$253

.

Stalcup admits, "We had four spots that produced. We began on Craig and got about 30 short fish before getting our first keeper on a

swimbait. We then moved to another area on Craig and Steve pegged one of a jig. Then we went all the way to South Lake.

"Here Steve got two good keepers on a fluke, but the best part was when he said to me, 'This looks like a good wacky worm spot,' so I tossed mine out there and instantly got another keeper!"
5th Place:

Newcomers to the R & B Bass Circuit, and traveling all the way from Hammond and Valparaiso, Indiana,

Tom Seljan

and

Jim Wheeler

compiled a 11.21 pound limit to claim

$225

.

"We had not been on Randall for nearly a dozen years," admits Seljan, "So we spent 90% of our time in practice and the tournament on Craig Lake." The team began by tossing popper baits, but made a

critical change, "We switched to spooks," Seljan recalls. "We could only get small fish on the popper, so we threw something bigger. We threw the biggest spooks we had and got two keepers."

After the topwater bite fizzled, the team spent most of their time working jigs in the weeds. With the exception of a keeper on a frog, the rest of their fish were victim of their jigs.
Mystery Bait Winner


It was a profitable day for

Mark Farver

and

Steve Kline

. On top of finishing second, they also cashed in over

$200

of cash and prizes presented by Xtreme Bass Tackle.

6th Place:

Rick Thatcher

and

Stan Bebout

(left) have found themselves in the money making business the past two tournaments and now find themselves in the top 5 in the Standings. Here their 11.10 pound limit won them

$200

.

7th Place:

A 10.78 pound limit was good enough to win

$168

for

Kelly

and

Kevin Warner

.

8th Place:

Bolstering their lead on the Standings,

"Bear" Griva

and

Mike Klavinski

left) weighed 10.75 pounds to add

$126

to their wallets. They are one of just two teams to cash in all three events.

9th Place:

Speaking of cashing in all three events, the only other team to do so,

Kevin Fletcher

and

Greg Mangus

are the defending Season Champions and sit just a handful of points behind the current leaders. They backed up last season's victory at Randall with a solid 10.59 pounds and the second heaviest fish - 4.88 pounds largemouth. The finish gave them

$100

and big fish another

$106

, making their day worth

$206

.

10th Place:

Joe DeNardo

and

Rick Ponder

have cashed twice this season and find themselves nestled in 6th place overall. Their 9.86 pounds at Randall won them another

$90

.

D's Lures Award:

Dan Frederick

and

Doug Roher

earned gear provided by D's Lures by weighing 9.41 pounds, but was not present to collect, so it was handed down to the next team.

Bass Pro Shops Award:

Jason Dittmar

and

Travis Terry

finished 15th place with 8.98 pounds and won an Extreme reel provided by the BPS store in Portage, Indiana.

Solar Bat Sunglasses Incentive: Finishing in 20th place with 4.23 pounds,

Aaron Krider

and

Bob Bruick

qualified for the Solar Bat Incentive worth

$200

in cash. Make sure you are qualified!
Starboard Choice Marine Challenge: With just 3.59 pounds and a 22nd place finish,

Kyle Kovets

and

Corey Gaff

are eligible for a prize worth

$90

.
Click on results for a PDF file.
Click on image to enlarge.