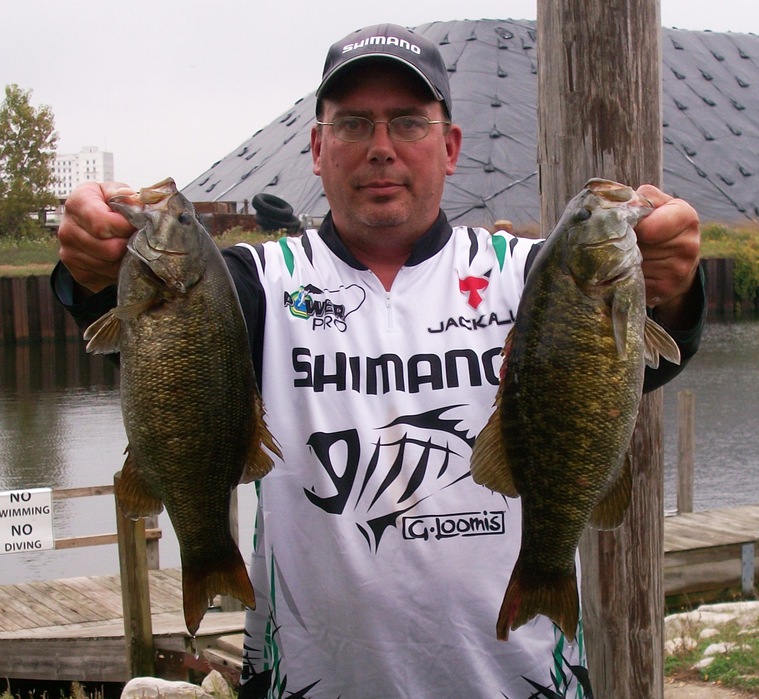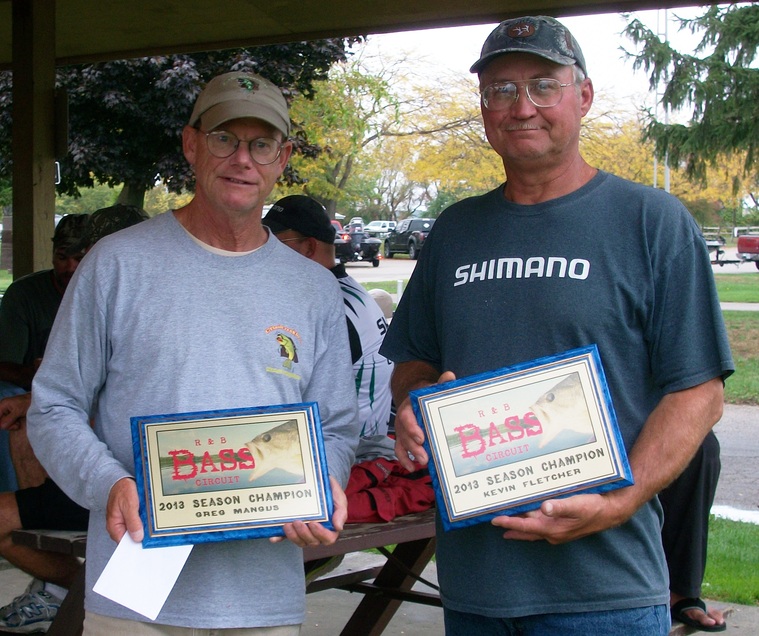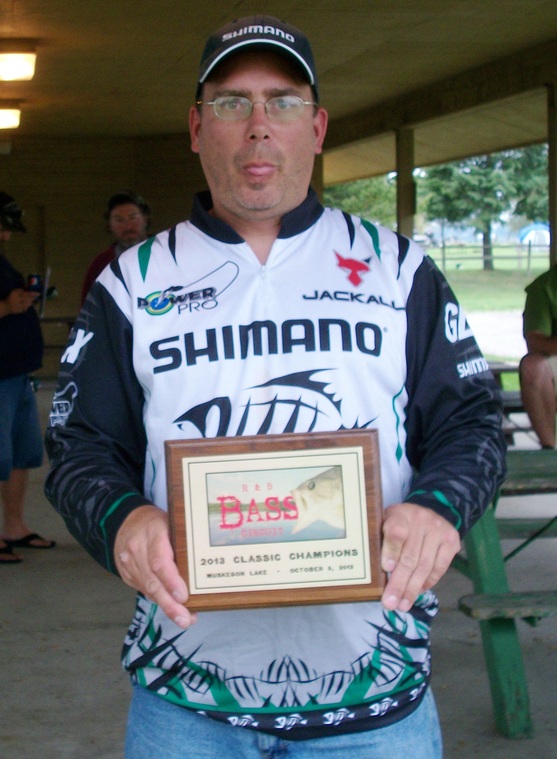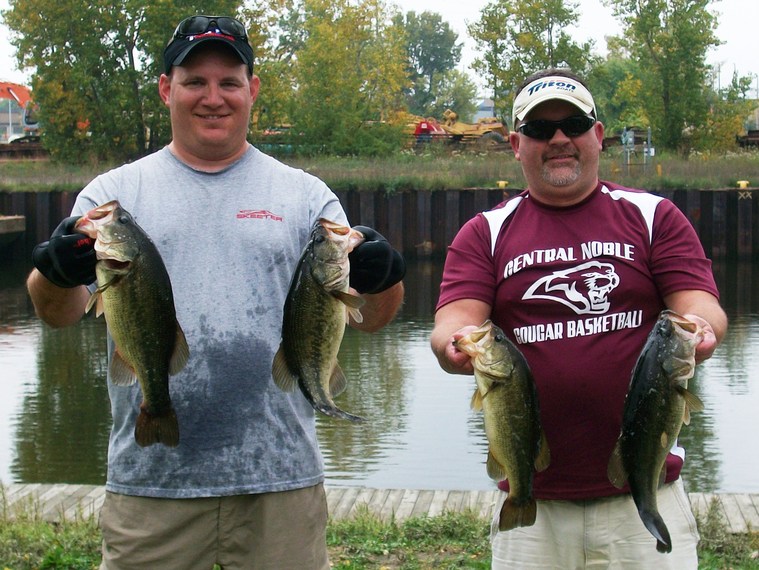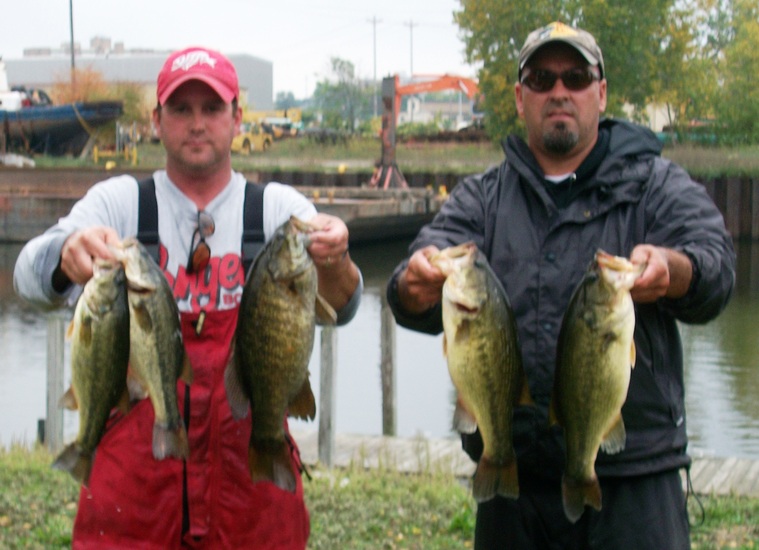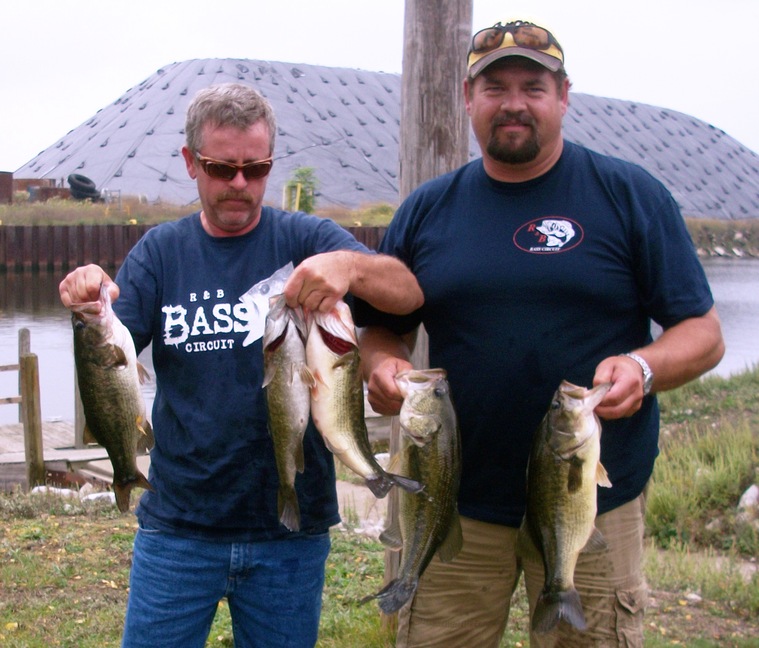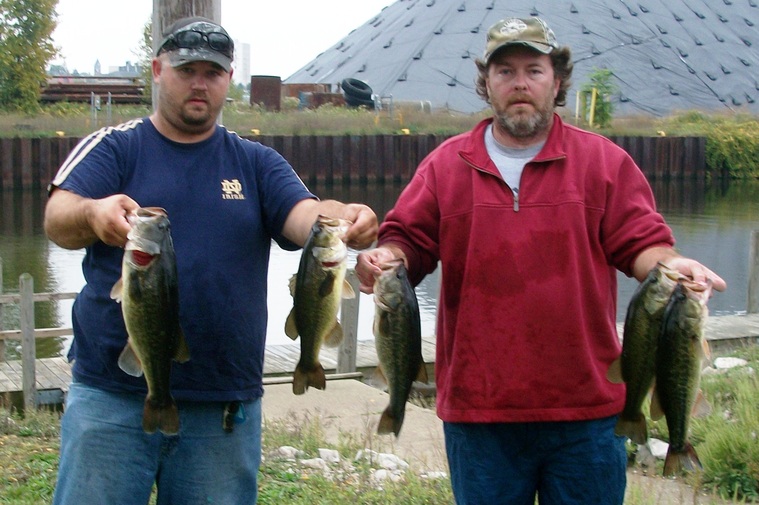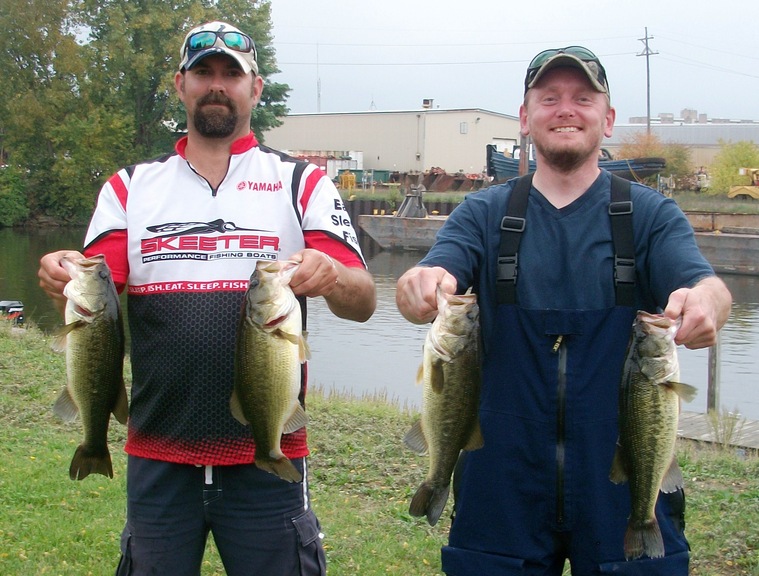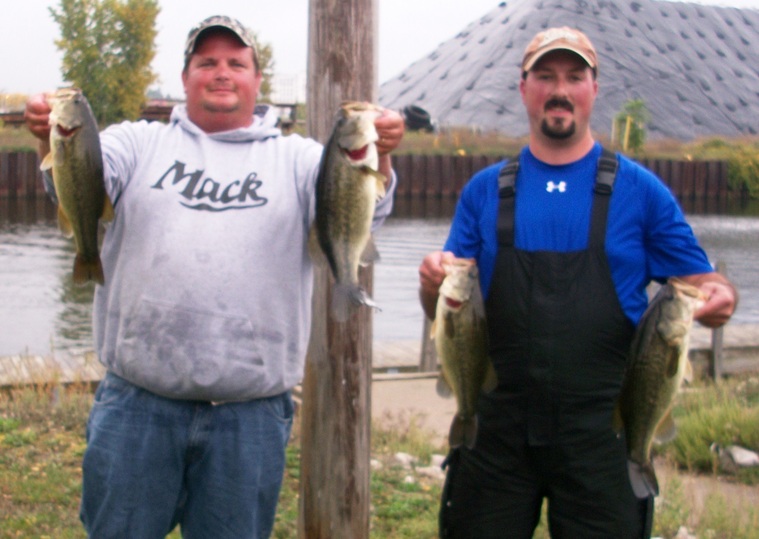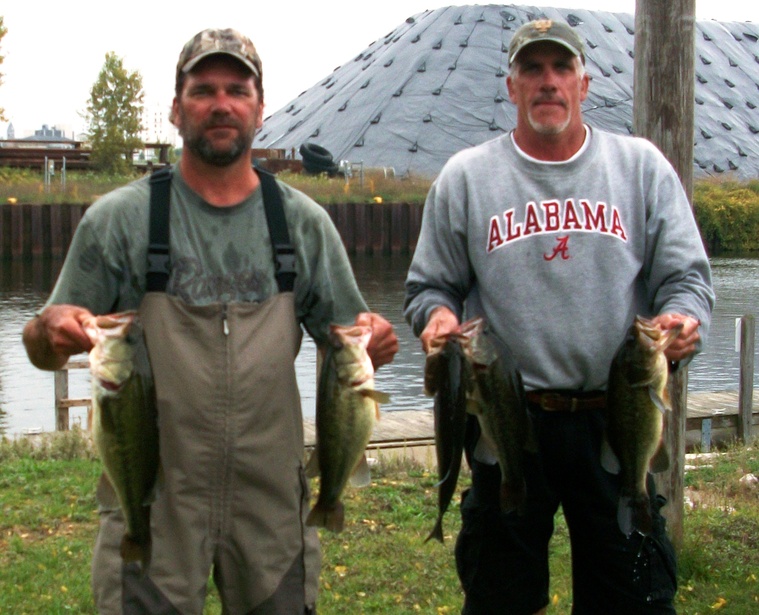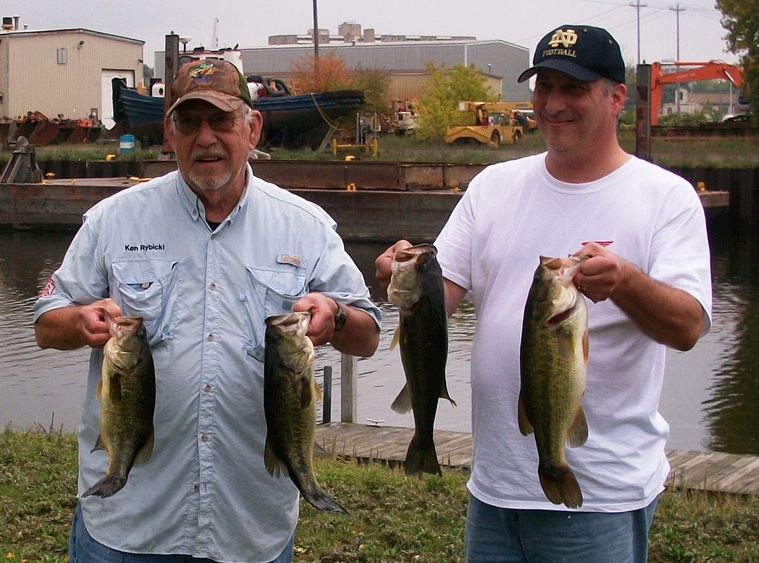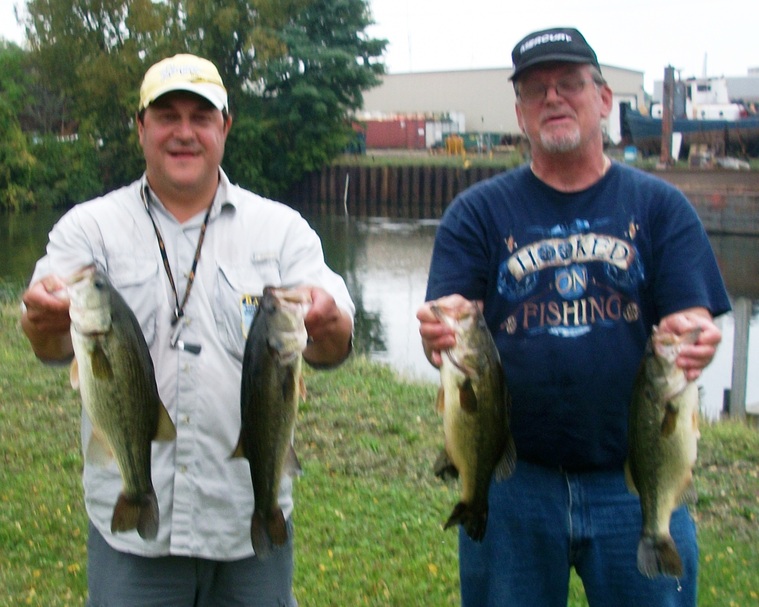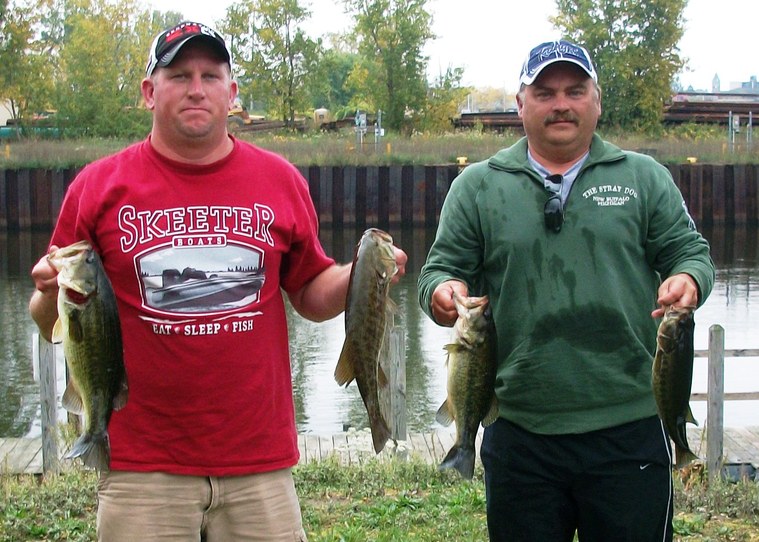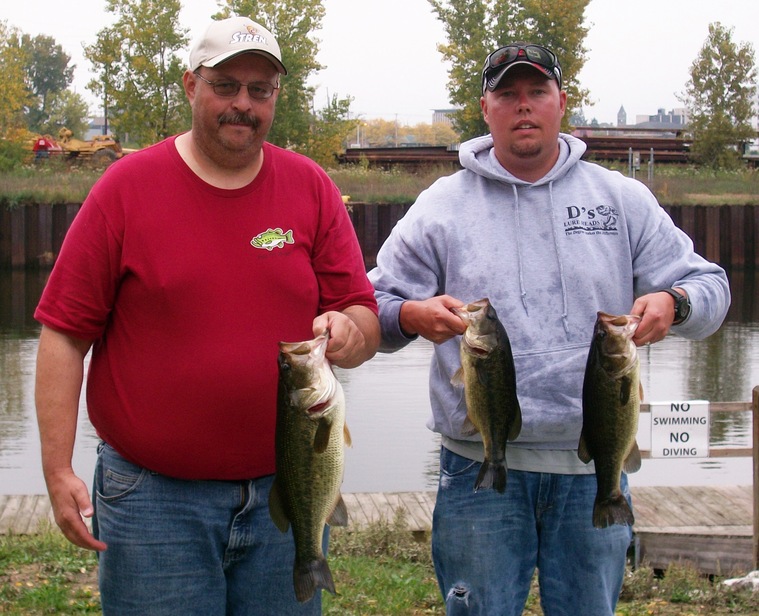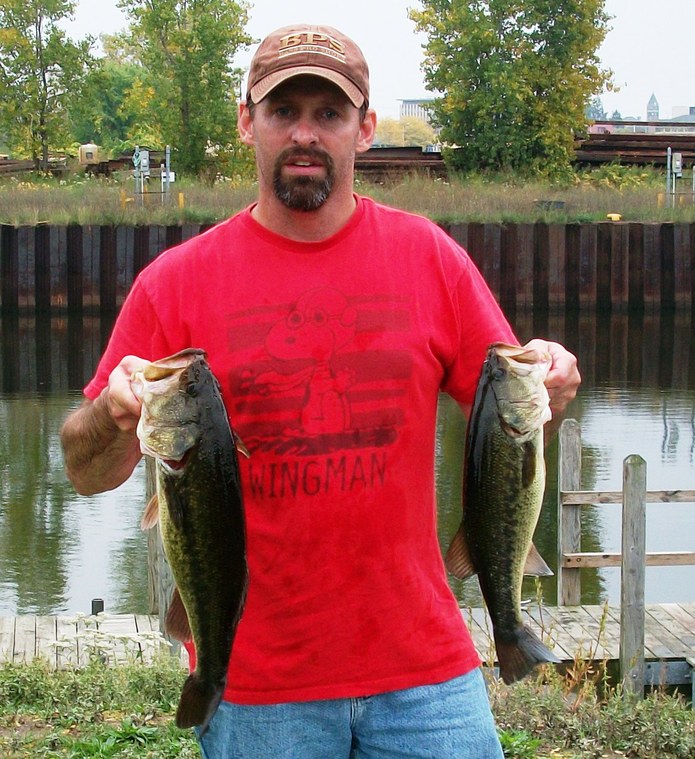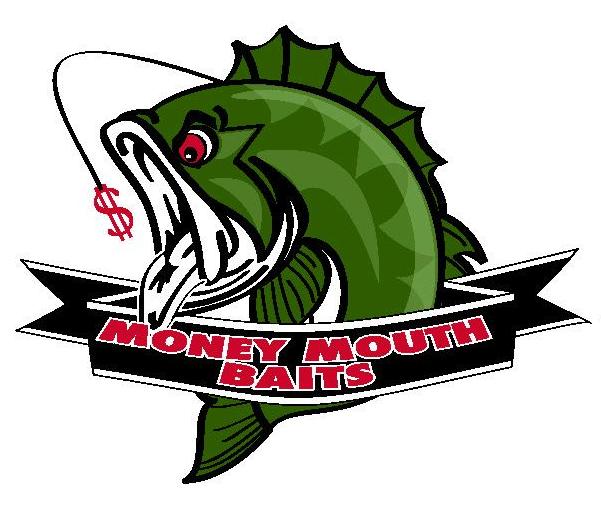 Tournament Directors want to publically thank the following individuals for their help this season:

Dennis Losee

,

Steve Prange

,

Travis Schroeder

,

Tom Reed

,

Josh Stalcup

,

Rick Bauer

,

John DuPont

,

Mitch Bair

, and

Steve Januchowski

.

We recognize that their help makes the circuit what it is. These individuals are our greatest assets the largest reason for our success.

Directors also want to thank the participants. We proudly boast that the

R & B Bass Circuit

is full of patient and humble anglers. New members consistently report feeling welcome and the absence of clicks. We also thank everyone for their patience with the technical difficulties faced after weigh in.
1st Place:

They did it again. In four years, no team has won more than three tournaments combined, yet,

Ron Fabiszak

and

Ron Nelson

won their fourth in a single year! This time they claimed the biggest payday in R & B history:

$1,540

. Their total winnings for 2013 is an astonishing

$4,340

!

The champions weighed 15.31 pounds of smallmouth bass taken from two areas on Muskegon Lake. Fabiszak explains, "We had our boat between 16-20 foot of water along a breakline and tossed a Strike King Sexy Dawg to fish eating bait on the surface." He is quick to point out that the fish were not schooling though, "We only got bit once every 30 to 45 minutes." Also, the bait was important; they tried other Spook-type baits, but they failed to trigger strikes.
All of their fish came from the topwater offering except for their biggest fish. A 3.98 pound fish was caught on a 38 square bill C Flash crankbait in a bluegill pattern. They boated eight keeper smallmouth total, but their best five were in the livewell before noon.

Their two primary areas were only unique in that they held a tremendous amount of bait. The bait both helped and hurt: it helped by bringing the fish there, but also made them more reluctant to bite. Fabiszak quipped, "When seagulls are too full to attack your topwater bait, you know there is a ton of bait!"
Ron Nelson (not pictured) left at noon to attend a wedding.
2nd Place:

Mitch Bair

and

Scott Sizemore

complimented their top 5 finish in the standings with a payday of

$823

by landing a 15.28 pound bag of largemouth bass. After a disappointing practice on Muskegon Lake, they made the decision to fish White Lake to build on their success from the 2012 Classic held there.

However, three hours into the tournament, their livewells were still empty and they were left scratching their heads. Finally, at 11:30 Bair made an important adjustment, "We threw jigs all over the place because that is how we caught them last year. When we could not get bit, I tied on a Strike King swimjig with a Zoom

Super Fluke as a trailer because I had it lying around from another tournament. On my fourth cast I caught our biggest fish." This was a 4.33 pound largemouth.

The next 150 minutes were awesome, as they landed 13 keepers in a 50 foot stretch. This special spot offered a current break along with a quick drop, six to nine feet, where the weeds thinned out. They tossed the baits into the weeds, broke it loose, then let it sink into deeper water. The fish bit when they began the retrieve back to the boat.

After working the spot for all it was worth, they left back for Muskegon at 2:00. Upon arrival they were able to make two additional culls with the same bait.
3rd Place:

An "Absolute grind," is how

Trevor Paulus

explained his day with partner

Brad Sterling

. "We practiced Friday so knew it was going to be slow. The water is just too warm for October!" However, it is unlikely anyone feels sorry for them as they still managed 14.69 pounds to win

$658

. Their bag included four largemouth with one smallmouth.

Going into practice, the plan was to target smallmouth, but with the warm water they failed to connect with any. So they checked out a proven summer largemouth spot and got bit immediately. This is where they spent the tournament.
They threw green pumpkin Berkley Powerbait worms on a 3/16 ounce shakey head. While the weight was impressive, they only stuck seven keepers and just two shorts. "It was important to deadstick the bait," Paulus adds.

Sitting in 28 feet of water, they casted into 10 feet and stayed in the same spot all day. "The fish were in the deeper weeds, it was just a matter of putting one in front of them and waiting for one to react," explains Paulus.
4th Place:

Teams may want to pay attention to

Jake Lisenko

on White Lake. He backed up last year's Top 5 finish at the Classic with another from White Lake. However, a gamble nearly backfired. He and partner

Dan Miles

began on Muskegon Lake with the belief they could bag a few keepers before running to White, but they failed to land a single keeper.

In fact, they ran so much across Muskegon, they had to buy gas from a marina just to make it. Consequently, they did not

arrive to White until noon. Once they were able to focus, they landed their biggest fish on their third cast and completed a limit in just two hours.

They caught their fish from the same trough as 2012 throwing a combination of senkos and drop shot rigs. In all they landed 15 keepers with the heaviest weighing 14.29 pounds earning them

$576

.
5th Place:

The third team finishing in the Top 5 from White Lake was

Steve Kline

and

Mark Farver

. Their 14.28 pound limit of largemouth won them

$494

.

They began the day probing deep water, where Kline had caught over 18 pounds a week earlier. But this only produced a single fish, "Last year we had this happen to us as well (good practice in deep, but did not produce in the tournament) and we did not change up and it cost us. We did not want that to happen," explained Kline. They adjusted by targeting sandy areas in water two feet or shallower with a Money Mouth Baits Fishbone in green pumpkin and went on to land 12 keepers.
2013 Points Champions

: After a performance not seen before,

Greg Mangus

and

Kevin Fletcher

blew out the competition on their way to claiming

$400

and the honor of defending the title for 2014. An on their fishing strategy and philosophy can be found by clicking on:

Dominating 2013

.

Other teams in the

Money

:
6th Place:

Matt Gardenour

and

Josh Ware

(right) brought in 14.17 pounds to win

$384

.

7th Place:

Winners of the first ever R & B tournament on Winona Lake,

Joe DeNardo

and

Rick Ponder

(left) landed 13.87 pounds to claim

$274

.

8th Place:

Doug Roher

and

Dan Frederick

(right) brought 13.86 pound to the scales to take home

$220

.



9th Place:

Steve Januchowski

(left) fished solo and still managed to land 13.64 pounds, including the Money Mouth Baits Big Bass, a 4.58 pound largemouth. The high finish gave him

$151

while the big fish gave him an additional

$270

.



10th Place:

For the second year in a row,

Josh Stalcup

and

Rick Bauer

(right) landed the second heaviest fish of the Classic. This time a 4.52 pound fish earned them

$100

, and anchored a 13.37 pound limit which won them another

$137

.



11th Place:

The father and son team of

Ken

and

Kevin Rybicki

(left) landed 13.07 pounds to claim

$125

.





12th Place:

Randy Forzst

and

Mike Bennett

(left) landed 12.89 pounds to take home

$109

.




D's Award:

Travis Schroeder

and

Tom Reed

(right) landed 12.17 pounds to claim the D's Lures Award.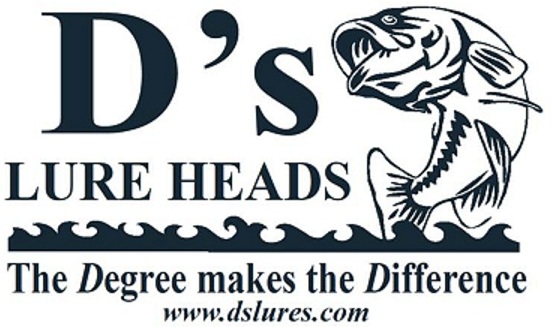 Optronics Award:

Jason Dittmar

and

Tony Kaser

landed 11.64 pounds to win new lights on their boat trailer by Optronics Incorporated.

Click on results for .pdf file.
Click on image to enlarge.