Locked and Loaded


An In Depth Look at Lock Jaw Jigs



By: Andrew D. Buss

Lock Jaw Jigs powered the team of Derek Deardorff and John DuPont to win multiple tournaments during the inaugural

2010 R & B Bass Circuit

season. They were the only team to accomplish this. Early on, the team struggled to put fish in the livewell, but those struggles ended quickly when Deardorff began tossing Lock Jaw Jigs (LJJ).

They showed up to the fifth event at Paw Paw Lake and won despite minimal experience there. In fact, they were the only team to cull fish and Deardorff landed 8 keepers himself: all caught with a Purple Passion LJJ. He flipped docks and boats. The team backed that performance up by winning the Classic at Lake Tippecanoe with Peanut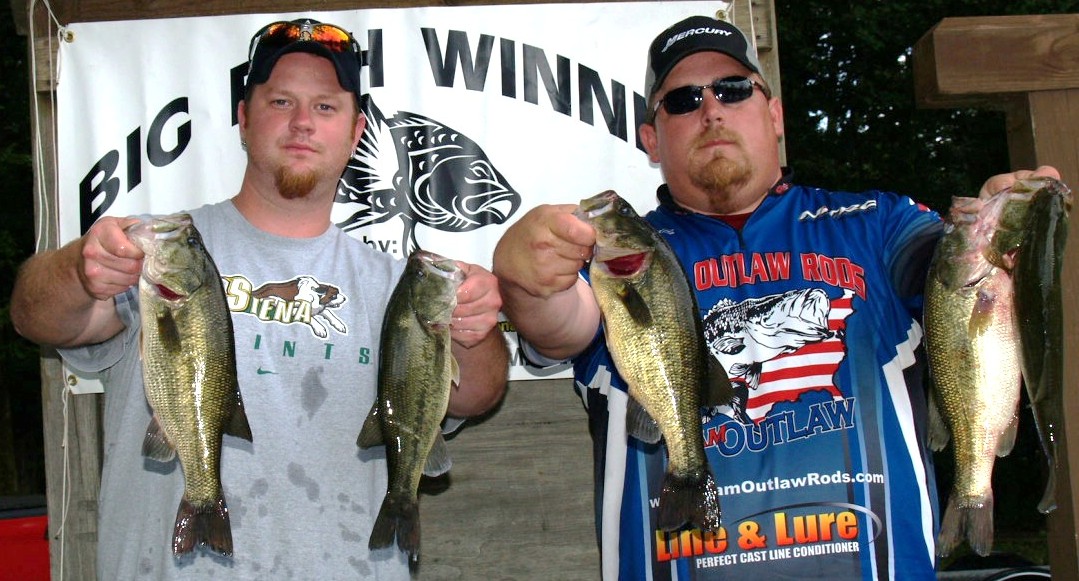 The team of

John DuPont

(left) and

Derek Deardorff

were the only team during the inaugural 2010 season to win multiple events. Their victories were led by Deardorff's use of Lock Jaw Jigs.
Butter & Jelly LJJ employing the same strategy.

Their success came as no surprise to Deardorff. LJJ are his confidence baits and has had success with them before. Incredibly, he won over $4000 in 2010 alone with LJJ. He is no stranger to jigs and knew LJJ was a special product when he discovered them in 2009. He explains, "I have been through every jig out there, but none are made with the love that Frankie (Adams) puts into each one."

The success comes as no surprise to owner Frank Adams either. The 29-year old from Elkhart, Indiana began selling his products full time in March 2010. He explains, "I began selling on EBAY in 2006. That grew into a website, and now I'm selling to stores." To keep up with demand, he had to quit his job.

Adams, who is also a competitive angler, humbly acknowledges he learned some secrets of the trade from legendary Michiana angler, Kevin Fletcher. He admits, "I owe it all to him." Fletcher has been making his own jigs for years and his reputation as a competitive angler is growing into legendary status. Adams says that Fletcher first took him under his wing in 2005, "He taught me how to tie [jigs]." Hand tying is one of several characteristics that separate LJJ from competition.

29-year old owner,

Frank Adams

, began fishing 10 years ago for panfish. But that all changed when he hooked his first bass, "I put my panfish rods up for good."
Chris Kohnke of Libertyville, Illinois also caught onto LJJ in 2009 and was drawn to the hand tied job by Adams. He confesses, "The skirt will not slide down the hook. It will never twist or fall off." On top of that, the material used to tie the knot matches the color scheme of the skirt.

Adams not only hand ties all of his jigs, but also pours and paints them. Kohnke, a firefighter and paramedic, praises Adams' craftsmanship, "I abuse my jigs on rocks and other hard structure. But at the end of the day [LJJ] have minimal wear. They are the most durable jigs I have ever used."

Kohnke, who admits his favorite color is Okeechobee Craw, also points to the trailer keeper as a characteristic that puts LJJ above others. LJJ comes equipped with a small wire that holds a trailer in place. He explains, "[This] eliminates a great deal of waste. Now, I don't go through a dozen or more trailers in a day. On a bad day, I

Chris Kohnke

discovered LJJ while looking for custom jigs, "I want to pick my own colors. I'm not into whats popular. I'm interested in what works."
may lose 2 or 3."

And it is guaranteed to work. Adams boasts, "The skirt will never move - that is a guarantee." In fact, if the wire fails to work, or if a jig malfunctions in anyway, Adams will buy them back. "I guarantee stability in my products."

Michiana has felt the effectiveness of the LJJ, but its reach has gone well beyond. Baton Rouge, Louisiana angler Chris Thornton credits his current 26th place status in the Louisiana Bassmaster Weekend Series to LJJ. He prefers them for the same reasons as above, but also because Adams offers custom colors. "You can design the jig you want down to each individual strand." As with many anglers, the option to customize initially attracted Thornton.

LJJ offers 4 different jigheads (Lock Jaw Series, 3-D Snootie, Swimming, and Football) and has over 150 color patterns, thus, most custom requests are readily available. But unlike many other companies who offer custom products, Adams does not require a minimum order. To view the 25 most popular color schemes, visit http://www.lockjawfishingjigs.com. To view all 150 available color patterns, visit Adams' Photo Bucket.

The most popular colors are Spring Bluegill, Dark Bluegill, Get'R Done, Black/blue, Bluegrass, and Purple Passion.

Water color is key in determining which color of jig to throw. A competitive angler since 1996, Deardorff answers the question, "What color looks natural to me in the water," and goes from there. Kohnke concurs, "The clearer the water, the more natural presentation you want." In dark water he often opts for a black/blue combination with rattle, "Rattles in dark water help fish find the bait, whereas in clear water the rattles will scare fish away."

Chris Thornton

began fishing tournaments at the age of 12. Full of energy, he now maintains 3 jobs and competes in multiple tournament circuits including Everstart, BFL, and Bassmaster Weekend. More importantly, though, he earned a Bachelor's degree from the Nichols State University.

Thornton, who is also part owner of a web-based tackle company (www.cajuntacklehouse.com) also gauges water clarity to determine color, but goes further, "Water depth will determine the weight. The type of structure present will determine the head style."

LJJ can be used effectively under any condition if an angler adapts. They are deadly on structure as Kohnke's main approach on area Chicago lakes is tossing them as close to structure as possible: "I prefer boat docks, but any structure can hold fish." On the Louisiana swamps, Thornton's favorite pattern involves tossing jigs to cypress trees.

Ultimately, retrieval should be determined by the mood of fish, not the mood of angler. Deardorff explains, "You have to figure out how they want it: crawled, hopped – small hop or big hop. Or do they like it with a steady, slow retrieve on the bottom? Or do they prefer it swimming?" He elaborates, "You really have to play with it, let the fish tell you how to do it." He recommends anglers begin by making

Deardorff had an incredible 2010 season. He qualified for 4 Classic tournaments and won all of them!
In each event,
LJJ was his choice of weapon.
Click

on the image right. Fooled by Thornton, you can see the LJJ still sticking out of the mouth of this Louisiana swamp bass.
(Above) Kohnke caught these largemouth from the boats and docks located behind him: "I skip my jigs as far under as I can and once I hop it a time or two, hold on!"
the jig resemble a crawdad as closely as possible, and adjust accordingly to success or lack thereof.

To compliment their jigs Deardorff, Kohnke, and Thornton all use fluorocarbon and braided line. When fishing heavy cover they all opt for braid, but use 14-17 pound fluorocarbon elsewhere.

In a market flooded with options, the quality of Lock Jaw Jigs has spread across a large portion of the country in just 4 years: That does not happen without substance. Don't get caught on the outside looking in, as Thornton confesses, "Not only are [LJJ] of great quality, they are fish catching machines!"