Lake Maxinkuckee
Public Access Site
May 8
6:30 am - 1:30 pm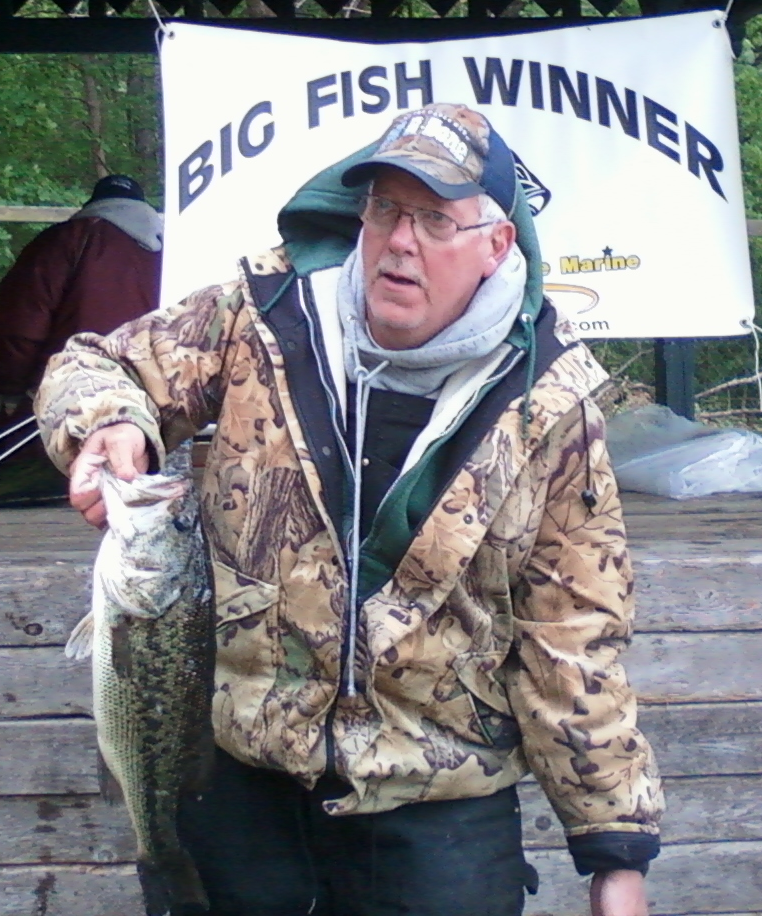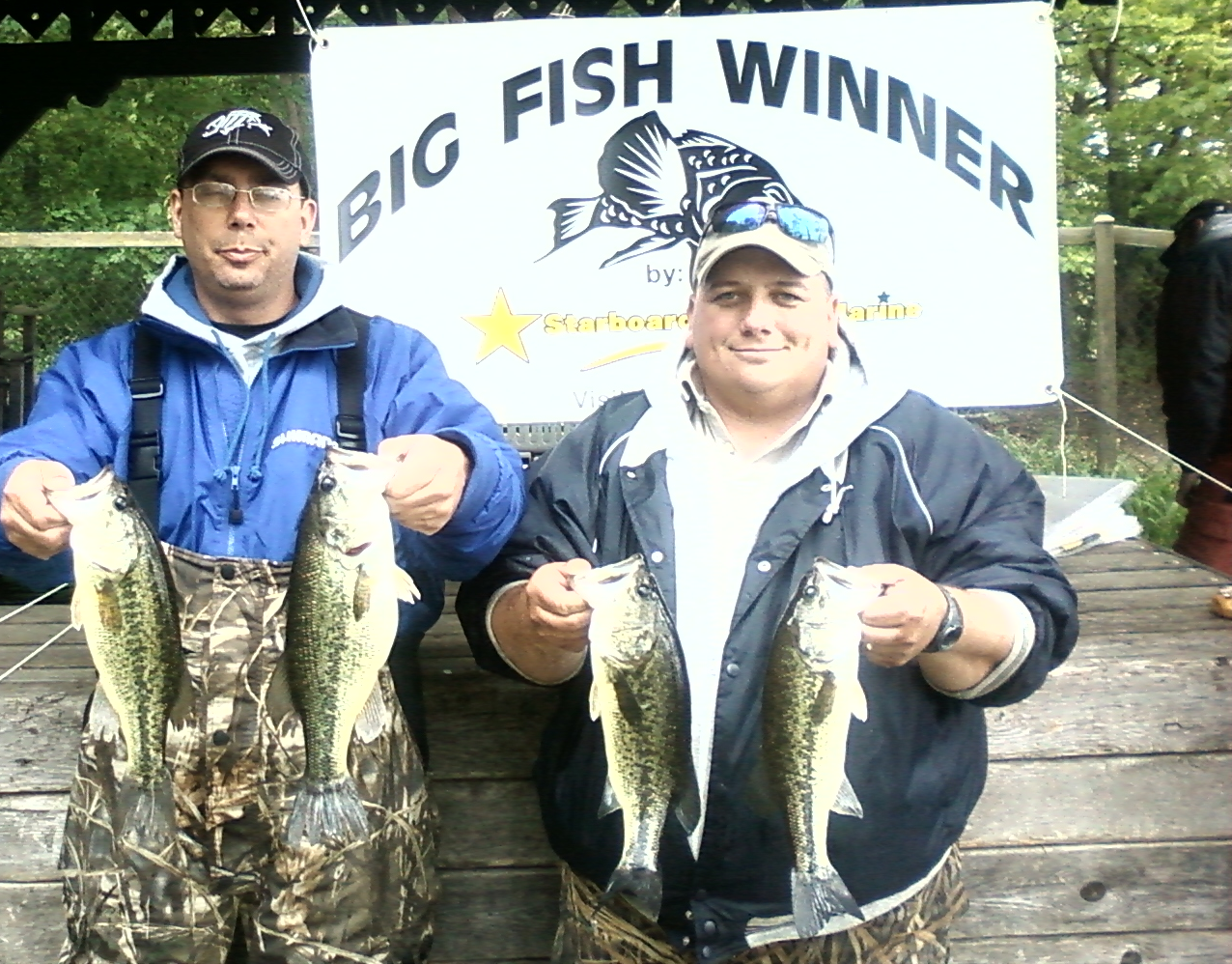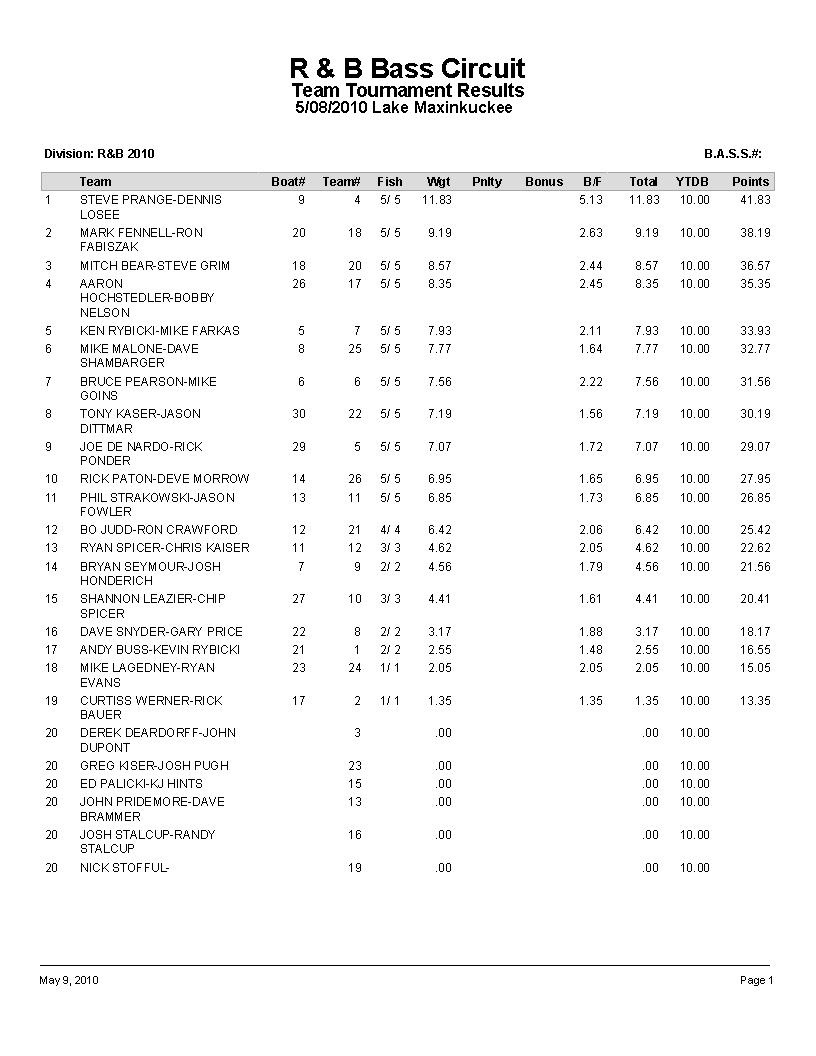 Mother Nature unleashed her savage brutality to 25 brave teams Saturday morning. In fact, to protect the anglers there was even discussion of cancelling the event. But despite the gusts of wind over 40 mph, waves reaching 3 foot, temperatures never climbing above the mid-40 range, and ocasional rain, the R & B Bass Circuit participants threw it right back at nature with 11 limits and 73 total fish weighed. That is nearly a 3 fish average per team!

Joe DeNardo and Ricky Ponder followed up their win on Winona Lake with another limit, but were out gunned this time; consequently, they no longer stand on top of the standings.
1st Place:

Steve Prange of Niles, Michigan, and Dennis Losee of Elkhart, Indiana, won the event with a total weight of 11.83 pounds. They were anchored by the Starboard Choice Marine big bass - a beast that weighed 5.13 pounds. The winners won

$560

for 1st and an additional

$250

for the Starboard Choice Award. That is over

$800

for a 25 team tournament!

The team caught their big fish on a Strike King spinnerbait, but landed the majority of their fish on wacky worms. They landed 14 keepers on the day. Losee recalls, "We caught our limit fairly quick in the channels, but then culled several fish on the main lake with the same baits."

The team actually had to compromise from their main game plan as their primary areas were hammered with large waves making it impossible to fish effectively. One could only imagine their domination had weather not been a factor!
2nd Place

: Mark Fennell of LaGrange, Indiana took 5th place with a solo performance on Winona Lake, so when he came partner, Ron Fabiszak of South Bend, Indiana to Maxinkuckee, anglers were put on alert.

They did not disappoint, as they put together a limit of largemouth that totaled 9.19 pounds earning them

$295

.

The team used D's Tubes and jigs to land the majority of their 15 legal-sized fish!
3rd Place

: Newcomers Mitch Bear and Steve Grim of Columbia City, Indiana threw everything in the kitchen to scrape out a limit that weighed 8.57 pounds. Grim recalls a hot start that cooled quickly, "We caught our first 2 fish right away and thought this was going to be a great day!" However, the bite slowed and they caught their fifth and final keeper with just 15 minutes remaining.

Lucky for them, those 5 fish were good enough for

$195

. They caught their "keepers" on XBT tubes, jerkbaits, and senkos.
Ron Fabiszak (left) and Mark Fennell (right) hold up 4 of their 5 largemouth. These fish led them to a 2nd place finish for

$295

.
4th Place

: Aaron Hochstedler and Bobby Nelson are taking everyone to school right now. The team also finished 2nd at Winona Lake and are the only team to win money in both events far.

They have shown off a diverse repetoire as well. While throwing jerkbaits and lipless crankbaits on Winona, they switched to a more finesse approach on Lake Maxinkuckee. They threw chartreuse with blue flake Mizmo tubes on 5/16 ounce jigs in 4 - 6 foot of water. Nelson makes his own tube jigs and Hochstedler quips, "If you're lucky he may sell you some!"

The team spent some time on Maxi preparing for the tournament and found good numbers of smallmouth on the mainlake. However, that switched during the tournament. Nelson explains their good fortune, "The same places we caught smallies in practice, we caught largemouth today. No doubt, that helped us bring in a heavier sack."

The team caught a total of 10 keepers, which earned them

$155

. It also put them at the top of the leader board: Standings.
5th Place

: Tournament veteran Ken Rybicki has teamed up with novice Mike Farkas this season and apparently, we should all recognize. In only the second tournament of his life, Farkas helped Rybicki load the boat with 15 keepers and, despite the brutal conditions, caught fish all day.

Like several other teams, the wind blew them off their primary target areas. But they adjusted their game plan and scored focusing on flats between 6 - 8 foot of water. They employed a 1 - 2 punch combination with Rybicki tossing wacky worms in the front, while Farkas tossed lipless crankbaits.

Farkas admits it could have been better, "I had a 4-pound fish that came unbuttoned right at the boat. That cost us several hundred dollars." Indeed, as that would have placed them right near the leaders.

Have mercy on us Farkas, this game is supposed to be difficult for beginners.

The team won

$91

for their efforts.

The Tournament Directors would like to thank everyone who has paid us a compliment. We have received many positive remarks on how well the first 2 tournaments have gone. However, we feel the compliments are going to the wrong people.

We feel directors play an important, but minimal role. Ultimately, how smooth a tournament runs is dependent on the participants. We all know it only takes a few bad eggs to spoil the whole batch; so we would like to pass on the compliments to all of the participants. You have all been classy people and we are proud to run this circuit for you.

Now, let's pierce some lips on Diamond Lake! I want to see who is going to step up next to make a charge in the standings.