Klinger Lake
DNR Public Access Site



July 23
6:30 am - 1:30 pm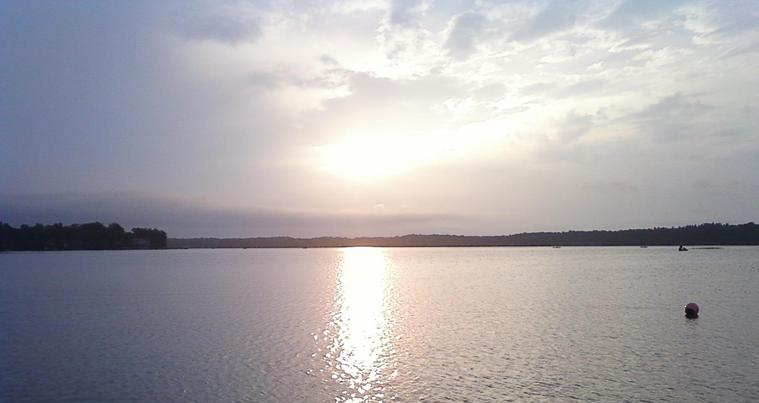 Klinger Lake posed several unique challenges, but the quality of people who participate in the R & B Bass Circuit made those challenges non-issues. The tournament directors thank all who participated.

In typical R & B fashion, bad weather threatened to spoil the day. But for a change of pace, we caught a break. A nasty storm system blew threw just north of us and we had nothing but a little drizzle during registration. The forecast called for temperatures in the 90s, but the sky remained cloudy for the majority of the tournament and kept the temperature comfortable. The sun did not come out until the final 2 hours and only then did sweat pour from every existing pore.

Despite concern of fish mortality, of the 141 fish weighed, only 3 died. That is a 98% survival rate. This is testament to the care our participants take of their fish. Thank you anglers! To encourage quick release of fish, the decision was made not to take photographs despite the agreement with sponsors.

Of 34 teams, 23 weighed limits. Surpringly, not a single fish weighing 3 pounds came to the scales. The Starboard Choice Marine Big Bass was a modest 2.68 pounds caught on one of our sponsors' baits: Lock Jaw Jigs. The smallest margin of victory in R & B history pursued (view Records).

Two-thirds through the season and the Points Championship is still up for grabs. With a huge bullseye on their back,

Teddy Bradley

and

Mark Fennell

made significant gains on several teams in the top 5. It was a clutch performance. But the team of

Tony Kaser

and

Jason Dittmar

gained on them and now stand just 2.5 points out of the lead. However, with Webster Lake and Palmer Lake remaining on the schedule, two lakes capable of huge weights, the

$200

award is in any of the top 10's grasp. It will be fun to watch.
1st Place:

Pablo Gonzalez

and

Jim Reschly

made a small decision that earned them big money,

$712

to be exact

. Reschly explains, "(Gonzalez) put a large trailer on his jig and that definitely seemed to get the bigger bites." The team went on to catch 15 keepers and put together a limit weighing 9.17 pounds.

But it didn't begin well for the team. By 9 am the team had 3 keepers, but had missed several opportunities and were frustrated. Gonzalez recalls, "(Reschly) had lost a smallmouth on a crankbait that was over 2.5 pounds and I had lost a largemouth that was well over 2 pounds." He added, "But that happens when it gets this hot as their mouths become extra soft."

The team never waivered and relied on their jigs. They used Gonzalez's homemade, 9/16 ounce jigs. They had a perch pattern color scheme. Although the team also caught keepers with crankbaits and spinnerbaits, the jigs produced their best fish. The most productive depth was between 10-18 feet deep, but they caught a few under docks and one as deep as 30 feet. Heavy weeds that were a dark green key.
2nd Place:

Now cashing a check in 3 of the first 4 events, the team of

Tony Kaser

and

Jason Dittmar

are no longer sneaking up on anybody. They are only 2.5 points out of the lead in the Standings and are poised to take the title.

The team caught 10 keepers total between 6-8 feet of water to finish with a limit weighing 9.05 pounds. They tossed nearly everything in their boat. but their keepers fell victim to jigs, senkos, and D's tubes. They won

$446

.

Despite their success, luck was not on their side, or, rather, Mother Nature was not. Only missing out on the win by .12 of a pound, one of their fish spit out a 4 inch bluegill in the livewell. Kaser commented, "It was apparent that bluegill was in the fish's digestive system for some time. It should not have spit it out."

That bluegill could have won them an additional

$226

, but could it cost them the Points Championship as well?
---
3rd Place:

The names

Teddy Bradley

and

Mark Fennell

are becoming far too familiar. After winning the first event on Lake Manitou, they have never relinquished the Standings lead.

The team was admittedly concerned with the Klinger Lake event. Bradley admits, "I was concerned. We had real good teams on our tail; Fletcher and Mangus are real tough here and have great experience (at Klinger); Chupp and Miller are phenomenal with a drop shot, and the drop shot bite was on." Bradley and Fennell had minimal practice. This was a gutty performance.

The leaders immediately caught 2 keepers on pop-r baits and then quickly moved to the flat on the east end to finish out their limit on drop shot rigs. They continued to move around the lake, but their weapon of choice did not change.

They armed their drop shot with a watermelon/gold 4 inch Berkley Powerbait Finesse Worm Hand Pour. They caught 15 keepers including the second biggest bass of the tournament, a 2.38 pound largemouth. Their limit weighed 9.04 pounds and won

$268

.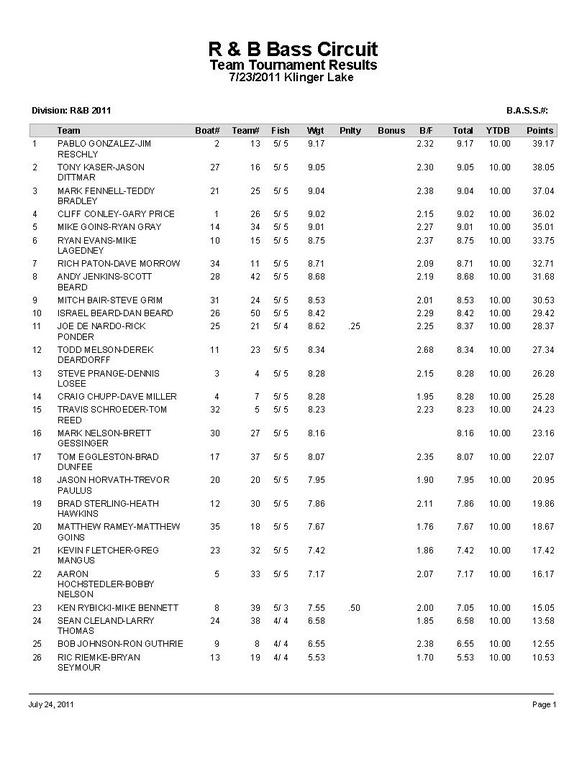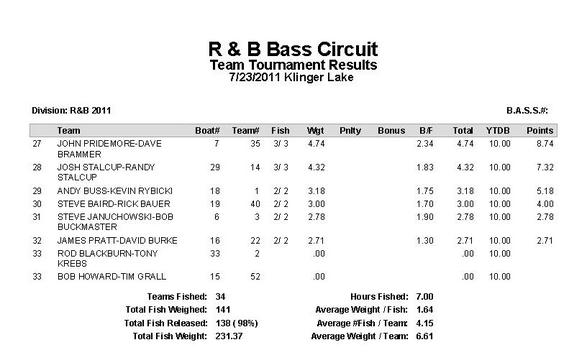 Other teams winning money and prizes:



6th Place:

Ryan Evans

and

Mike Lagedney

weighed an 8.75 pound limit to claim

$72

.



7th Place:

Rich Paton

and

Dave Morrow

had a limit weighing 8.71 pounds and won the D's Lures Award.

Starboard Choice Marine Big Bass Award:

Derek Deardorff

and

Todd Melson

landed a 2.68 pound largemotuh they thought had no chance of winning the prestigious award. Melson landed the fish on a Lock Jaw Jig from under a dock. But it could have been better. Deardorff admits, "We got our limit on the lake, but we lost a number of fish under docks that were bigger than our big bass."

Maybe, as Gonzalez thought, because of the warm temperatures, the extra softness of the fish's mouth caused the bait to be ripped loose. Regardless, the fish still won them

$340

.
---
4th Place:

Cliff Conley

and

Gary Price

put together a limit weighing 9.02 pounds to claim

$178

. Throughout the day they concentrated their efforts on 2 primary areas and landed over 20 keepers. In fact, they had their first limit by 8:20.

Their weapon of choice was also a drop shot rig matched with a watermelon finesse worm. The majority of their fish came in 12 feet of water.
---
---
5th Place:

"Luck" landed the team of

Mike Goins

and

Ryan Grey

$106

with 5 keepers weighing 9.01 pounds. Goins confesses, "It was luck. We were close to Kaser and Dittmar and watched them catch one fish after another and we only caught 5 keepers the whole day."

The day began well enough as they had 4 keepers in the livewell by 9am, but then things slowed considerably. They did not catch their final keeper until 11 and were not able to improve their limit.

Like Kaser and Dittmar, they used a variety of baits including tubes, sweet beavers, and twin-tailed grubs.