Higgins & Houghton Lakes
October 5-6, 2019
8:00 am - 4:00 pm
1st Place: Ron Fabiszak & Jason Fowler
​
​
Weight:

Higgins Lake - 19.80; Higgins Lake - 14.91 = 34.71. ​Day 1 Lochness Lures Big Bass - 4.72



Pattern:

smallmouth bass eating bait on Higgins Lake and smallmouth bass on "hard" bottoms at Houghton Lake

Baits: Alabama Rig, tube, crankbait, & swimbaits

Houghton Lake



Despite having a near insurmountable lead, the Champions kept lofty goals. Fabiszak said, "We really thought we were going to catch them good on Houghton."


They had located big smallmouth on Thursday, but those fish didn't stick around. "We pulled up to our first spot, which was being pounded by the wind, and caught two 4-pound fish," recalled Fabiszak. One fish fell victim to a swimbait and another to a crankbait, but that was it. "We believe the ​wind pushed the bait up shallower, and other teams were there."
2nd Place: Tom Noe & John Gipson
Weight:

Higgins Lake - 8.54; Houghton Lake - 20.48 = 29.02. ​Day 2 Lochness Lures Big Bass - 4.44



Pattern:

smallmouth bass eating bait and relating to hard bottoms



Baits:

Alabama Rig, drop shot, jig, tubes, & Monkey Punch

3rd Place: Chad Walter & Lance Tresenriter
Weight:

Higgins Lake - 10.69​; Houghton Lake - 16.54 = 27.23

Pattern: Smallmouth bass on flats and windy hard spots

Baits: Tube, drop shot rig, custom painted crankbait

4th Place: LaVon Raber & Mike Raber
Weight:

Higgins Lake - 11.37; Day 2 - 11.50 = 22.87

Pattern: Smallmouth bass on inside corner on Higgins and hard bottoms on Houghton
​


Baits:

Jerkbaits, drop shot rig, & tubes

5th Place: Trevor Paulus & Dave Selig

​Weight: Higgins Lake - 5.34; Houghton Lake - 16.66 = 22.00



Pattern

: Smallmouth bass in shallow water



Baits

: Tubes & crankbait
As expected, multiple presentations and diversity were necessary to compete in the Megaware KeelGuard R & B Bass Circuit Classic. The two waters demanded different approaches, baits, and strategies.
Over

$10,000

was given away over the weekend. In all, over

$41,6
00
was given away during 2019.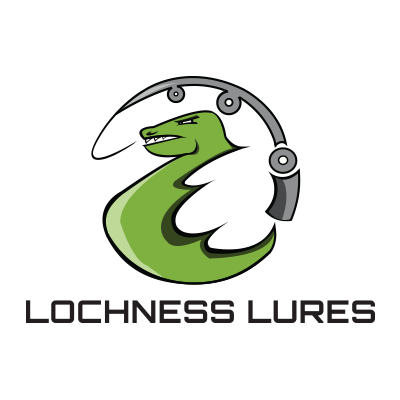 ​​After practice, the 2019 South Division Season Champions had high expectations. Gipson admitted, "We caught a lot of good fish between 20-55 feet of water and felt we would catch 17 pounds." But the tournament day threw a curve ball at them.


​"The deep water bite completely died on us," Gipson said. "We don't know exactly why, but the win had changed direction and maybe the fishing pressure got to them."


They boated 4 total keepers, an accomplishment with only 3 limits coming to the scales, that landed them in 8th place. Two were caught with the Alabama rig, one with a drop shot, and another on a jig.


"The jig fish was a funny and fortunate deal." Gipson told, "I lost a fish 20 feet from the boat and immediately cast right back to it and caught it. It was either the same fish, or a second one that was following it in."​​
​​Ironically, their first fish was a 4-pound largemouth bass. "We have never caught a largemouth from that spot, but when that happens, you know it's going to be a great day."


The Lochness Lures Big Bass, a 4.44 pound smallmouth, was reminiscent of the Winners' lesson. Gipson shared, "​Tom dropped his rod down to net a fish for me, which weighed 3.88 pounds, and when Tom picked his rod back up, the big bass was on." That two-minute stretch added over 8 pounds to their limit.


​By rotating through their spots, they caught at least 2 dozen fish 2.5 pounds and bigger, but they only cull they made was at 3:20 - another 4+ pound smallmouth to put their limit over 20 pounds.


Their motor is protected by a ​
​
​Megaware SkegGuard and they were the highest finishers with one installed. This earned them another

$250

.
Houghton Lake



Houghton greeted the 2019 East Division Season Champions with a quick start as well. Their first cast yielded a 4-pound smallmouth, and then 7 more keepers over the next 15 minutes!


"We began on a shell bed and loaded the boat quickly. Unfortunately, it fizzled from then on." ​They only culled twice: once with a 2.5 pound smallmouth on a different shell and a 2 pound largemouth at the mouth of a channel.
Higgins Lake
​The 2018 West Division Season Champions were very disappointed with their performance on Higgins. "We had a good practice," admitted Paulus. "We felt we could catch 16 pounds in the tournament. Our fish were in water as shallow as 4 feet and were munching on tubes pretty good."


Unfortunately, their starting spot was littered with ​8 other competitors, and they failed to catch a single keeper. "I'm not sure if the pressure got to the fish, or the weather got them to move, but we could not find the fish."


Their secondary spot presented the same challenges - pressure and absence of fish. However, their third spot, which they thought would have pressure, was vacant. They managed 1 one on a perch colored DT crankbait and a second ​on an Xtreme Bass Tackle tube. They also caught the biggest rock bass here with the tube, a 1.37 pounder that won them

$140

.

Click on image to enlarge.

Higgins was a tough test for every team, including the team that racked a near 20-pound sack. Fabiszak revealed, "We were there three times, and it wasn't until late in the second trip that we hooked a quality fish." But it proved to be the most important bite. That fish weighed over 4 pounds and the area produced 3 additional "good ones." Most revealing of that moment was what the fish bit, "We caught it on an Alabama Rig, and I knew I had the right partner," said Fabiszak. "Jason is the best Alabama Rig angler I know."


That same spot is where they began the tournament. "We didn't have great waypoints," admitted Fabiszak. "They were just areas. We still don't know why those areas were holding fish, but we knew it was holding more fish than the other areas."


Just ​
​10 minutes into the tournament they boated their first keeper, and 10 minutes after that, they landed the Lochness Lures Big Bass - a hefty 4.72 pound smallmouth bass. "The fish were not schooled up," recounted Fabiszak, "they were spread out, so we kept on the trolling motor. We never sat on a spot."


An hour later they ran to their second spot and caught 2 more keepers in the 2-pound range, yet they weren't feeling it. "There were other boats in the area, and it just didn't feel right to us. Plus, it was calm and wind is always a good thing," explained Fabiszak, "so we went back to our starting area." It was the right move.


They caught​ a dozen keepers by keeping their boat between 16-18 feet of water and casting parallel to the breakline. The lone exception was a 4-pounder caught with a tube. Fabiszak told the story, "There's a lesson in this too. Jason was culling a fish and I told him he should still throw a bait out the side of the boat while doing that. After he was done culling, he picked up his rod and the fish was loaded up. We don't can't that fish if he doesn't do that." He restated, "Always keep a bait in the water. Sometimes dead sticking is what they want."


Their 19.80 pound limit was 5.8 pounds larger than 2nd place.​
​
Houghton Lake



The 2015 Classic Champions made a hard charge on Houghton Lake by bringing in the heaviest bag of the tournament. "We caught them good," Gipson said elatedly.


​"We had 8 spots," Gipson shared, "and rotated through them. Each spot was where sand grass was up against some kind of other bottom; most of them hard - either rocks or shell beds."


The beat down commenced immediately. "We had a limit in an hour and a 19-pound limit in the first 90 minutes.​"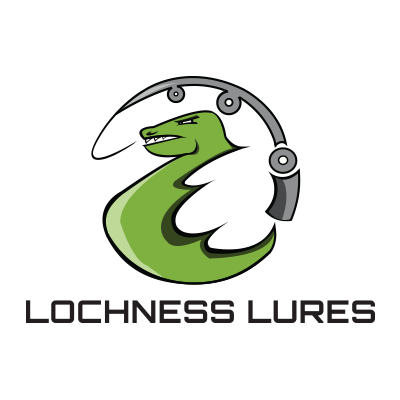 Higgins Lake

Tresenriter explained they did not have a lot confidence on Higgins Lake, "We only caught 1 keeper and 2 shorts during practice." Fortunately, they all came from one spot, so the decision to stay there for the duration of the tournament was an easy one.


They boated 3 keepers, but one was a 4.13 pound dandy. Tresenriter shared, "One of our keepers came on a tube, and the others bit a drop shot. Like everyone else, we caught several rock bass, but we also caught several small perch. We think that is what attracted the smallmouth."


​Their 10.69 pound sack put them in 7th place, which was a great position for a team who has a good history on Houghton. ​
​

Higgins Lake



Even being 1 of the 3 teams with a limit, the Rabers had a similar experience on Higgins as the 3rd place team. Mike exclaimed, "I caught more fish in the first 30 minutes of the tournament than all of practice!"


Mike admitted, "We only caught 3 fish total in practice, but they all came from one spot, so that is where we camped out​. Fortunately, when we got there for the tournament, the wind was blowing into it perfectly." Mike makes no bones about his favorite way to catch smallmouth - a jerkbait, and the weather created the perfect scenario.


"The wind pinned the baitfish into inside corner​, and they ate the jerkbait right away." They had a limit by 9:30, but then the light switch was turned off. "We never got another bite until 3:30," Mike said. At 3:30 we were drifting over 30 feet of water and we got one off a drop shot rig that was a 1-pound cull."

Houghton Lake



​​This day went slower than expected, but ended well. "At noon, we had zero fish and actually contemplated leaving!" Paulus admitted with a laugh.


"We lost 4 fish at our first spot and each spot afterwards just didn't produce any fish. Luckily around noon, we were drifting along an edge of a flat, I had another come off, but we dropped the Power Poles and caught the heck out of them.​

6th Place:

Bill Sutton

and

Cory Gaff

(left) backed up their Top 5 from 2017 with a 2-day total of 21.01 pounds to win

$400

.


7th Place:

A 2-day total of 18.12 pounds earned Bo Boyd and Kenny Yoder

$300

.​
Biggest Jump:

100% of the side pot was given to the team who made the biggest jump in the Standings from Day 1 to Day 2 went to the West Division Directors

John Dupont

and

Andy Buss

. After posting a zero on Higgins they jumped 16 spots with a 13.73 pound limit from Houghton. They won

$270

.
8th Place:

Booy Strock

and

Calvin Yoder

(left) had a 2-day total of 18.06 pounds and pocketed
$210
.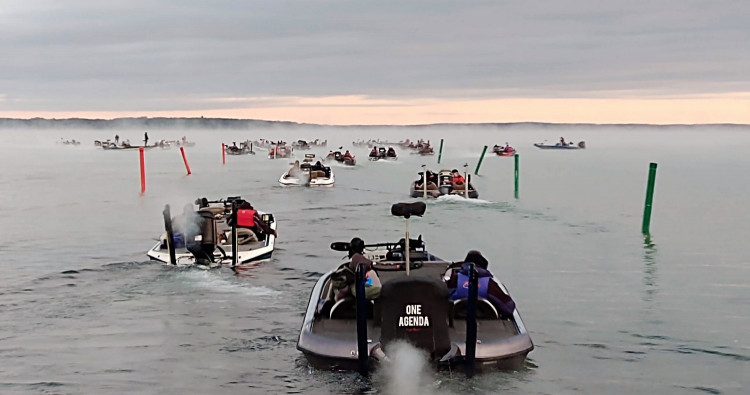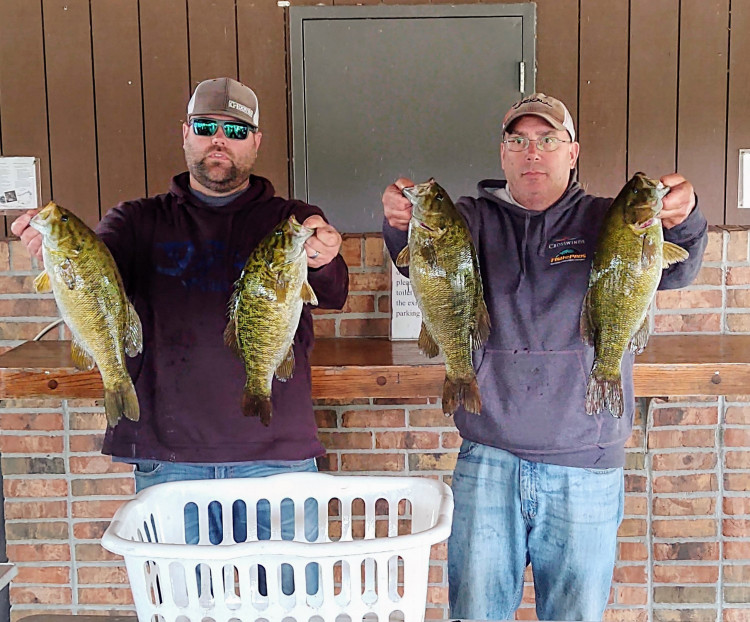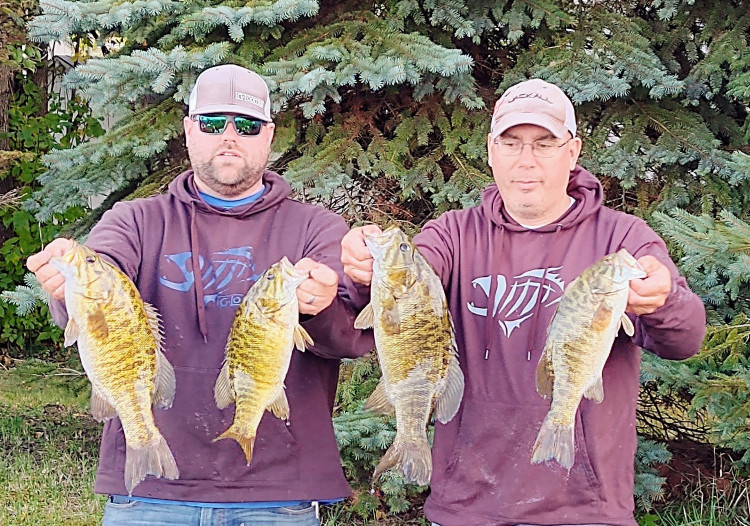 Luckily, they had 5 spots to rotate through, and they were able to pluck another dozen keepers by tossing the swimbait and crankbait at them. The common characteristic of all of their spots was a hard bottom. "We weren't sure if they were shell beds or rocks," admitted Fabiszak, "but you could feel something hard was there." Their 14.91 limit led them to one of the most lopsided Classic victories in R & B History.


Additionally, an investment in a new Megaware KeelGuard this summer qualified them for the incentive prize of the highest finishing team with a KeelGuard -

$250

cash

.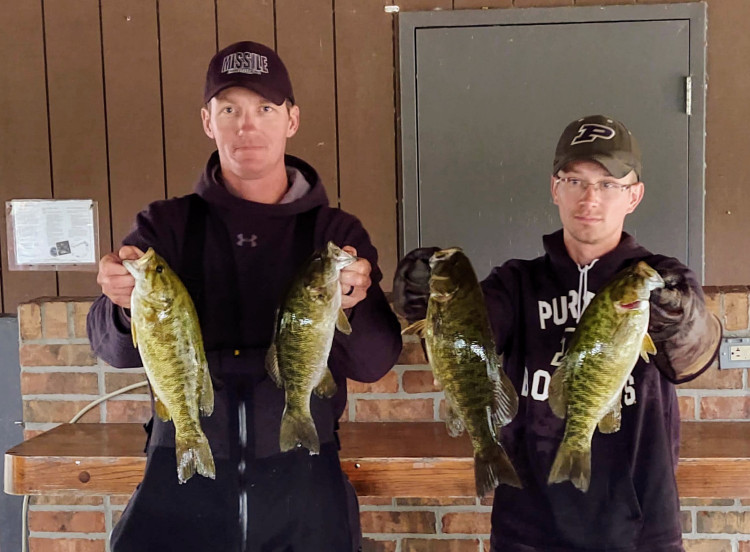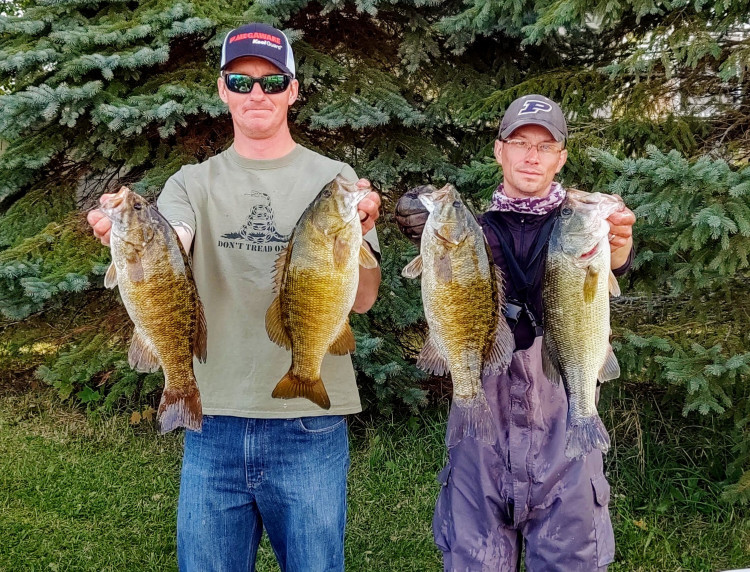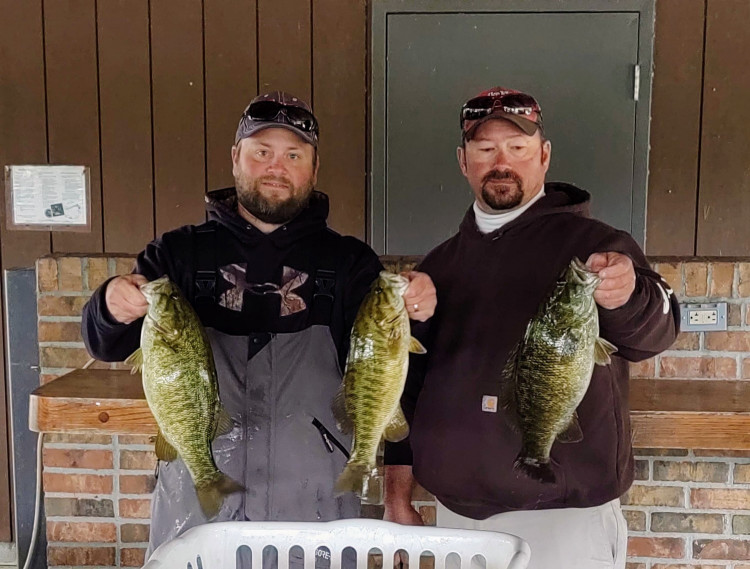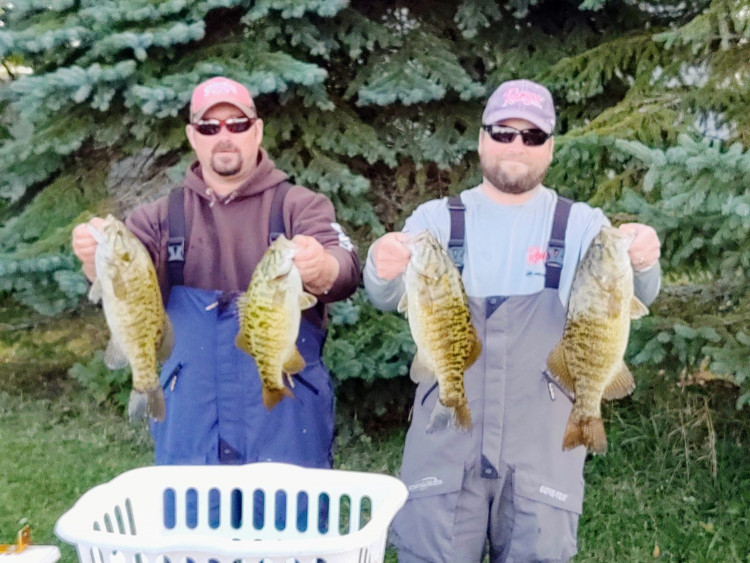 ​​Houghton Lake



​An 8th Place finish at the Houghton Lake Classic in 2017 gave them confidence and areas to expand on. "We found a spot then," Tresenriter admitted, "and when we checked it out in practice, it worked immediately. By time practice was done, they had drift line 1/2 mile long with several waypoints holding fish.


​Unfortunately, it was on the rough side of the lake," lamented Tresenriter. However, they made their drift a dozen times, stopping each time they got bit, and loaded the boat with 25 keepers.
"We had a limit by 9:30, including our best 2. All five fish we weighed were caught on the tube, but we also got several fish with a custom painted crankbait," shared Tresenriter. "The crankbait was a 6-8 foot runner, which was perfect for us, because our drift was in 6-8 feet of water."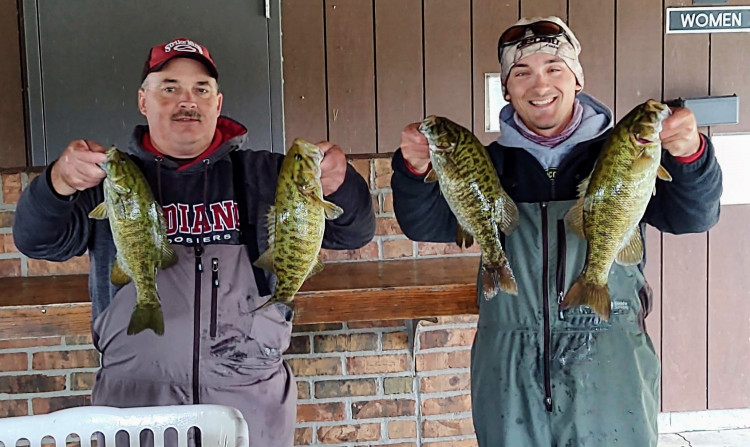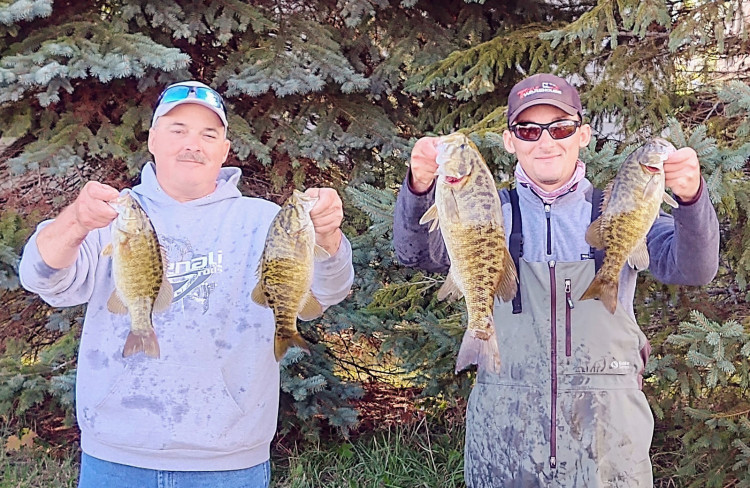 Every fish was caught with a tube on 15-pound line on a bait cast reel. "In that color of water, I don't think the thin line on spinning gear mattered much," explained Mike.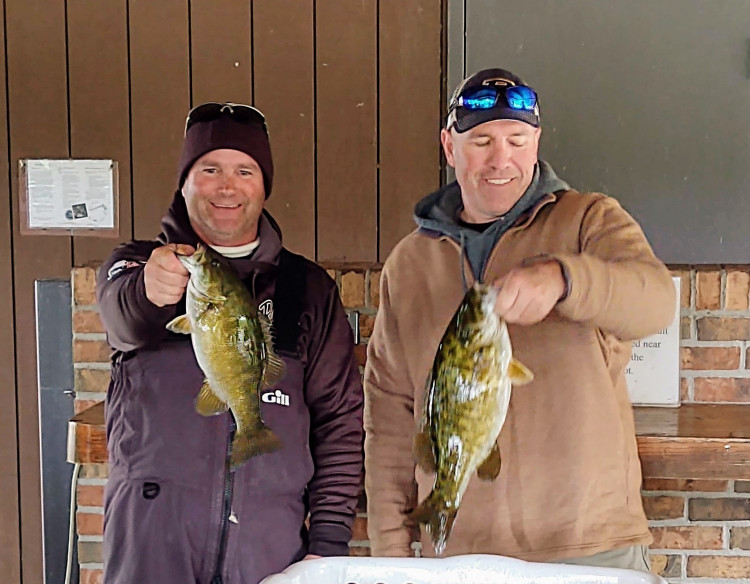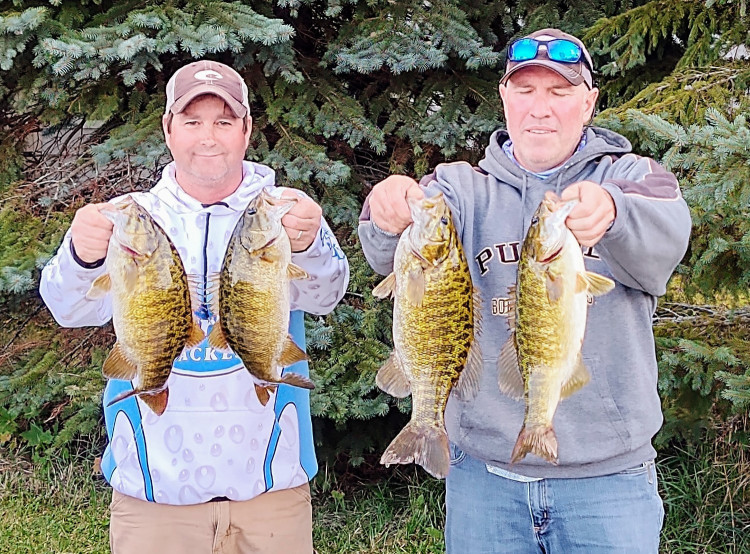 They ended up catching over 30 fish from this spot. "The school actually came closer to us. We think that by catching them, the school followed us to the boat. Instead of casting out to them, we were flipping 10-15 feet out from the boat and were catching them."


This magic spot had a hard bottom, and the fish were spitting up 4 inch perch.