Hamilton Lake
April 24, 2016
7:30 - 2:30
1st Place: Bear Griva and Jeromy Antrup

Bear and Jeromy (subbing today for Mike Klavinski) brought to the scales 17.37 pounds of fish, anchored by a big bass of 3.96 big bass.

Their efforts
scored
the team

$713

​​ and a Rod Bender Baits certificate.

2nd Place: Frank Randol and Doyle Randol
Anchored by a 5.15 big bass, which turned out to be the largest of the day, the Randol brothers brought 16.91 pounds of fish to the scales. The team ended up taking home

$432

for their second place finish, but added another

$328

for Big Bass​​. This made their day worth

$760

.

Despite being a record setting day for the R & B, Doyle Randol was surprised it wasn't more so, "We both thought it would take over 20 pounds to win this tournament; there are so many big fish in Hamilton," he lamented. "Heading in at the end, we were hopeful for a check. We didn't expect to finish so high."
3rd Place: Steve Kline and Mark Farver

No strangers to the R & B Bass Circuit, Farver and Kline claimed their 12th Top 5 finish with a 16.55 pound limit. They only trail legends Greg Mangus and Kevin Fletcher on that prestigious list. Furthermore, their

$324

put them in 5th place on the All-Time Money Winners list with

$5,069

. Expect them to climb further up the ranks in 2016 as they intend to fish most tournaments in both the East and West Divisions.

The Alabama Rig has been a necessity amongst bass anglers on Hamilton Lake since its inception; however, Farver and Kline were the sole team in the Top 5 to use it Saturday. It was also responsible for a very unique catch.

Click HERE for a .pdf of the Hamilton Results​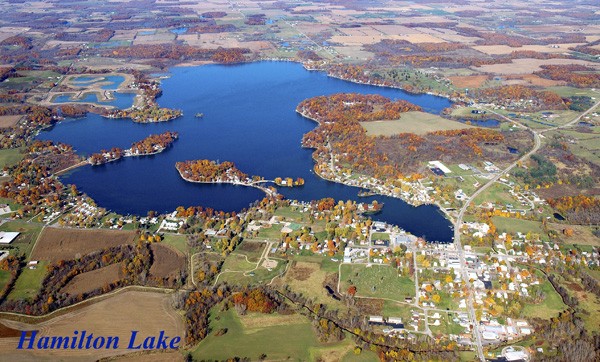 4th Place: Heath Wagner and Andy Buss

​In Fourth Place was Local Legend Heath Wagner, who felt the calling to take a disadvantaged Western Division Tournament Director/Angler, Andy Buss, out for the day. School was in session as Heath put on quite a demonstration, which allowed Buss a little time to work on his netting skills and truly showing what the East has to offer. Having shown Buss what Teaching is all about, the two brought 16.32 pounds in five fish to the scales with a big bass of 3.82 pounds.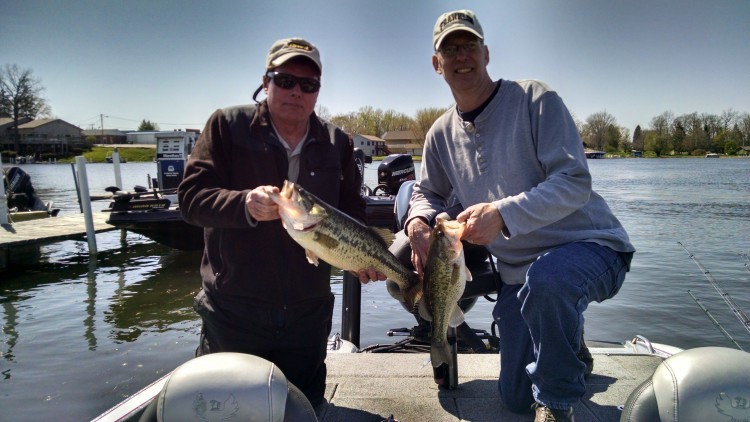 5th Place: Kelly Warner and Kevin Warner
The brothers sorted through 15 keepers before bringing 15.69 pounds in five fish to the scales. Their biggest weighed 3.45 pounds and ended up taking home $151.

"To be honest," Kelly confessed, "I caught fish on a spinnerbait while Kevin got them on jigs. We just covered a lot of water." Indeed they did as they kept the trolling motor on high and covered as much water, less than 5 feet deep, as they could in the allotted time. They had a limit by 9:00.

6th Place: Paul Hollabaugh and Don Bobay
The two brought 14.85 Lb. in five fish to the scales with a big bass of 3.23 Lb.
The team ended up taking home $130.


7th Place: Rick Sawer and Denny Cook
The two brought 14.64 Lb. in five fish to the scales with a big bass of 3.35 Lb.
The team ended up taking home $108.


​​8h Place: Brad Jones and Jake Cox
The two brought 14.54 Lb. in five fish to the scales with a big bass of 3.11 Lb.
The team ended up taking home $86.

2nd Big Bass : Rich Thatcher and Stan Bebout

Rich and Stan brought the second larges bass to the scales at 5.1 Lb. For their efforts the team ended up taking home $82

The Rocky Brook Award:
​Frank Berning and Nick Klopfenstein​

​​Frank and Nick placed 9th with 14.47 pounds with a big bass of 3.41 pounds.

16th Place in 2016:
​Kevin Rathke and Don Amari
​Sponsored by Schnelker Marine and ProX Outfitters, the team that finishes 16th in each Eastern Division Tournament of the R & B Bass Circuit will win a

$25

gift card. The card may be used at either Schnelker Marine or Pro X Outfiters rather in store or online.

​​Kevin and Don placed 16th with 13.69 Lb. with a big bass of 3.89 Lb.

Launch of the Eastern Division

The R & B Bass Circuit has made its debut, and what a debut it was. Forty-one teams showed up and is one for the record books.

​It took 17.37 Lb. to win, the fifth heaviest weight in the History of the circuit. ​In fact, the top 4 teams at Hamilton now occupy four of the ten "Heaviest Weight."

Participants weighed in 176 bass and 471.31 pounds of fish; that's an average of 11.5 pounds of fish per boat with the fish averaging over 2.5 pounds each.​​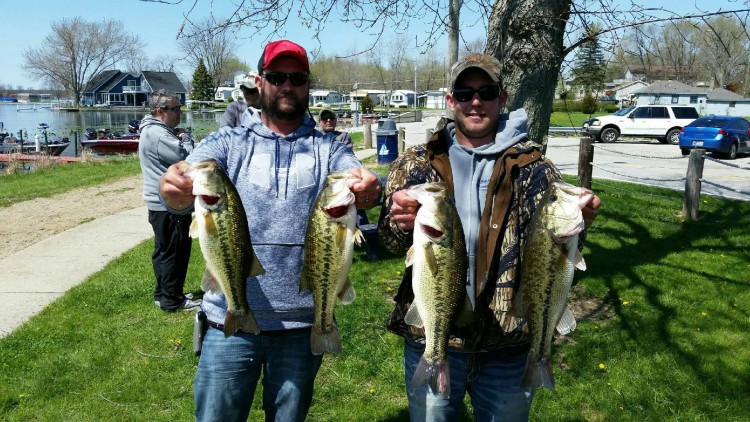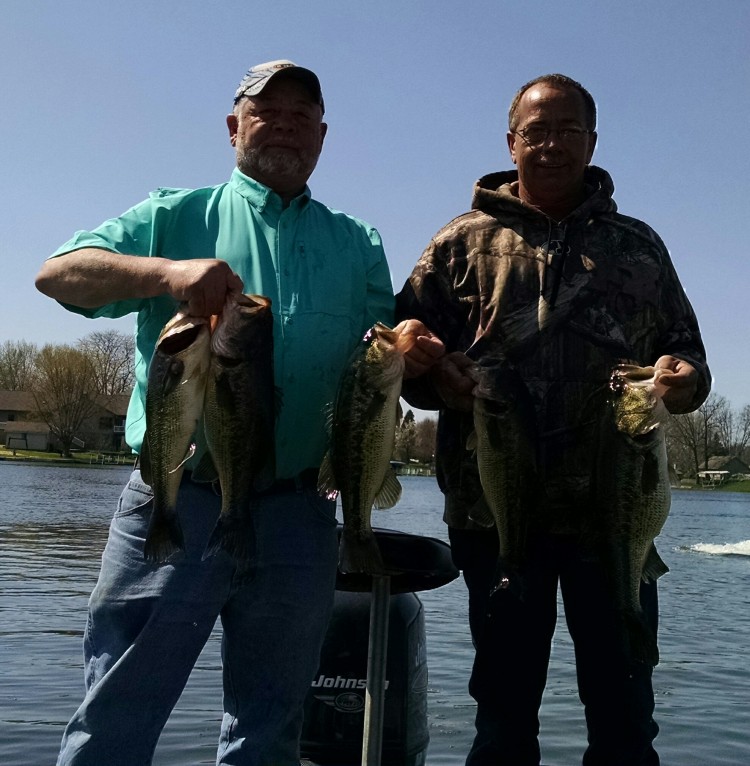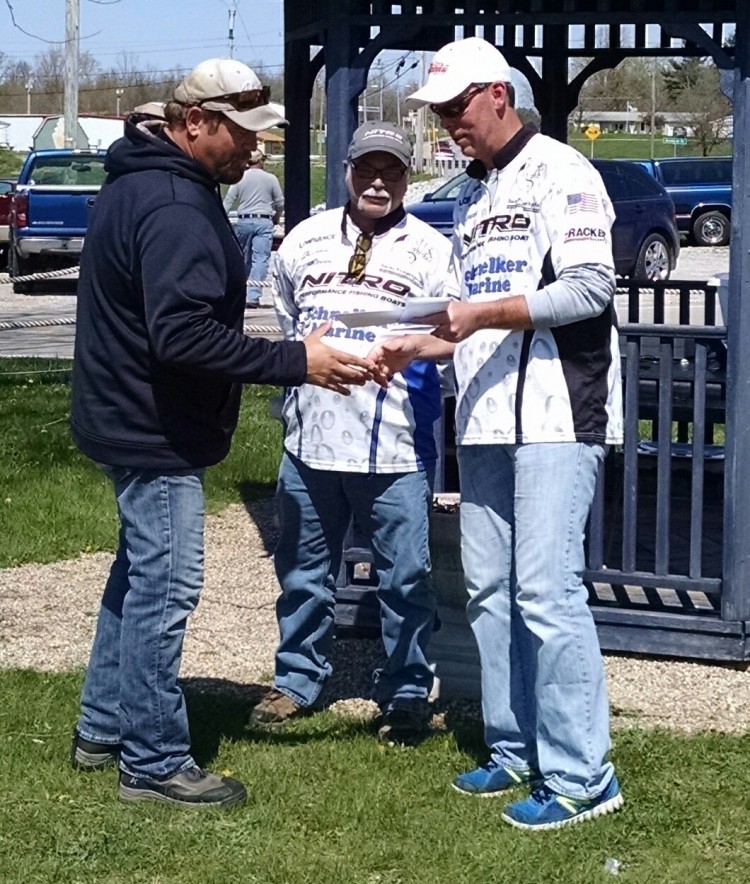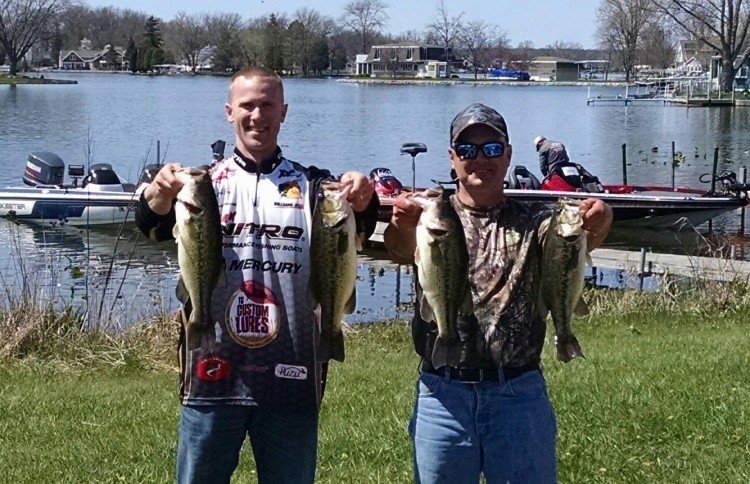 Members of the East Division should also take heed to the history of Griva and Klavinski. After being noticeably absent throughout 2015, the duo dominated the R & B Bass Circuit in 2014; their lone season amongst the best. Now back with the R & B, they have picked up where they left off.

At Hamilton Lake, despite not knowing exactly where they were, Griva and Antrup targeted spawning fish. "The two previous days the weather did not allow us to see the fish, but we had a feeling where they were spawning," Griva admitted. "The mainlake fish seemed to be off, so bedding fish seemed to give us the best chance."
Early on they were able to see the beds and worried about boat pressure, as their prowess on the lake is well known. However, they soon remembered the great respect R & B members display, "A few teams were close to us as we set up on some beds, but they left us alone; in fact, they moved away and wished us luck," Griva boasted. "We felt a great deal of respect."

They had their limit by 9:00 and then culled five times. Their final cull around 11:00, improved their weight by a pound. Their primary weapon of choice was a Rod Bender Baits scamper in the Mango Magic color scheme matched up with a ¼ ounce weight.

At the end of the 2014 season Bear Griva and Mike Klavinski found themselves on top of the leaderboard. They begin 2016 the same way. East Division proceed with caution.
Like the winners, the Randols targeted bedding fish. "Frank had marked 20 beds on the GPS beforehand, so we went right after them," Doyle confessed. It took three hours to fill out their limit. They culled three times, but their big bass waited until the end.

The team was committed to finding a large fish after finishing their limit and passed up many other bedding fish that may have improved their weight by ounces. "We weren't interested in culling by ounces, we wanted to cull by pounds," Doyle said.

Consequently they culled just three times, but the strategy, and last cull, proved to be the right move. "With just 20 minutes to go," recalled Doyle, "we found that big one. It took a little less than 10 minutes to catch her."

Most of their fish fell victim to a weightless Zoom Fish Doctor while a jig 'n pig combo took the rest.
After landing a small keeper and their biggest bass, a 3.94 pound largemouth, with the A Rig, the bite fizzled. They adjusted by moving to an area that Farver simply refers to as a "jig" spot and finished out their limit with small keepers in quick succession on a jig. Unfortunately, this bite also fizzled. This is when that unique catch took place.

"Steve really picked it up from there," confessed Farver. "We ran to another area and Steve got a few 'bumps' on the A rig, so he put smaller swimbaits on the rig, and immediately began catching fish, including two 3.5 pound fish on a single cast!" On that one cast they put 7 pounds of fish in the boat and culled out two bass equaling just 3 pounds: a four pound cull! Before the day was through, they caught 9 keepers total.

Per rules of the state, their A rigs had three hooked baits and two "dummies." In addition to the baits, blades were added to the rig. They switched between Tennessee and Sexy Shad color schemes.
Wagner had located some fish Thursday afternoon with the Alabama Rig on the mainlake, and felt if they would cooperate they could win the tournament. Unfortunately, those fish did not play. After an hour chasing fish these schooling fish, the team adjusted and began looking shallow. They found some.

All of their fish came off of beds and fell victim to the scamper bait by Rod Bender Baits in the smoke purple color scheme. Other keepers were caught with senko style baits while fancasting, but all five fish weighed were plucked off beds.

The team ended up taking home

$216

for their fourth place finish​​. On behalf of the R & B directors, thanks for taking one for the team Heath.