Gun Lake
DNR Public Access Site



October 1, 2011
8:00 am - 4:00 pm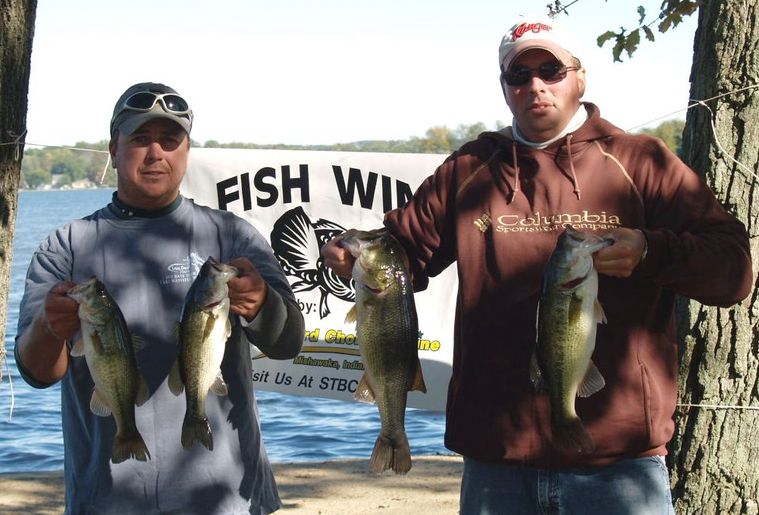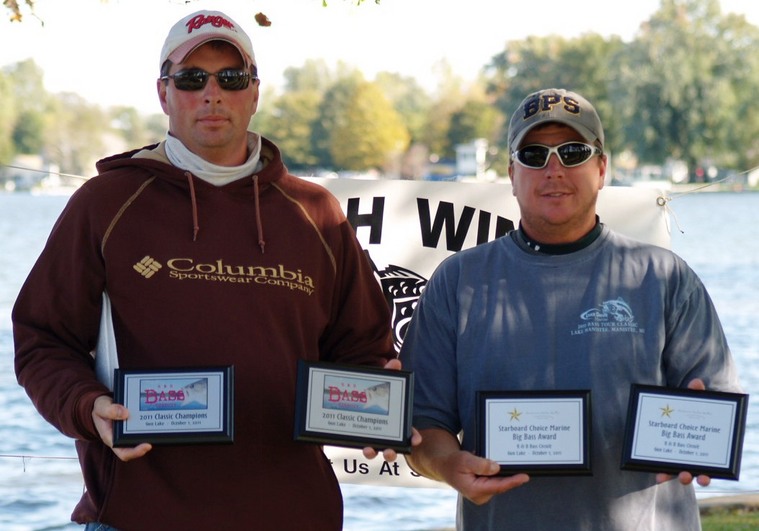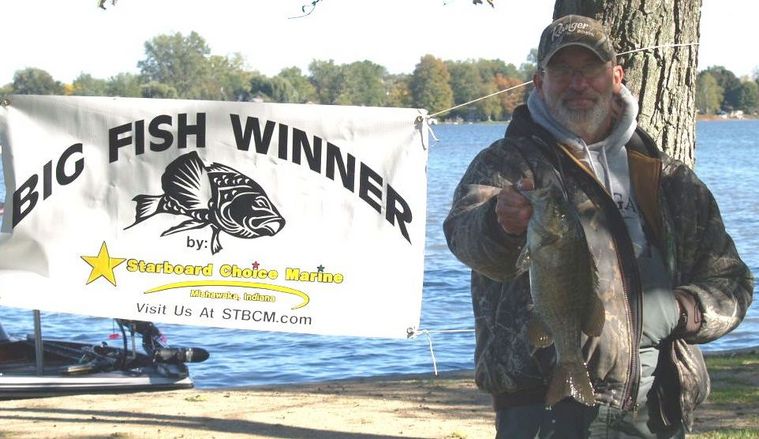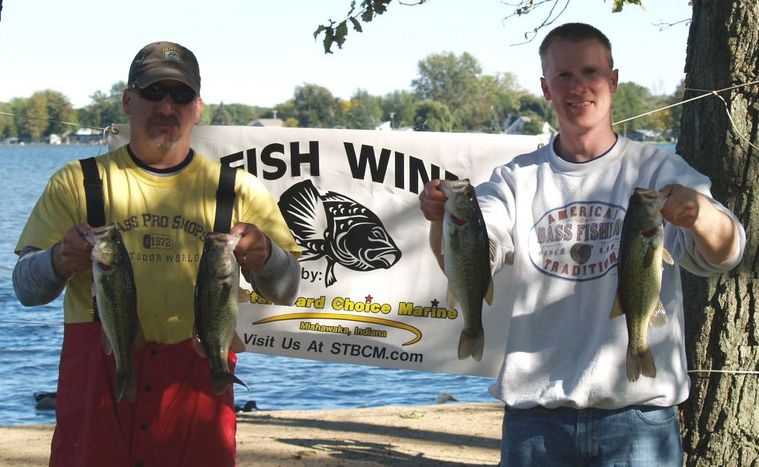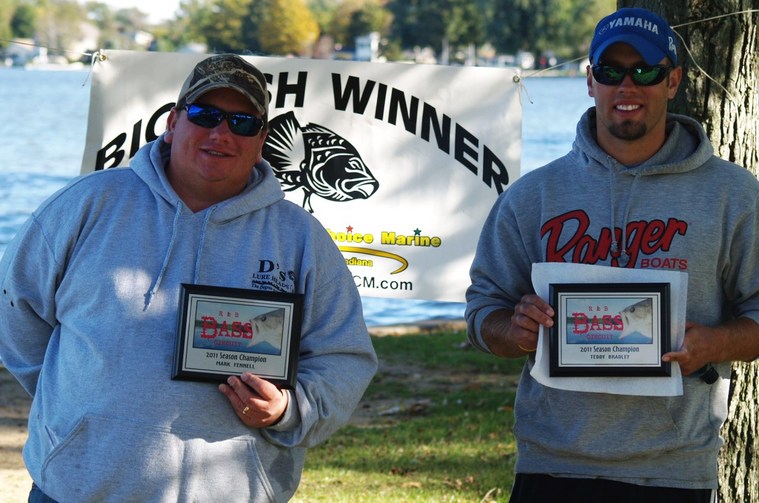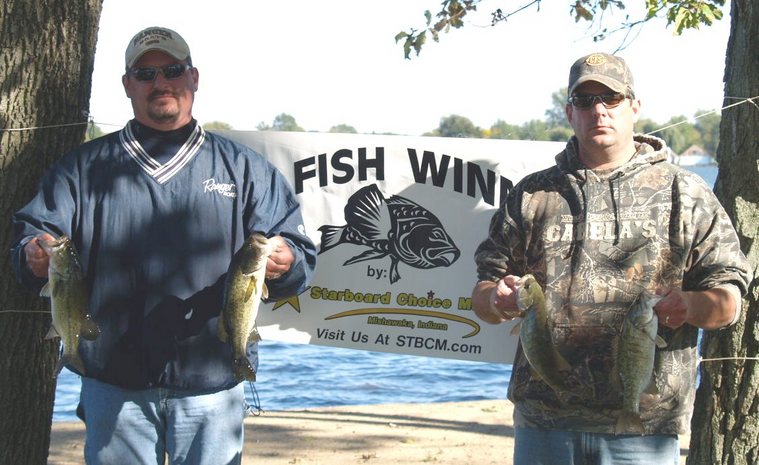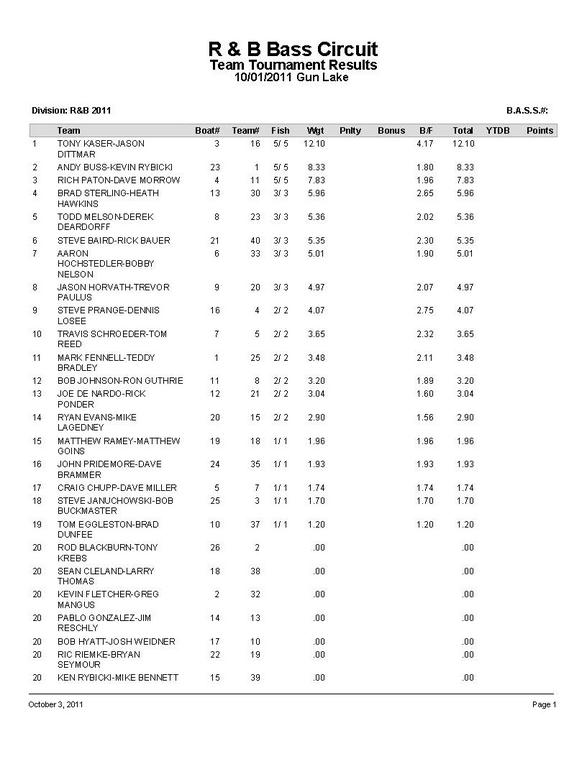 The tournament directors want to single out and thank

Steve Prange

,

Dennis Losee

, and

Rick Bauer

for all of their help through the season. Without these men, the circuit would not have run half as smooth as it did. Kevin and I acknowledge we merely run our mouths, these men do all of the work. Thank you.

To be a good son, I must also thank my parents,

Jon

and

Susie Buss

. They graciously donated their time, often getting up at 3 am or earlier, to help shuttle, sell 50/50 tickets, and to take care of countless miscellaneous things. They also donated over 80 hot dogs, potato chips, and baked over 100 homemade cookies for the Classic. Thank you Mom and Dad.

Gun Lake was chosen, in part, because of how "many" fish would come to the scales. Mother Nature obviously did not like our thinking. This may have been the toughest bite all year. Of 25 teams, only 3 limits came to the scales and only 8 fish broke the 2 pound barrier.

However, anglers were rewarded for their efforts. Over

$4,400

was handed out at the classic, making the total for 2011 over

$18,000

!

2012 is exciting to plan. Can we payback

$20,000

next year? Will our classic payback

$6,000

next year? Will we average 38 boats again? Or will we grow even bigger? Time will tell. In the meantime, it is satisfying enough to soak in the success and fun times of 2011 in the

R & B Bass Circuit

.

1st Place:

After flirting with a win on 4 separate occasions (Manitou – 4th, Maxinkuckee – 6th, Klinger – 2nd, Palmer 6th), and cashing in over

$800

,

Tony Kaser

and

Jason Dittmar

finally won an R & B tournament with an exclamation point. Their victory was not only the second biggest blowout in the circuit's short 2-year history, but also the biggest payday in R & B History.

The winners won

$1055

for the victory, but also got an additional

$300

for the Starboard Choice Marine big bass award. That brought their single day winnings to

$1355

!

Their 12.11 pound limit was 3.77 pounds heavier than the next team. Their big fish was a 4.17 pound largemouth. They were the only team to weigh a fish that broke the 3 pound barrier, in fact, they had 2 of them.

Before Friday night, Kaser and Dittmar had not been on Gun Lake for 6 years. They spent just 3 hours fishing that evening and only caught 1 bass. Kaser admits, "Jason caught 1. We came back to that area later and he lost another. We left right away and knew that would be our place to start."

They were not worried after their lackluster outing. Kaser said with a laugh, "I'm not going to waste them all in practice!" But more seriously explained, "We do not like to catch many in practice, because they won't bite again in the tournament." Onlookers must credit them for having excellent intuition. That spot produced the 4 biggest fish of their sack.

"We had a limit by 10 am," confesses Kaser, "But then it completely died on us until the final hour. We had to grind them out." Indeed it was good early. The weight they had by 10 am was enough to win the tournament.

They caught all of their fish from 2 areas within 200 yards of each other. Their primary spot produced 5 keepers while the secondary area produced two 14 inch fish. In all, they caught 7 legal-sized bass.

They do not know what made there area so productive. Weeds were prevalent, but they were elsewhere too. The area was on the edge of a flat between 6-8 feet of water. They fooled the fish with Erie Darters matched up with D's Lures jigheads and homemade jigs.

2nd Place:

Tournament Directors

Andy Buss

and

Kevin Rybicki

could not have been much happier with how smoothly the weigh in ran at Gun Lake! We joked on the way home, "What do you think has more people puzzled: that Greg Mangus and Kevin Fletcher blanked, or that Buss and Rybicki took second?" It was an unusual day to say the least.

As we came off the lake, we never anticipated a finish this

high. We had hoped for a chance to finish in the money but a top 5 finish with just 8.33 pounds was not conceivable in our minds. Nevertheless, we happily accept.

We focused our attention on a flat 2 feet deep with an abundance of decaying and green weeds. It took only 20 minutes for Kevin to boat our first keeper on a shallow diving crankbait, but then things cooled off considerably. Only a handful of dinks would fall victim to us and we moved to several other spots both shallow and deep.

We managed only 1 other keeper, which fell to my Pointer 100 on a breakline in 8 feet of water at 10 am. At 1 in the afternoon we returned to our original starting point with only 2 fish in the livewell.

As the area warmed up we felt the bite would get better and fortunately we were right. Kevin went on to catch 2 more keepers on a spinnerbait and I got an additional keeper on both the Pointer and a rattle trap. Another keeper loaded up on my trap, but shook free. It would have helped us but only by ounces.

Our strategy was stolen by Teddy Bradley and Mark Fennell who revealed in the Wire to Wire article: "We knew if we made more casts than any other team that that would be to our advantage." Our goal was the same. It was imperative for us to ignore resting to give us as many opportunities as possible.

We worked the weeds hard and felt the bait had to be right in the fish's face. The fish seemed to be holding tight to the green weeds. Our arms were sore from constantly fighting the weeds. All baits were in white shad color patterns. We won

$704

.

3rd Place:

Dave Morrow

and

Rich Paton

have been consistent all year. They, too, have flirted with winning (2nd place at Maxinkuckee, 7th place at Klinger, and 4th place at Webster). They also finished 4th place in the Standings. So it was no surprise they were able to land the only other limit of the day. That limit weighed 7.84 pounds and won them

$518

.

Morrow and Paton had little experience on Gun Lake - they

had never seen the lake before the previous day. And Morrow wishes the tournament was that Friday, "We had more bites and better quality on Friday." They found 3 spots in practice holding fish, but Saturday posed a new set of challenges - the fish did not cooperate.

Nevertheless, the tournament began well. Their first spot produced a quick keeper smallmouth bass and several shorts. Morrow claims, "Our first spot had smallies feeding first thing. But the problem was the biggest fish there only followed our baits and we only managed 1 keeper." They caught those fish on Nichols spinnerbaits.

All 3 of their spots were in 2 foot of water or less on the flats. But despite having confidence in these spots, they only had 3 in the livewell with 90 minutes remaining. This is when they made a pivotal decision. Paton explains, "We had a spot on the south end of the lake with some lily pads, but it was beat up from the wind. When we got there, there were floating weeds all around. But we still pulled out 3 keepers with (homemade) jigs from them in that last 90 minutes."


4th Place:

Like Morrow & Paton; Kaser & Dittmar;

Brad Sterling

and

Heath Hawkins

also had little experience on Gun Lake. Their first time there was 2 weekends before the classic. Luckily for them, they established a pattern that held up.

Sterling and Hawkins found fish relating to weedbeds on the flats biting tubes and Yamamoto twin-tailed grubs. Unfortunately, the tournament had high winds that made it difficult for them to stay on the weedbeds. However, they adjusted and expertly utilized a drift sock to stay in place. Hawkins explains, "We drifted through the middle of the flats we found in practice, but the wind actually helped in a way. It forced the bass to stick to the backside of the [weedbed] and that cut down on the search process."

Their 3 keepers weighed 5.96 pounds and won them

$410

.



5th Place:

2010 Classic Champion

Derek Deardorff

and partner

Todd Melson

were excited to fish Gun Lake. Deardorff, in particular, has considerable experience here and had a successful practice, "I was confident we could catch 14-15 pounds." Unfortunately, the weather put the fish in another mood.

It was a tough start. Deardorff confesses, "We had no fish at 11 o'clock. In fact, we were very frustrated. But at that time, we decided, 'Let's just go fishing.'" Apparently that was a good decision. They went on to catch 3 keepers that weighed 5.36 pounds which won them

$335

.

Deardorff believes their change in attitude and a change in weather helped, "When the sun came out, the fish seemed to come up shallower. We saw a lot of big fish, but they were extremely skittish." They went on to catch a keeper on a jig under a dock and in front of a seawall.

In dramatic fashion, with just 5 minutes left they stuck their 3rd keeper on a crankbait in 5 foot of water. This fish separated themselves from the bottom 20 teams in the tournament.

Other Teams in the

Money

:



6th Place:

Steve Baird

and

Rick Bauer

landed 3 fish weighing 5.35 pounds and won

$260

.



7th Place:

2010 Points Champions

Aaron Hochstedler

and

Bobby Nelson

landed 3 fishing weighing 5.01 pounds and took home

$220

.



8th Place:

Jason Horvath

and T

revor Paulus

brought to the scales 3 fish weighing 4.97 pounds to earn

$205

.

2011 Points Champions:

Teddy Bradley

and

Mark Fennell

(right) were awarded

$200

and plaques for becoming the 2011 Points Champions. To learn how they did it, read Wire to Wire.

9th Place:

Steve Prange

(left) and

Dennis Losee

brought just 2 fish to the scales, but one was a 2.75 pound smallmouth, which earned them an additional

$200

for the 2nd biggest fish of the day. They were also awarded the D's Award.

Click on image to enlarge.