Hamilton Lake
April 21, 2018
7:30 - 2:30
1st Place: Mark Farver and Steve Kline



2nd Place: Rick Sawyer Denny Cook
​Returning to the podium this year, Rick and Denny improved on their 2017 finish add 2.5 more in total weight moving them up from 5th place in 2017 to 2nd with the help of the third largest bass weighed in this year, a nice 4.37 pound largemouth.

​​Weight: 13.3



Pattern:

Reaction strikes after "hitting something".
​


Baits:
Rattle Trap in 3' - 4' of water
​

Click HERE for a .pdf of the Hamilton Results​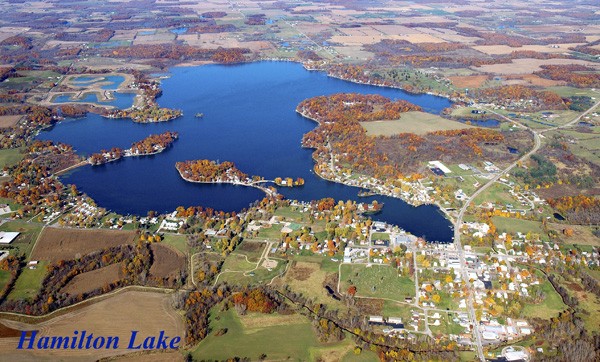 4th Place: Dave Bell / Tim Chrisenbery





Weight:

12.81



Pattern:

Main Lake on the drop

​​Baits: 6XD and Alabama Rig
​​

8th Place: Brian Molnar and Derek Molnar
9th Place: Booy Strook and Calvin Yoder
Eastern Division Opener

The R & B Bass Circuit returned to Hamilton Lake once again for its 2018 opener. For the second year in a row, the East Division broke some R and B Records, cause that how we roll! Not one record, not two, but 5 records had to be updated following Hamilton this year! Once again proving the Eastern Division has some of the toughest sticks around. We launched 46 boats which although not tracked on the records page was an Eastern Division Record for us.
​In 2017 it took 17.37 Lbs. to win, last year year that number was raised to 19.39 Lbs. ​This year the winning weight was upped by over 3 pounds. Adding to the number of "Heavest All Time R and B Weights" that the east already held.
For the second year in a row the All Time Big Bass record had to be amended. Although not the heaviest of all time, one bass weighed in ranked in the top three. ​​
Last year was a tough bite with only twelve teams bringing a limit to the scales. This year was even tougher. Only 3 teams brought in 5 fish. A big congratulations to those 23 teams bring fish to the scales. Nice Job!
5th Place: Doug Fasick and Don Orn
Weight:

10.31

Pattern: Shallow



Baits:

Chrome and Blue Rattle Trap.

How it Happened: Doug said that they would throw a Rattle Trap right against the sea wall and real it in. He stated they had 4 bite all day and all were keepers.

6th Place: John Marquardt and Jon Hall
7th Place: Kevin Rathke and Don Amari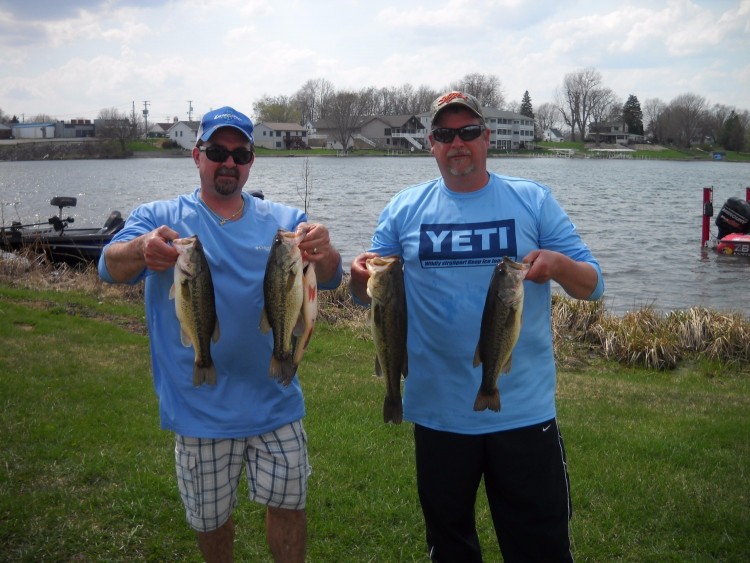 3rd Place: Shawn Flegal / Tom Hall
​
​Weight: 12.99 Lb

Pattern: Shallow

Baits: Jerk Baits



How it Happened:
Seeing the crowds in the cove Shawn and Tim opted to return to a spot that hadn'tfished in a long while. The caught seven keepers and a couple of shorts throughout the day all from the same spot. The shallow stretch was small but whether it was know how or as Shawn put it "just luck" doesn't matter at this point it was good enough for 3rd place.
​​
​​1st Place Winnings:

$729
Weight:

22.76

​​

Lochness Lures Big Bass

- 6.54

Pattern:
Staged Fish
Baits:
Alabama Rig and Swim Jig
How it Happened:
Dave and Tim stayed in one spot all day. They put five fish in the livewell but one fish that had squeaked by on the bump board tensed up and was to close for comfort. The team deiced to take their chances weighing in 4 fish and that netted them 4th place with a 2.5 margin over fifth.
Winnings:

$243
How it Happened:

Rick said that they had 7 bites and caught 7 fish in total. With 5 in the live well the final two fish allowed them to cull to their final weight of 13.3 LB

Winnings:

$462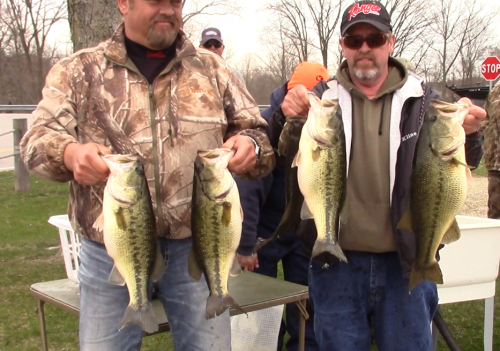 2nd Big Bass :

On top of their 5th place finish Doug and Don boated a 5.28 Lb largemouth to take home an additional
2nd Big Bass Winnings:

$92
Weight:
10.31 Lb


​​Winnings:

$170
Weight:
7.66 Lb


​​Winnings:

$120
Weight:
6.57 Lb


​​Winnings:

$95
Weight:
6.31 Lb


​​Winnings:

$75
​​Big Bass Winnings:

$368
Lochness Lures 1st Big Bass and 3rd Largest in R&B History

In 2017 the Eastern Division's Bear
Griva and Mike Klavinski toppled the top R&B Big Bass record of 6.61 held since 2011 with a 6.75 Largemouth. This year Hamilton lake produces again with a bass
just shy of the 2011 record but good enough for 3rd All Time Big Bass in the record books Mark said theat Steve hooked into the fish throwing the 4" Swim bait on light line with about an hour and a half left in the tournament. Steve fought the fish back realing a spinning rod and playing the fish to keep it hooked up. The fish jumped four times before they we able to put it in the boat. For their efforts they not only added to their winnings for the day but to the record books as well.
How it Happened:

Mark and Steve caught their first fish in the morning on an Alabama Rig. The fish improved throughout the day and they culled three times, boating a total of 8 keepers. Although fishing in the masses, following and casting around areas fished by other teams Mark said that the key to their day was light line and a slow retrieve of a 4" Swim Bait.

The two toppled the 2013 R&B Record of 21.44 Lb. previously held by Ron Fabiszak for the Heaviest Tournament Weight adding to other records the team holds: Number 1 Team in Top 5 Finishes and Number 1 Team in All Time Winnings.

​​Total Winnings:

$1,097.00