Standing up to a Bully
How The Intimidator Lost
By: Andrew D. Buss
Every bass fisherman within hundreds miles know Southern Lake Michigan is the land of giant smallmouth. Yet, despite the abundance of water and big fish, it receives little pressure, and turnouts for tournaments are miniscule. Here's the reality: Lake Michigan is a bully and it psyches fishermen out. To many locals it is known as the "Big Pond," but a more appropriate nickname may be "The Intimidator.

Why? Because every bass fisherman also knows the horror stories of sudden storms and big waves. Competitive anglers know there are a handful of fishermen who have put in their time on the Pond and 20 pound sacks in tournaments are commonplace. Most competitors are not willing to donate to them. Last, and perhaps most daunting, is the sheer size: anglers have no idea where to start their search.
Before 2013, I had only fished the Big Pond for bass twice.
The above description of the intimidated angler was me in January of 2013, and I believe it is an accurate description of most Michiana anglers today as I have heard it countless times. But January was the time to "man" up and today I am intimidated no more. While fulfilling a speaking engagement at Bass Pro Shops, Steve Prange and I came across a flyer for the Lake Michigan Big Bass Bash tournament presented by BPS in Portage, Indiana, set for June 29.

Now, my experiences on Lake Michigan were minimal: to be exact, just twice. Prange had even less: he had never targeted bass on it before. But the lure of the event was strong. It was being sponsored by BPS, so we knew it would be a fun deal, and with a salty $300 entry fee,

$10,000

was promised to the winners with a full field. So while we were intimidated, we could not resist. And truth be told, Steve and I had always wanted to put in the time and learn the lake. This was the excuse we needed.

We made some assumptions. Knowing the lake was not heavily pressured, and knowing there are not many ringers on the lake, we felt with good preparation we could compete with the top 10 of a large field; add some luck, maybe higher. Plus, with six months until go time, there was plenty of time to prepare.

Our research was exhaustive and frustrating. Surprisingly, few sources are readily available. Not even a handful of internet sites are useful. I could find very few tournament results from the past. Just a few articles could be found online. The only other source left were my peers. For those with experience and willing to share, I exhausted their knowledge.

During the months leading up, what I discovered was only minimally helpful. We did learn the structure to fish: break walls and rock. However, there are miles upon miles of this structure. Fish could be caught offshore, but unless I could spend all day for the next 5 months on the lake, it would be futile to seek out this structure. But this information did simplify things, because we learned to target structure we could see.
While they do not jump in the boat, even novices like Steve Prange and I could trick a few Lake Michigan smallies into biting.
The key forage for smallmouth is a goby, so presentations that mimic this prey are best. Weight needed to win tournaments was all over. One angler said just 16 pounds, while another swore someone would drive their boat all the way to Wisconsin and bag 22 pounds. A phone call with the tournament director confirmed they were expecting participants from as far away as Wisconsin. Results posted online showed a big range; some events took over 20 pounds, but some took less than 15. Then in the month of May, one tournament was won with over 25 pounds!



Official practice began June 1

.

One of the two times I had chased bass on the Big Pond was in 2012 with Phil Strakowski. He showed me a body of water connected to the lake, which held the potential for quality fish, but nearly 30 miles away from where the tournament would take off, Portage, Indiana. Nevertheless, Steve and I began our exploration here.

Best of all, regardless of speeds, this area was protected from the wind no matter which direction, which was good, because on this day severe weather circled around us. At the launch site, we waited in the truck to allow a nasty storm cell pass over us. This must have been an omen, because five hours into the day, Steve thought I was a liar. Each spot Phil showed me a year ago,

failed to produce a fish. I mean, we had not even detected a strike! We explored new areas but suffered the same result. Finally, we changed presentations altogether. Our tubes, senkos, and twin-tailed grubs were slung in between moored boats and the results were awesome. We discovered the largemouth bass were spawning. In a little over two hours, we landed 20 legal sized bass, and our best five would have flirted with 17 pounds.
What we took with us that day was important. We felt that on the greatest of fishing days, this area could only produce 18 pounds, and we felt it would take more to win the tournament, but 18 pounds would make us competitive and land a top 5 finish. Also, after seven hours of fishing, we never saw another fisherman, meaning the pressure on these fish would be minimal. As a back up plan, we put this area in our back pocket, because there was no guarantee we could locate enough smallmouths on the Intimidator to be competitive, and if that played out to be true, we could come here and compete for a high finish. For the next month, smallmouth on the big lake would be our focus.

Research told us the best smallmouth fishing, within a reasonable distance, took place in the East Chicago area. Rumor had anglers running to Wisconsin and Chicago, but we were not interested running these distances. Our plan was to adequately cover 30 miles both directions from Portage and that was going to take the entire month. Via our bass boat, East Chicago was a 20 minute run from Portage. Good fishing also exists between Portage and East Chicago in an area known as the "Hole in the Wall," and it was just a 10 minute run to that. Hence, on June 12, we drove to the East Chicago Marina for our second practice.
I was intimidated by Lake Michigan. But it only took a few days on the lake before that fear left. Not only is that fear gone, but I believe the experiences here made me a better fisherman.
After months of map study we finally had our shot at the big lake but our first boat ride only took us outside the idle zone from the marina we launched; and it was a good decision. Almost immediately I caught a smallmouth on an Xtreme Bass Tackle tube and I boasted to Steve, "I can catch fish in a mud puddle." It was a joke, an arrogant joke, and a stupid joke. Smart fishermen know that arrogance is the beginning of strife. We went on to catch a handful of smallmouth from this area and while most were small, our confidence was sky high. Most encouraging we thought, was seeing a handful of four pounders. Unfortunately, from that point forward, we netted far more humility than bass.
One of the biggest smallmouth caught during all of my times on Lake Michigan was this 3.7 pounder caught by Hal Wilkens.

We ran our boat to Buffington Harbor and fished the lighthouse before entering. Here we saw another handful of smallmouth in the 4-5 pound range, but despite throwing a slew of baits, getting them to bite was impossible. An hour into the harbor, Steve boated a two pounder on a chartreuse spinnerbait. Nearly another hour later, he caught a three pounder on a drop shot rig. After working the harbor over, we went back to the lighthouse and fished the outside and the entirety of the break wall. We hooked three fish, and landed just one. At this juncture, we were not impressed. Over three hours of time had passed in this harbor and we had three fish to show for it, and the big fish we were seeing were becoming frustrating instead of exciting because of their unwillingness to bite. All we could pattern were the heaviest concentration of fish seemed to be in transition areas where rock met a steel wall, or a point of some sort.

From the harbor, we ran to the peninsula of East Chicago and saw miles of steel break walls. Building on the transition areas from other areas, we avoided nearly all of it until spotting some rock laying against it and worked these areas with a combination of spinnerbaits, drop shot rigs, tubes, and twin-tailed grubs. The spinnerbait produced three fish: two over two pounds and one over three. In 90

minutes, we boated three fish.

Our day ended after running to Calumet where we found some wood and caught a pair of two pound fish on a spinnerbait and drop shot. If this had been a tournament, our best five would have weighed 13 pounds. This was not going to cut it, but we now had some building blocks.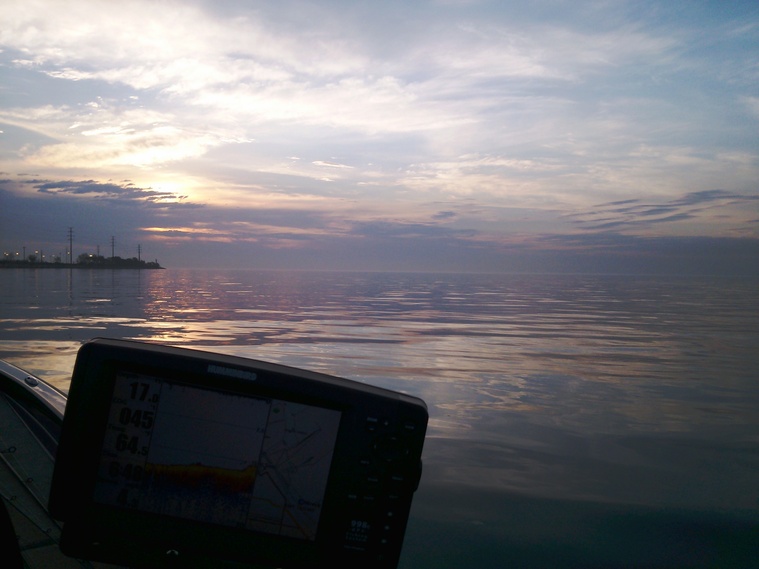 For a man accustomed to small Michiana lakes, entering Lake Michigan from any marina or port is a beautiful sight, especially at dawn.

I snuck out again with R & B member Hal Wilkens on June 17 and had a tougher day than with Steve. Hal had no experience on the big water either, so we only had my previous experience upon to build. We put in at Portage and ran to the Hole in the Wall. Despite two hours of time, we only landed two small keepers.

Outside the Hole' we found an area holding some large fish, but again, they would not bite. We landed a single 2 ½ pound fish. From here, we drove to East Chicago to work the same marina Steve and I began on the previous week. We caught nothing.

Finally a little action! By the marina, a bridge leads to a small cove and we worked it with tubes and twin tailed grubs. Hal caught a 3.7 pound fish and I caught two small

keepers here as well. With just a little time left in the day, we explored the cove and saw many other quality fish, but again, they declined to play with us. The bite for us stunk, but my familiarity with the lake was growing, as was my belief that I could catch fish here.

Three days later I returned with Steve and began where Hal and I left off. What we discovered shocked us. On June 20, we found smallmouth bedding in this cove. Even with blind fan casting, we landed a trio of three pound fish and a pair of two pounders. From there we explored new transition areas of steel and rock on the lake, but few produced. However, areas that produced the previous time with Steve did again, and they produced solid fish. Our area with wood produced a 3 ½ and 4 pound smallmouth. Interestingly, though, the best bait was not a goby imitator, rather it was a chartreuse spinnerbait. Overall three areas produced well, and our best five would have weighed 17 pounds.

On our way home, we debated participating in an open tournament held by Angler's Dream called their "Super Tournament" in 48 hours out of East Chicago. We were not sure if we could be competitive yet, so I called the tournament director and bluntly asked him what he thought the winning weight would be. He believed it would only take 16-17 pounds to win. Time for some fun!

The tournament was held June 22, exactly one week before the Lake Michigan Big Bass Bash. Only seven teams showed up, so payback was not going to be great, however this tournament was more about learning how things shake out in a tournament than winning, but I would be lying if I did not acknowledge my strong desire to win.

John DuPont and I caught several fish from the area "in our back pocket" including a 34" pike - John's biggest ever.
We began where we found the bass spawning and almost immediately landed a 3.3 pound fish by fan casting an XBT tube. We went down a bank only 50 yards long and completed our limit in just 90 minutes. Our limit included another three pound fish, but the rest were only in the two pound range. In all, we worked the area for three hours before heading to our area with the wood. Here, we were certain some bigger fish would attack our spinnerbaits, but we were wrong. After throwing a slew of baits, only a 12 inch and 14 inch fish bit. With limited time and experience, we returned to the area of spawning fish. Here we failed to upgrade our catch and ran out of time.

The weigh-in was broadcasted live on Region Bass Buzz Radio and we were the goats of the show. Our 13.05 pounds was the second lowest weighed, but we were not totally discouraged. It took 17.47 pounds to win, and we had that weight just 48 hours earlier. This told us, while off target today, we were on the right path.

Later that week, I took R & B member John DuPont to our largemouth "backup" spot. I had to establish what those fish were doing if we decided to come there to target largemouth instead of smallmouth. Nearly a month ago, the fish were finishing up the spawn amongst the boats in the marina, on this day we found them away from the boats and relating to rock piles on three points. Our best five would have weighed 14 pounds, not nearly enough, but we knew more were lurking.

The eve of the tournament a mandatory meeting was held at Bass Pro Shops. Here they provided the anglers with a tackle pack and a free barbecue dinner. We also learned how the event was benefitting Warriors First Foundation and Wounded Warrior Project. This event raised over $12,000 for these charities! In attendance was the 2000 Bassmaster Classic champion, Woo Daves. He would emcee the weigh in.

Many questions hung over our heads the night before: would we compete? Should we target smallmouth or largemouth? Were we intimidated? Answers: not sure, largemouth, and no. Time on the water eliminated the intimidation factor nearly altogether. Sure, many of the teams had more experience on this lake than us, but we have options, and we felt they did not. The lake was forecasted to be rough the following day. NOAA had predicted steady four to five foot waves all day, and common sense told us it would be almost impossible to target the smallmouth on the lake all day in those conditions. People were going to be "blown off" the lake. Anglers seeking refuge, would likely fish the ditch where the launch was located, and we knew that area was not producing quality fish. Twenty five miles separated us from our largemouth area and we doubted anyone else would go there. The only question that remained, was would we catch enough to compete.
The night before the tournament Bass Pro Shops supplied free barbecue (above). A rainbow graced the crowd as well; although it turned out to be an omen for treacherous waters.
The 2000 Bassmaster Classic Champion, Woo Daves, was on hand for the barbecue and emceed the weigh in.
Taking off was a bit crazy that morning. Five foot waves greeted us as we entered the lake. Immediately we speared one. Luckily as we moved further away from walls, the waves got smaller and more predictable. We ran 45 miles per hour in three foot waves for the first half of our run; the last half we ran 55 miles per hour through waves less than two feet tall. It took 45 minutes to reach our destination.
Since John and I established three points were holding fish that week, we were going to beat them for all they were worth. At the first point, something bit my tube and I promptly set the hook on a big fish. The adrenaline rush peaked. Unfortunately, the fish turned out to be a sheephead, and this point only produced a pair of short fish: on to the next.

It did not take long for Steve Prange to become the man! With one of his homemade black/blue jigs equipped with a plastic chunk trailer, he single handedly proceeded to land a limit of fish in just 10 minutes! They weighed approximately 12 pounds. Our next point produced as well and we were able to cull several times, but we failed to land any four pound fish. Eventually the jig bite died, but they then bit the XBT Canadian Mist Light tube. Jumping from one to the next, we focused on three points for seven hours. Nearly each time we visited a point it produced fish, but they failed to produce any of the four pound fish we desperately needed.
The Sea Quest Lures charter boat served as the Take Off and Check In boat.
Time was up, and the 14 pound limit we had stowed in our livewells was not going to do it. We hoped for a top five finish, but our hearts knew that was unlikely. More humbling though, were the waves splashing over the breakwalls: the lake was churning and we were about to head into it. We planned 90 minutes to run the 25 miles for our return.

Soaked, cold, and 75 minutes later, we thanked God for our return. While we never felt threatened or in danger, driving that distance at 20 miles per hour amongst waves between five and

seven feet tall, puts a new perspective on many things. Our journey was rough. The waves came at us from right to left but most problematic was they were close together, perhaps 30 feet apart, and in between were two additional three foot waves. At the ramp I asked Lake Michigan veteran Tim Jones how rough he thought the lake was and he answered with a smile, "The worst I've ever been in!"
One of the great stories at the LM Big Bass Bash, was the team of Hal Wilkins and veteran Terry Moore.
Warriors First Foundation recommended Moore to be the Honorary Warrior for the tournament, thus
BPS
outfitted him with $500 worth of BPS rods, reels, tackle, and rainwear for the tournament and partnered him up with Pro Staffer Hal Wilkins.
Here, the entrance of the ditch, we finally realized how good our decision was. As we checked we asked Jim Osborne (store manager at BPS) how many other teams had check in already, he told us six and then we saw another eight boats in the ditch. What we had predicted had happened, teams were blown off the lake: meaning we were perhaps the only team who could execute our game plan while others scrambled.

A festive atmosphere complete with bands, vendors, and a crowd of people greeted us at the weigh in on the Bass Pro Shops campus. The whole spectacle was something I see on TV watching the Bassmasters: holding tanks, large weigh in stage, emcee Woo Daves, and even a hot seat. Most significant though, was my family attended and how it was set up, I could hold my kids and show them off while we waited our turn.

It was difficult to see the stage where they had us wait, but after talking to many of the competitors, it became apparent we had a legitimate shot at winning this thing. As we approached the stage, we saw the leaders had only 12 pounds. Steve and I reached in our bag and pulled our four chunky largemouth and the crowd erupted! That is not an exaggeration; never had I experienced something like this. Our best five weighed 14.38 pounds which put us in the lead and in the hot seat, but before we sat down, Woo Daves hit us up for the details. I spoke to the crowd about our logic and execution just as I had seen on TV countless times. For serious tournament anglers, this was the ultimate.
Sitting in the hot seat was short lived though, as soon after Matt Gunningham and Ed Czerwinski brought in 18.79 pounds of smallmouth to the scales to unseat us. They were the only team who found an area on the lake that was manageable with the waves.

We did not win, but we survived, learned how to catch smallmouth on the big lake, outsmarted nearly every team, and second place is not so bad. The Intimidator is no longer intimidating Steve Prange or I. It has many challenges, but what fun would it be without any? If Andy Buss can finish second at this prestigious tournament, anyone can compete. What I am looking forward to most now, is bagging 20 pounds in next year's tournament! Come donate to me.
Winners Matt Gunningham and Ed Czerwinski (left) brought 18.79 pounds to the scale to win the first inaugural Lake Michigan Big Bass Bash. Their weight was greeted with an eruption of cheer from the gathering of spectators. Drop shot rigs and shaky head worms were used to fool their fish. The 2014 event is schedule for June 28.

The Lake Michigan Big Bass Bash brought it all: live bands, weigh stage complete with microphone and Bassmaster Classic Woo Daves, complimentary barbecue dinner, staging tanks, and a great crowd.
The Lake Michigan Big Bass Bash was a family-friendly event. I was proud to have my family attend and help me weigh my fish. I think I have two future Kevin VanDam's lined up!