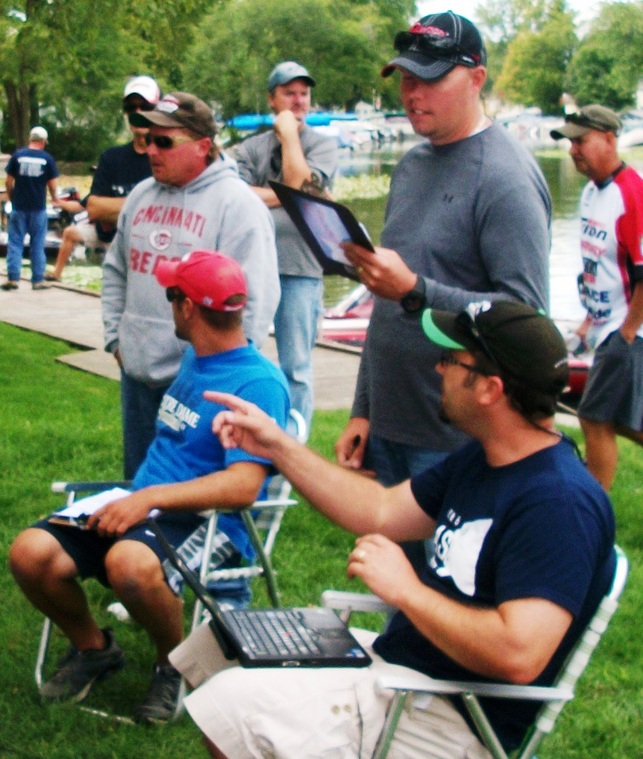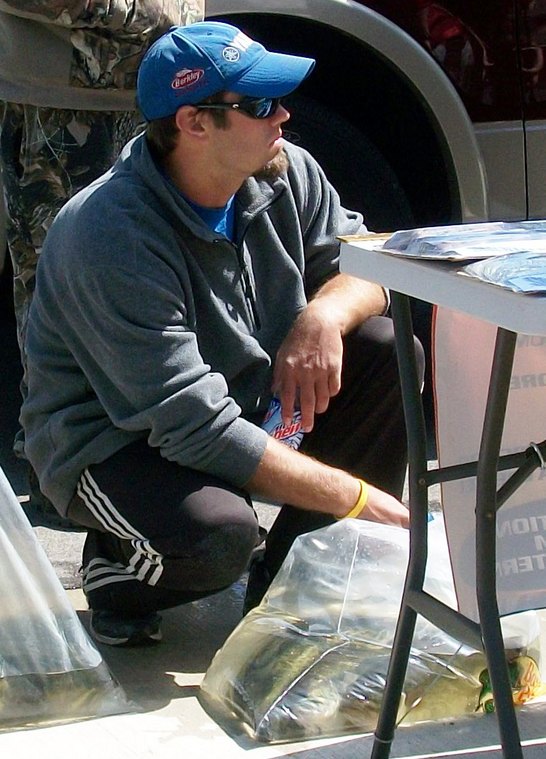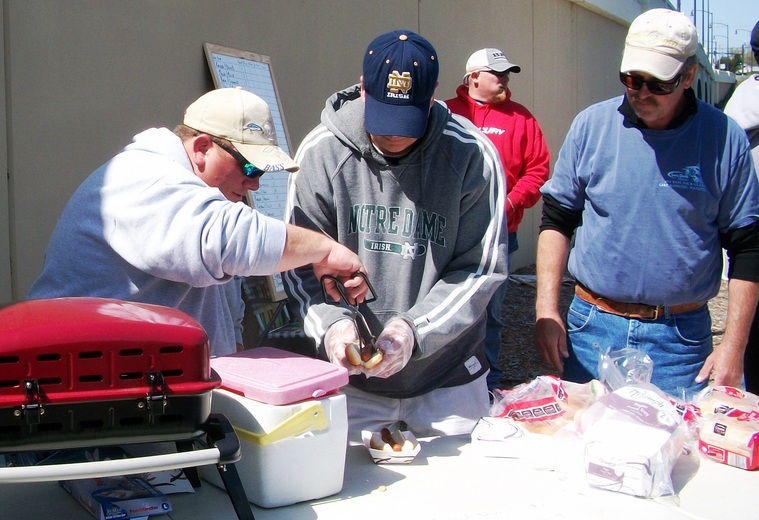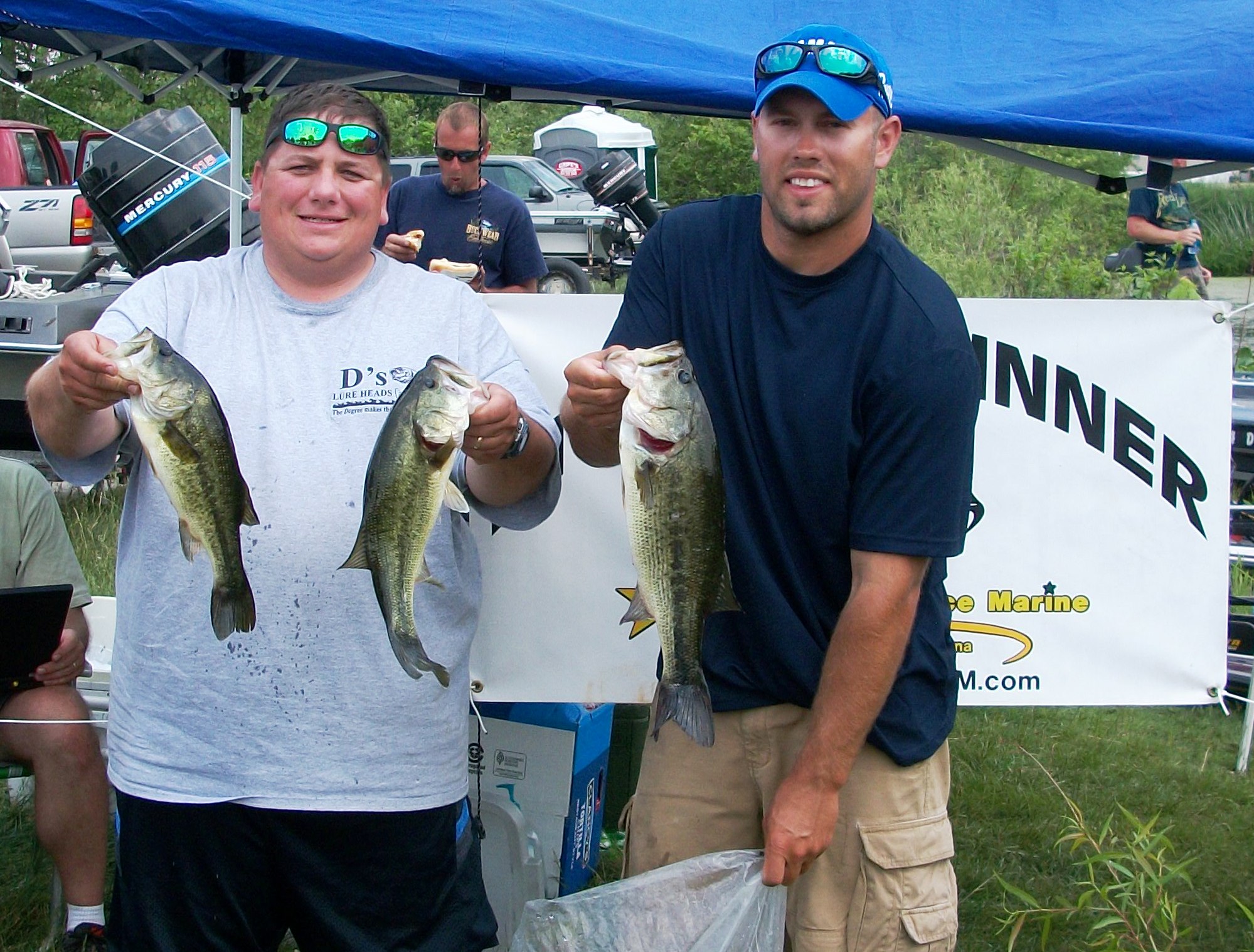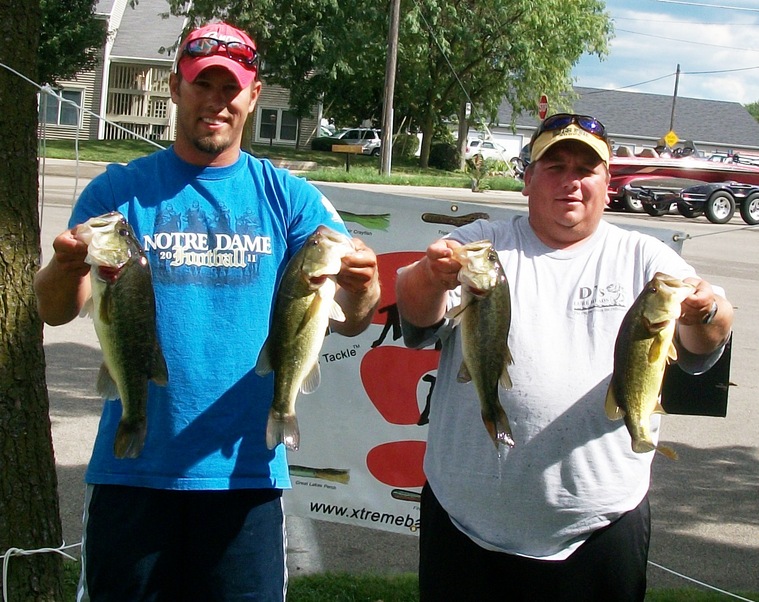 Back to Back





How Teddy Bradley and Mark Fennell have become the Premier Bass Team in Michiana



By: Andrew D. Buss
Sometimes it is difficult to define what you witness. In a society that recognizes little but self, it can be easy to miss greatness or domination from one but yourself. However, as the 2012

R & B Bass Circuit

season grew to a close, even a bat could see that the team of Teddy Bradley and Mark Fennell established themselves as one of the premier bass fishing teams in Michiana.The R & B is the largest bass tournament circuit in Michiana today and the aforementioned names are littered in the Record books. Their statistics are not just impressive, they are dominant:


2012 Points Champions

All-Time Money winners (

$3270

)

First and second on most points in a season (273.29 and 270.19)

Tied for most tournament victories (2)

The two victories are one of the closest and most lopsided

Tied for most top-5 finishes (7)

Third heaviest tournament weight (Austin Lake, 15.56 pounds)

They have weighed more bass than any other team the past two years (58)

And have more weight the past two years than any other team (117.47 pounds)

This all comes in just two years of participation; they were not an active team in 2010. In 2012, the team weighed a limit in all six regular season events; an R & B first.
Mr. R & B,

Mark Fennell

not only won the points in consecutive years, but as owner of D's Lures, sponsors the D's Award. Furthermore, he cooked and sold hot dogs at the conclusion of all tournaments, which raised money for the Classic.
The 2012 Schedule posed numerous challenges for the team to repeat as champions. Fennell was quite open about expressing his dislike from the beginning, "There was some new water [on the schedule] I had never seen. Also, I felt we were visiting some lakes at the wrong time of year." Bradley saw it as two separate halves, "I loved the first half, but not the second half. Neither of us had ever been to Austin, while Tippy and Wawasee made me real nervous." Ironically, the second half of the season is when they proved their supremacy.

Because of their concerns over the schedule they had a simple game plan: "Have a few good showings, but, most importantly, avoid dropping any bombs." They felt if they could avoid poor showings, they would be in the hunt at the end. They were right.

Better known for his fishing skill,

Teddy Bradley

regularly helped out at tournaments. Above he recorded data for the XBT Mystery Bait at Lake Wawasee.
Here's how they did it:

St. Joe River - Six Span: April 21, 2012.

8th Place

- 9.73 pounds.

D's Lures Award

.

Part of the success in 2011 can be credited to perfect execution - they never lost an important fish. Unfortunately, this luck changed at the very first tournament of 2012.

The day before, Bradley spent two hours looking for bedding fish worthy of pursuing. He found many and left feeling confident. However, a nasty cold front blew in that afternoon and when they returned during the tournament, the fish were gone. Bradley acknowledged, "We knew it would be tough to catch bedding fish before the sun came up."

While they were anxious to catch their fish early, patience was a necessity. It took several hours of blind fishing before they began

seeing fish again. When they reappeared, they caught them on senkos, brush hogs, and tube baits. With two hours remaining they were packing a respectable limit and on the prowl for a kicker fish.

After 30 minutes of searching they located a three-plus pound largemouth on a bed in a channel which bit almost immediately but failed to say hooked. However, the fish returned to the bed and Bradley was confident he could coax it to bite again. Fennell knew his role: get out of his way, "Teddy excels at bed fishing and anywhere there is water with bedding fish, he will find a way to catch them."

It took 45 minutes to trick it into biting again, "I made over 150 pitches, and, frankly, it surprised me," Bradley revealed. Consequently, he did not have the best hook set. To make matters worse, it was only 15 feet from the boat. Fennell hustled for the net but catastrophe struck, "On my way to the front deck, with net in hand, the net got caught on the steering wheel and the fish flew back into the water." It did not come back for another round.

The pressure of being the reigning champions became apparent after this day. Bradley admits, "There is pressure not to choke, to back yourself up, but losing that fish added even more pressure." Their limit still won the D's Award, but they were in unfamiliar territory - after leading the Standings wire to wire last season, they found themselves looking up at the leaders in eighth place. This at a body of water they felt they would compete for a top finish.
Barbee Lake: May 20, 2012.

2nd Place

- 10.85 pounds.

$446

.

This was the tournament that put fear back into the field. Perhaps the St. Joe River tournament lured the field into believing Bradley and Fennell were human, but the Barbee tourney disproved this quickly. A second place finish put them in fourth place overall.

After participating in the 2012 UMS Tournament the day

before, Bradley took off to Barbee to assess the water. What he found was a busy lake. Two bass tournaments (40 plus boats), a musky tournament (20 plus boats), and all the pleasure boats imaginable greeted him. Furthermore, fishing was as tough as reported. What he did establish was a pattern he knew few would employ: flipping.

They flipped a variety of plastic baits into the "thickest mats of weeds" they could find in water 3-4 feet deep. Depth was important, shallower water was unproductive and the thicker the weeds, the better. They pegged 3/4 ounce tungsten weights to the plastics and covered areas thoroughly. Beyond flipping, they were also able to trick some fish by sticking a swimbait on a ¼ ounce D's Lures swimbait jighead.

Fennell left impressed with his partner, "Barbee was a flipping fest for Teddy. It didn't take long for him to put three good ones in the box." Indeed, the day began well for the champions as they had a limit in just 90 minutes. They caught 9 keepers in all and spent their entire day on Big Barbee Lake covering the thick weed beds.

Manitou Lake: June 23, 2012.

15th Place

- 7.84 pounds.

After winning the season opener in 2011 on Manitou Lake, the champions logged their worst finish in two years this time around. They felt very good about their chances as Bradley admits, "I was there two weeks beforehand and caught a load of fish on some deep areas cranking that had worked for me in the past. I felt it would hold up for two weeks." It did not.

Fennell recalls the struggle vividly, "We spent over two hours working some deep water with crankbaits and only managed a single fish. So we went shallow around some docks and got our limit with senkos and chatterbaits, but the limit was small." They would go back to the deep water and cull a few fish, but they helped minimally.

The first half of the schedule was to be the easiest and returning to Manitou was supposed to be sweet, rather it had bite. They arrived in

Mark Fennell not only cooked hot dogs, but also helped with countless miscellaneous chores. Above, he helped sell 50/50 tickets at the Barbee Tournament along with Tom Reed.
fourth place, but shockingly left in third place. Many of the top teams also struggled. "After Six Span we were disappointed, but after Manitou, we were frustrated" confesses Bradley.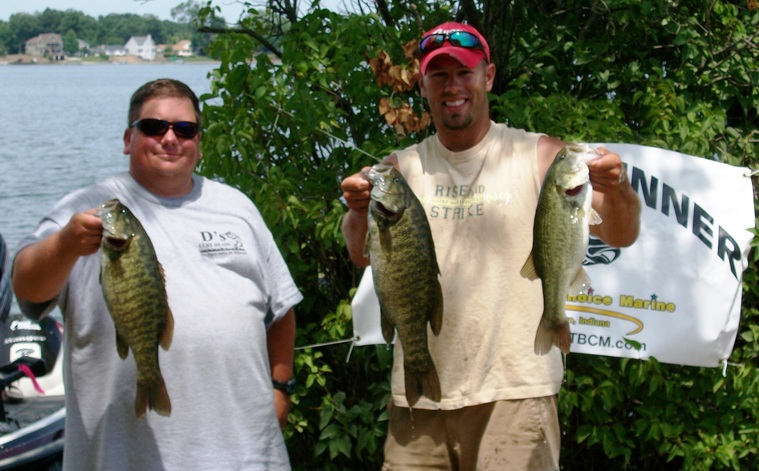 Austin Lake: July 21, 2012.

1st Place

- 15.56 pounds.

$821

.

As frustrated as the champions may have been when leaving Manitou, they were equally excited when leaving Austin Lake. Fennell revealed, "The win at Austin fueled our confidence." Remember, this was supposed to begin the challenging stretch of the schedule, they were supposed to struggle.

They arrived fashionably late and were deemed call boat, then went on to destroy the competition. Their 15.56 pound limit was the third heaviest in R & B history and led them to the third most lopsided victory in R & B history.

Having never been to the lake, even to practice, they began their day close to the ramp and never went far away. Like many others, they tossed topwaters early and were rewarded with a 3 pound largemouth. Fennell, however, caught something much bigger - himself. While unhooking a non-legal fish, one of the hooks caught his pinky finger and went all the way through. After some teeth grinding and careful work with pliers, he removed the hook. The topwater bite then died.

Fennell takes a lot of pride in his product,

D's Lures

, and they shined on this day. The team tossed green pumpkin/gold D's tubes with 1/2 ounce D's Lures tube jigs. Why so heavy? "The day before I was on the Detroit River fishing 20 feet of water with current. I had this tied on from the day before and was too lazy to switch." An unbelievable decision considering the amount of anglers who had practiced and had a game plan heading into the day, because that decision led them to victory.

After a few shorts, Bradley was persuaded to try the heavy jig as well and in just five casts, he landed the Starboard Choice Marine Big Bass - a hefty 5.31 pound smallmouth bass. They went on to finish their limit by 9:15. It slowed down from there, but most of their damage was already done. That is until Fennell landed a four pound smallmouth in the first part of the afternoon. That fish was the nail in the coffin, and in many ways nailed it shut for the season as well. Fifteen points was their lead with two events remaining.

Tippecanoe Lake: August 18, 2012.

7th Place

- 7.32 pounds.

D's Lures Award

.

According to Fennell, having confidence was a key ingredient for success and no where did that come through more than at Tippecanoe. "I think Ted buys [confidence] at Sam's Club in a 55 gallon drum, because when I fish with him, it spills out and I get filled up with it," When the team was struggling to fill their livewell and the pressure of losing their lead was creeping into their minds, confidence overcame it.
"There are teams at certain lakes and techniques I never want to put my money up against," admits Bradley. "But in a circuit that covers a variety of water, such as the R & B, then we are tough to beat. Catching limits in shallow water is our strength and catchintoug a limit is often what separates most teams." Both members agree that this was the toughest tournament of the season. Practice was discouraging and they left with just one confidence area.

Early in the tournament they fooled a keeper on a rattle trap in that singular area, but that was it. An hour later they abandoned the area and were searching shallow water when Bradley had a hit on a Skinny Dipper that failed to hook up. He immediately threw a senko to the spot and boated their second keeper. Shortly thereafter, they went on a "250 dock tour" that produced only short fish.

Suddenly, just two hours remained and the pressure was mounting reminiscent to Webster Lake 2011. "I knew the way the lake was fishing, and all that was needed to finish high was a limit, so we gambled and went to an area I felt we could get some keepers," explains Bradley on
their next move.

Despite low water levels and a lack of current, they moved into the Tippecanoe River on Oswego Lake and hurled the skinny dipper with mastery. During the hour spent here, they completed their limit with an hour to spare. Fennell admitted, "This was our luckiest moment of the season."

The small limit was huge in the bigger picture. Trevor Paulus and Brad Sterling landed another top 5 finish themselves and ended under 10 points behind the reigning champions with one tournament to go. Without the gamble into the river, they surely would have lost their lead and momentum.
Lake Wawasee: September 9, 2012.

2th Place

- 11.08 pounds.

$432

.

Great sports teams are considered so because they leave no doubt; it is not a matter of luck. They prove it. Just as a dominant football team shuts out an opponent in the fourth quarter, Bradley and Fennell slammed the door shut on any hopeful wannabes sneaking up on them in season long race.

Going to Lake Wawasee, nothing was certain. "We had the big target on our backs and on one of our worst lakes
to try to defend our points lead," explained Fennell. They were nursing a lead less than 10 points and were getting chased by a team with tremendous confidence on that particular lake. However, they faced a similar situation at the finale on Palmer Lake in 2011.

Fennell admits, "[The pressure] had the same intense [as Palmer] pressure until we put the fifth keeper in the box." Then it was game on, "We had that limit at 9:00. Then we were able to relax and focus on getting key bites," Fennell added.

Decision making has been a defining characteristic for the champions the past two years and this was no exception. After practicing twice the previous weekend, Bradley admitted, "We were probably lucky I practiced Wawasee (Monday) when I did. I could barely boat a fish when I was there, cause when I went to Syracuse (Sunday), I had a great day. As it turned out, the fish cooperated for everyone on Sunday, but not Monday. If I had had success on Wawasee, we would have fished there and it appears it was much tougher there." The team spent all of their time on Syracuse, which not only had an easier bite, but gave them extra time to fish.

Diversity was the name of the game as they used five separate baits to weigh their five fish. The five fish that came to the scales were tricked by a plastic frog, swimbait, square-billed crankbait, jig and chigger craw.

They began the day fishing shallow with a frog and bagged three keepers. They then targeted a weedbed on the mainlake flipping chigger craws and jigs, but also retrieved swimbaits and square-billed crankbaits through them. They landed eight keepers total.

The key to their primary area was the thickness of weeds. They targeted any open pocket they could see. This also influenced when they fished it. Bradley reveals, "We began somewhere other than our primary area to allow the sun to rise first, making it easier to see the pockets."

Their 11.08 pound limit was the only other double digit limit brought to the scales, which secured their hold on the Standings by nearly 30 pounds. When leaving Lake Wawasee, everything was certain.

Teddy Bradley

and

Mark Fennell

arguably make up the most dominant bass fishing team in Michiana today. Reigning champions for two consecutive seasons in the area's largest circuit gives them this distinction. Until another can dethrone them, they have earned their perch on the pedestal. If you have the mojo to do it, you know where to find them next season.